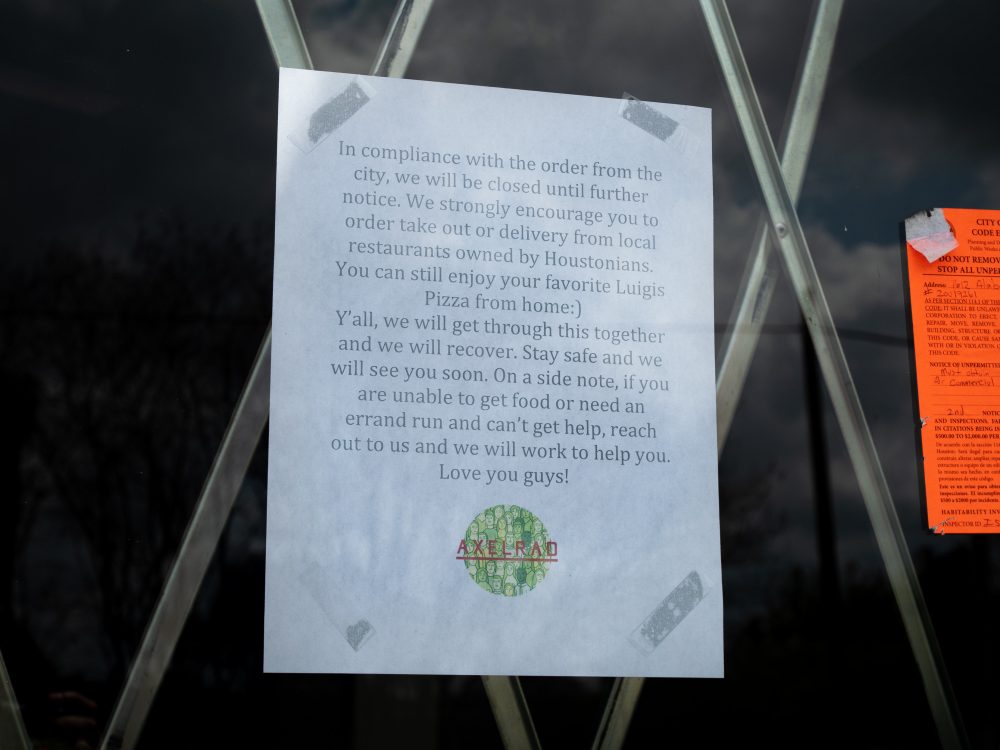 Lonne Martinec worked for a Goode Company restaurant for almost nine years. She was a a server at Goode Co. Seafood on Westpark, and also worked to train new hires.
But last week, the restaurant closed suddenly. That was shortly after the city of Houston announced establishments that served food had to go to take-out and delivery service only, in order to help slow the spread of the coronavirus.
"They told us we were going to be open only for to-go for a short time," said Martinec, 64. "And the people that showed up to do to-go's all of a sudden got– we all texted each other and they said they were turned away at the door and told to leave."
Then, Martinec said, all employees at that location got a letter from corporate, "that said you've all been laid off blah, blah, blah. If you have any of our property you need to return it."
Goode Company didn't respond to calls and emails requesting comment, but on its Facebook page, the company said only four of its 11 restaurants remain open for take-out and delivery and that it has transitioned some of its workers to assist with deliveries at those locations.
But many others are now without a job.
"One of my best friends has worked there for more than 20 years, and she's laid off. She's a server," Martinec said. "Another friend who is a manager, who's worked there for 25 years, has been laid off."
That's true for probably thousands of service workers across Greater Houston, as the restaurant order and now a county-wide stay-at-home order continue to alter dining service and close bars and night clubs across the greater Houston area.
"Business dropped, capacity down for the hotels and the airports (in) particular, the restaurants inside the hotel, the bars inside the hotel," said Darnell Tingle, lead organizer for Unite HERE Local 23.
The union represents about 3,000 workers in the hospitality, concessions, airport and gaming industries. Tingle said he expects layoffs of service workers to reach 80% within the next week.
"At this time, we're just making sure that the workers are able to collect unemployment, since it's a layoff and not a firing," he said. "We will make sure that they are readily available to get back to work when it's available."
Until then, those workers are having to look for other work or use unemployment benefits to help them bridge that period.
Recognizing the impact on service industry workers in Houston, social activist Ali Lozano, whose girlfriend is a bartender, started a "virtual tip jar" for them.
It's a Google Document listing workers and their Venmo or PayPal information. And it's something done in several other cities across the U.S. Those wanting to be included simply fill out a submission form.
"Essentially, the submission form directly translates and populates into an Excel spreadsheet," Lozano said. "And then all I did was put the Excel spreadsheet on a view-only privacy setting, so that everybody can see it but no-one can edit it."
The hope is that people will support the servers or bartenders at their favorite food or drink spots.
Lozano put the list on social media, where it's been shared by many others.
So far, it contains nearly 2,000 names and Lozano said she has heard anecdotally that people are in fact receiving money.
"A lot of the captions are, 'virtual tip,' or, 'thanks for the virtual drink,' with really fun emojis and things like this," Lozano said "So that's been really cool to see."
Martinec, the former Goode Company server, said she's lucky because she got a job as a delivery driver at a Star Pizza, where her husband is a manager.
She said even if the seafood restaurant were to re-open, she wouldn't try to get her old job back. Her plan now is to deliver pizzas as long as she can.
"This wasn't how I was expecting to go out," she said. "I had planned on working at Goode Co. for 10 years."
For some business owners trying to look out for their long-time employees, there's only so much help to offer. At Clear Lake Hunan Restaurant, business has been down all month, because people have stayed home more. With the city's order, owner Xiaowei Zhu expects to lose up to half of his business, which is normally about equally split between dine-in, take-out and delivery.
He said many of his employees have been with him for years.
"I try to keep them because when they lose their job, they have trouble to pay their rent and their meals," he said. "But I don't know how far we can go."