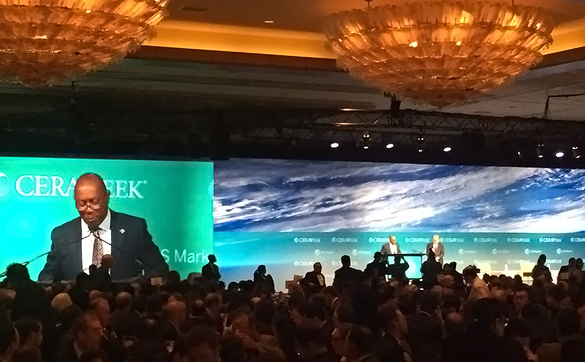 Houston could miss out on millions of dollars worth of economic activity after concerns over the novel coranavirus led to the cancellation of one of the world's largest energy conferences.
The virus, also known as COVID-19, led in part to the cancellation of CERAWeek, a leading energy conference hosting thousands of delegates from more than 80 countries in Houston each March. The event's organizer, IHS Markit, said it was cancelling similar events in California and Louisiana, which could mean a loss of $50 million in non-recurring revenue combined.
The decision to cancel the week-long event was made in response to a World Health Organization advisory regarding the spread of coronavirus, according to a joint statement from CERAWeek Chair Daniel Yergin and Houston Mayor Sylvester Turner.
"Nothing specific to Houston led to this decision," the statement read. "The city of Houston reports that there are currently zero confirmed cases of COVID-19 in the city."
The local government corporation Houston First said CERAWeek will return in 2021, according to a statement. Houston First owns or operates multiple buildings in the city, including the Hilton Americas-Houston hotel where the conference was going to take place.
The group reiterated in their statement that there are no known cases of the virus, also known as COVID-19, in Houston.
"We encourage residents and visitors alike to keep exploring Houston," the statement says, "and enjoying new and longtime favorites from museums, to parks, live entertainment and of course the best food on the planet."
Houston is slated to host other major oil and gas conferences this year. So far none have announced plans to cancel, including the World Petroleum Congress. The City of Houston says that event has an estimated economic impact of $60-80 million.