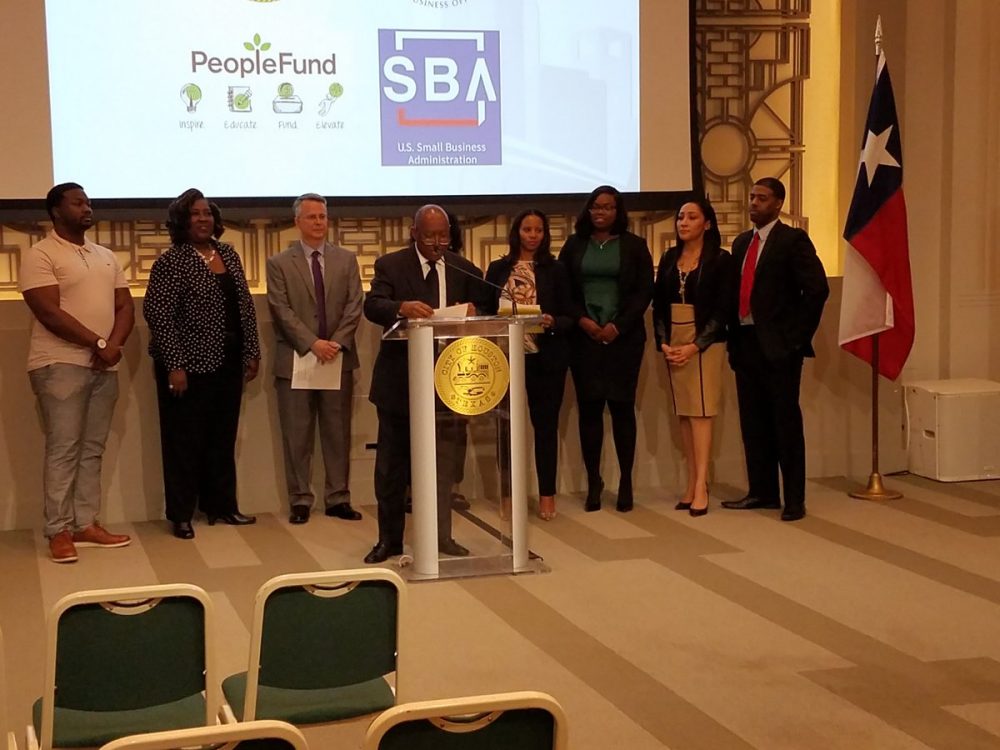 Houston is participating in the National Small Business Week, which features a series of events and workshops for small business owners, as well as entrepreneurs.
During an announcement made at City Hall, Houston Mayor Sylvester Turner noted that small businesses are vital for the Complete Communities initiative, which he has made one of the cornerstones of his administration.
Turner explained that the concept of Complete Communities aims for all Houston's neighborhoods having access to quality education, affordable housing, transportation options and economic opportunity with an ultimate goal of creating "sustainable, complete neighborhoods that are safe, affordable and economically viable and that's where small business owners come in, it is their investment that helps create jobs in these complete communities."
One of the most important elements of what is happening in Houston during Small Business Week is 'Innovation Week,' which is a series of workshops and events that provide information on a multitude of topics ranging from business law to web design.
Tim Jeffcoat, district director of the Small Business Administration (SBA), underlined at the mayor's announcement that 99 percent of Houston's businesses are considered small by the SBA.
Jeffcoat said that one of the main tasks of the SBA is connecting entrepreneurs or people who want to start a small business with funding sources and highlighted that "last year, we guaranteed loans just under a billion dollars" in the Houston area.
The City's Office of Business Opportunity (OBO), which helps entrepreneurs with applications for permits, as well as workshops, free legal resources and business resource guides, plays an important role in Small Business Week.
Carlecia Wright, director of the OBO, also noted during the mayor's announcement that "currently, there are more than 3,300 minority women businesses registered with the Office of Business Opportunity bidding for work with the City of Houston."
Happy #SmallBusinessWeek! #SmallBizWeek pic.twitter.com/IF7BFYbUcQ

— Sylvester Turner (@SylvesterTurner) April 30, 2018
#SmallBusinessWeek is a time to recognize, celebrate & collaborate w/our small business community, which is the backbone of this great city. About 99% of Houston's businesses are considered small by our partners at the Small Business Administration—we will hear from them today pic.twitter.com/oquJJTbnFY

— Sylvester Turner (@SylvesterTurner) April 30, 2018
Belen Bailey —through hard work, ingenuity and a bit of luck— Belen turned a side business into the dessert shop "Sweets by Belen" in Gulfton—helping make a "Complete Community" a bit sweeter. #SmallBusinessWeek pic.twitter.com/I0EYzuAdIv

— Sylvester Turner (@SylvesterTurner) April 30, 2018