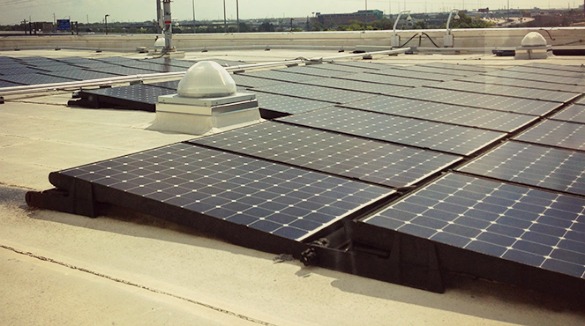 Houston's solar capacity is growing, according to
a new report
from the Environment Texas Research and Policy Center. But how much? And how does Houston's growth compare to that of other Texas cities — and other major metro areas across the nation?
On this edition of Houston Matters, we discuss where Houston stands on solar energy with Luke Metzger of Environment Texas. He also describes a couple of solar projects connected to Greater Houston that could further increase the amount of solar energy being used in the region in the coming years.
Also this hour:
Hospital Volume and Your Health
A new study challenges previous findings about the role hospital volume plays in patient outcomes. Previous research concluded hospitals that perform high numbers of complex operations have lower patient mortality rates. This latest study says that's not necessarily the case.
We discuss the findings with report co-author Vivian Ho of Rice University. She explains why it's important for patients.
Are Robots Going to Take Our Jobs?
Technological advancement is a dual-edged sword. It can make some tasks easier, but raise workload expectations. And sometimes, it advances so rapidly, it replaces the workforce it was designed to assist.
Rice University computer scientist Moshe Vardi has been studying the field of artificial intelligence and automation for more than 30 years. Vardi tells Maggie Martin this question of whether machines are taking jobs away from us isn't a new one.
'Sunset City'
Writer and Houston native Melissa Ginsburg set her new crime noir novel, Sunset City, in her home town. She tells Michael Hagerty why, and describes the role the city plays in the story.
Houston Matters offers a free daily, downloadable podcast here, on iTunes, Stitcher and various other podcasting apps.