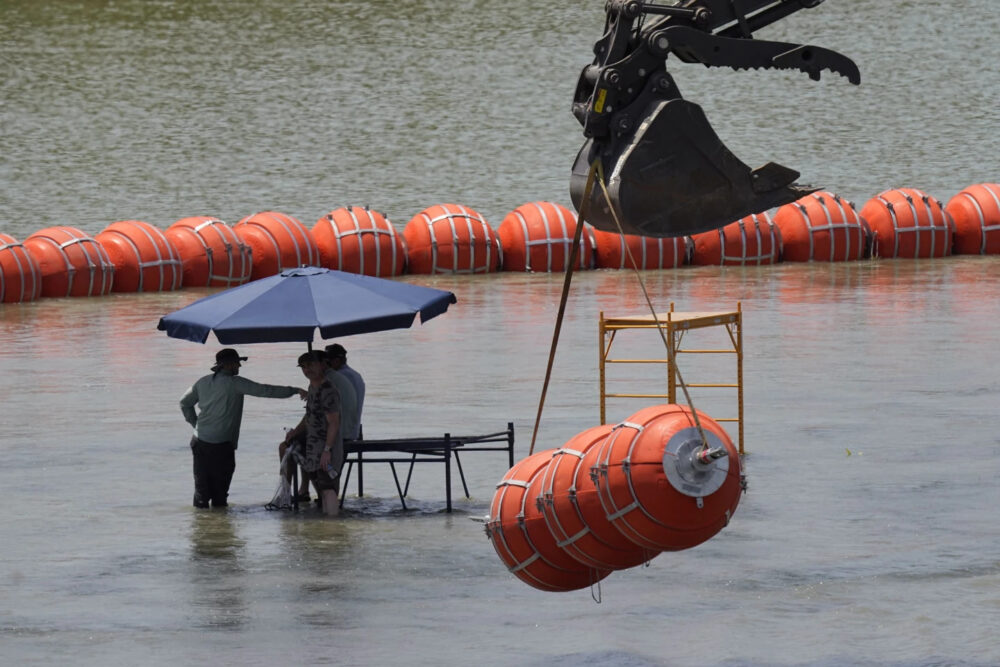 Mexican officials said a body was found stuck in Texas' floating buoy barrier in the Rio Grande on Wednesday.
Mexico's foreign affairs secretary said in a press release the Mexican Consulate in Eagle Pass was notified Wednesday afternoon by the Texas Department of Public Safety about the discovery.
The nationality of the deceased and the cause of death were unknown.
Mexican officials found a second body about 3 miles upriver. The Associated Press reported the Coahuila state prosecutor's office in Mexico told local media outlets that the two bodies were recovered and that the process of identification was underway.
Grupos Beta — a service from the National Migration Institute of Mexico — led the recovery efforts.
Texas Gov. Greg Abbott first announced the floating border wall in June in an effort to deter migrants from crossing into the river.
The thousand-foot string of red buoys was installed in Eagle Pass last month as part of Operation Lone Star, Abbott's controversial $4 billion border security initiative.
Eagle Pass has become a heavily crossed section of the Rio Grande in recent years.
The foreign affairs secretary condemned the buoys following the body's discovery.
"We reiterate the position of the Mexican Government that the placement of the buoys from Texas authorities is a violation of our sovereignty," the press release said in Spanish. "We express our concerns that these policies will have over the impact on human rights and the safety of migrants."
Democratic lawmakers and humanitarian rights groups have previously called buoys and installation of razor wire "barbaric."
The U.S. Justice Department sued the state of Texas last month over Abbott's refusal to remove the barrier.
In affidavits released as part of the filing, Mexican officials expressed concerns that the buoys could lead to a loss of life and provoke an international incident.
They also said the barrier has already caused significant harm in diplomatic foreign relations between the two countries.
The area around Eagle Pass where the buoys have been installed is a hot spot for border crossings and an already dangerous part of the Rio Grande to cross. There have been 89 deaths and 249 water rescues since 2018, according to an affidavit from the U.S. Border Patrol chief.
The Justice Department is asking for an injunction to require Texas to remove the buoys within 10 days and to block the state from installing any more river barriers without prior approval from the Army Corps of Engineers.