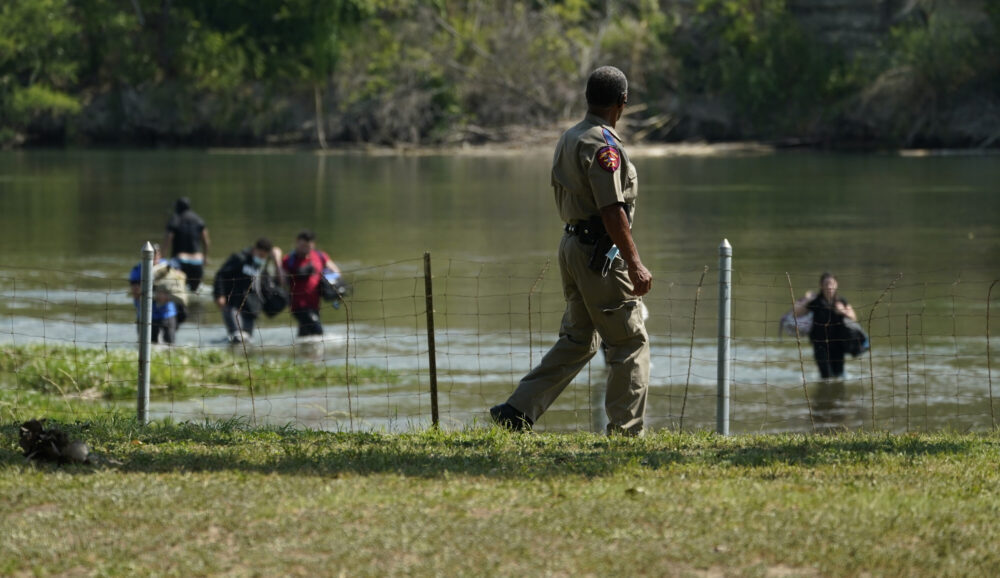 Harris County Democrats have criticized the Texas Department of Public Safety's alleged treatment of migrants at the Mexico border.
A whistleblower said DPS troopers had been instructed to deny migrants water and to push migrants back into the Rio Grande, which separates Texas and Mexico.
State Rep. Gene Wu, a Democrat from Houston, said at a news conference Thursday that treating migrants in such a way is inhumane.
"I want more than just an investigation to see what went wrong," he said. "I don't want us just to say, 'Well, this is what we're gonna do to not let this happen again.' These are criminal acts committed by our government and people must be held accountable."
One asylum seeker at the news conference, a woman named Rocio, traveled through Mexico from Peru to reach the United States. She said she was being chased by people with machetes when she jumped into the Rio Grande.
"My daughter who's 7, my 15-year-old and I saw a boat with U.S. Border Patrol on it, and we felt relief because we thought they would come save us," she said in Spanish.
Rocio said that at the time, she and her children were struggling to swim in the river.
"And they waited until the very last moment, until they saw we were in definite peril, and that's when they decided to rescue us," she said.
Rocio said once she and her children were on the boat, they proceeded to take her back to the Mexican side of the border because they said they were still on the Mexican side of the river. She said she was told they did not immediately help her because she had not yet reached U.S. territory.
"Black immigrants were treated a lot worse than we were," Rocio said. "With the Black immigrants, they would oftentimes pull the children by the hair."
Texas Gov. Greg Abbott's office released a statement Tuesday that said no orders or directions have been given that would compromise the lives of those attempting to cross the border illegally.
State Rep. Jon Rosenthal, another Houston-area Democrat, said this is not the first time he's seen conflicting messages about the DPS.
"So at a time when I would say their credibility is suspect, because they change stories rapidly to suit the time, the narrative, and the question at hand, that's why we need independent investigation," Rosenthal said.
Cesar Espinosa with FIEL Houston said he saw similarly conflicting messages from the DPS during the Robb Elementary shooting in Uvalde in 2022.
"DPS and the state troopers said that they also rushed into Uvalde, into Robb Elementary school," he said. "And that wasn't the case."