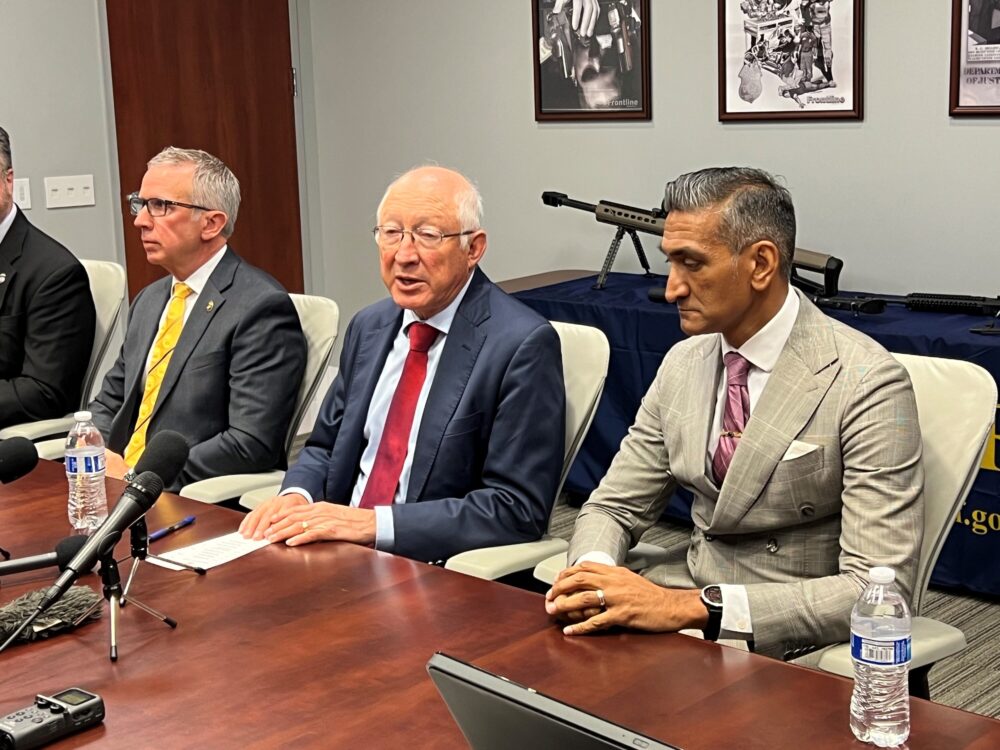 The Biden administration is stepping up efforts to stem the flow of guns southwards across the U.S.-Mexico border. The U.S. and Mexican governments are working together as part of their common fight against drug cartels.
U.S. Ambassador to Mexico Ken Salazar visited the Houston field office of the ATF for a meeting with multiple agencies involved in cracking down on the southbound flow of arms.
"We estimate that about 70% percent of the guns that end up in Mexico are guns that come from the United States of America," Salazar said. "We have new tools that have been created as a result of the Bipartisan Communities Safe Act, which makes it a felony to engage in the kind of arms trafficking that we're seeing here." Congress passed the Bipartisan Safer Communities Act just over a year ago.
According to Fred Malinowski, ATF special agent in charge for Houston, his agency opened 400 firearms trafficking investigations last year, and it's on pace to exceed that number this year. Nationwide, he said, seizures of firearms bound from the U.S. to Mexico are up 111% over the past nine months.
Meanwhile, the U.S. Department of Justice has charged 140 individuals with arms trafficking or straw purchasing of firearms since Congress under the Bipartisan Safer Communities Act.
"Those guns are the capital of the cartels. They are tools of their trade. Those guns create their power," said Alamdar Hamdani, U.S. Attorney for the Southern District of Texas. "And so, it is my office's commitment to make sure we stem the flow of those guns across that border."
Ambassador Salazar said more could be done to strengthen border controls if Congress would enact some form of comprehensive immigration reform – something it had tried and failed to accomplish as far back as the George W. Bush administration, when Salazar himself was a senator from Colorado.
"The fact of the matter is that the United States Congress has failed to do what it needs to do, and that's to invest, first, in the people who are guarding our border, second, in technology that can help us secure the border and make a safe and more secure and modern border, and third, in the infrastructure that is essentially the arteries of commerce between the United States and Mexico," Salazar said.