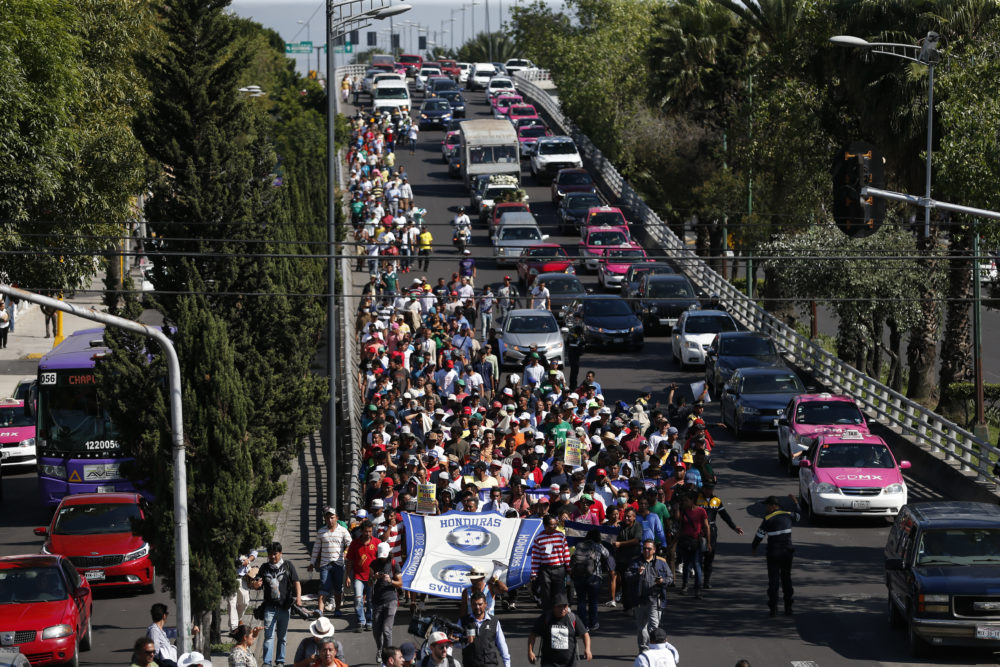 Politically motivated moves along the U.S.-Mexico border, along with media coverage of migrant caravans, has contributed to ineffective immigration policy, according to a new study from the Baker Institute for Public Policy at Rice University.
The study tracked coverage of 30 migrant caravans between 2017 and 2022 as well as the policies in place at the departure of each one.
The report found that politically motivated, high-profile moves like former President Donald Trump's wall along the Mexican border and Texas Gov. Greg Abbott's stationing of the state national guard at the border had very little impact on illegal immigration into the U.S.
"It does not stop people from coming. It does not stop the organized crime cartels from pushing people forward," said Gary Hale, a fellow in drug policy and Mexico studies at the Baker Institute and co-author of the study. "It's really kind of eye candy to demonstrate to the public that the government of Texas is doing something or that the federal government is doing something, but it has very little to no deterrent effect."
According to the Pew Research Center, 10.7 million unauthorized immigrants have been living and working in the U.S. since 2016, including approximately 1.5 million in Texas. The first migrant "caravans" — large groups of immigrants, ranging from dozens to hundreds to, very rarely, thousands of people, traveling on foot — mobilized in 2017.
Hale said caravans account for only a small portion of undocumented immigrants crossing the border. However, the image of people walking hundreds of miles in the Mexican sun, pushing strollers and carrying babies, often without enough food or water, is an evocative one, Hale said. As a result, such groups often draw media attention and elicit strong reactions on both sides of the border, including knee-jerk, politically motivated immigration policies in the U.S.
Such policies have failed to slow immigration largely because organized crime cartels in Mexico turn a large profit from smuggling undocumented migrants across the border — about $4,000 per person — according to the study. They are also responsible for organizing caravans and recruiting migrants, often through social media.
Hale said it doesn't help that policy approaches to immigration into the U.S. shift with nearly every change in U.S. presidential administration. The study found that when the U.S. is perceived to have more permissive immigration policies, illegal immigration does increase as cartels perceive it as a window in which they can more easily make it into the U.S. and capitalize on smuggling migrants.
The inconsistency also causes confusion among U.S. citizens in terms of what the policies are, according to the study.
"Our own failure as a government to have consistent immigration policies is causing, somewhat, increases in illegal migration into the United States," Hale said. "Our policies are driven by politics, and those politics change every time a different party comes into power in the White House. It's really a disservice to the American public because we don't have continuity."
The American public cares about immigration policy, which makes it an attractive tool for political posturing. In a poll released earlier this month by the Texas Politics Project at the University of Texas at Austin, researchers found that 24% of Texans thought immigration and border security should be a top priority of the state legislature this session, the most of any item on the survey.
However, Hale said many lawmakers are not proposing policies that would get at the root of the problem.
"Poverty, food insecurity, a lack of public safety, natural disasters: these are all reasons that people would migrate from their home countries," Hale said. "For example, we've had several hurricanes here in Houston in the last couple of decades, but we have the economic strength to recover very quickly. They don't have that economic strength in much of Central America."
Hale said a productive step in solving the border crisis is defining it clearly.
"Within the United States government, the situation needs to be commonly defined, by which I mean it needs to be agreed upon by opposing political parties," he said. "Policies are based on politics, and funding is based on policies."
He cited how some politicians describe migrant caravans as "invasions," when that construal is not accurate to the situation as a humanitarian crisis.
Hale also said policies should focus on the drivers of most illegal migration, which are organized crime cartels in Mexico that capitalize on fees they charge migrants to be smuggled across the border.
"The migrants themselves are really victims of poverty and natural disasters and, ultimately, of organized crime," Hale said. "We shouldn't place the blame so much on the migrants themselves but on the criminal entities that are moving those migrants."
The study recommends several approaches to effectively slow illegal immigration into the United States. It calls on leaders to address the root causes of instability and poverty in Central America, the driving factors that bring migrants in the first place.
The study proposes monthly "Visa Fairs" in each Central American country in order to encourage would-be migrants to apply for legal U.S. visas and to make the process quicker and easier. The study also recommends assisting Mexico with further developing its asylum system, since most migrants are coming from countries other than Mexico. The idea is that by further enhancing the country's asylum system, Mexico can absorb a greater portion of northward-bound migrants.
Other recommendations include accelerating the asylum hearings process, increasing and improving migrant shelters on both sides of the border and increasing refugee admissions.
The full report can be found here.