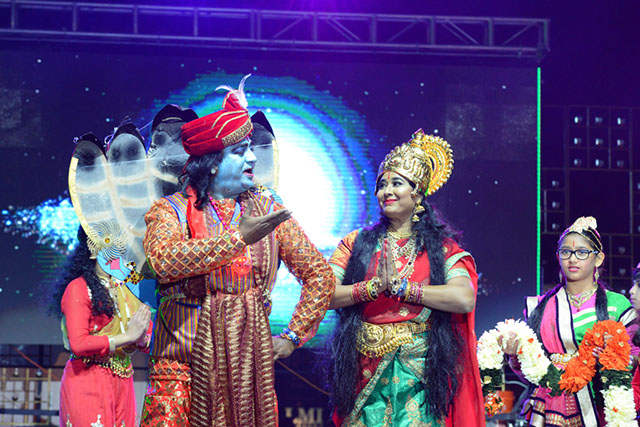 The Hindu holiday of Diwali, known as the festival of lights, is celebrated by more than 1 billion people across the world.
The Houston area offers an array of celebratory events before, on and after Diwali, which this year falls on Nov. 12 and marks the beginning of the Hindu new year.
Diwali symbolizes the triumph of light over darkness and good over evil, commemorating the exiled Lord Rama's killing of the demon king Ravana. Rama returned to his throne 21 days later, when he was greeted by the citizens of Ayodhya with displays of oil lamps and colorful artwork.
Here are 11 Diwali events in Greater Houston, starting with a few this Saturday:
SATURDAY, OCT. 28
Diwali Handloom Expo | 11 a.m.-7 p.m. at 800 Bonaventure Way Ste. 134 in Sugar Land
Get some traditional Diwali garb at this showcase event in Sugar Land, where handloom saree collections from seven different Indian states and 40 different Indian villages will be on hand. Handloom sarees are colorful, handwoven garments that resemble dresses.
Registration is required, but tickets are free and can be obtained online through Friday.
Diwali Bazaar Indian Food & Shopping Festival | 11 a.m.-3 p.m. at India House Houston, 8888 W. Bellfort Ave.
Entry and parking are free at this family-friendly event, which is funded in part of the City of Houston and Houston Arts Alliance. Clothing, jewelry, henna tattoos and Indian food will be available. There also will be live entertainment and children's attractions such as a bounce house, petting zoo, face painting and a train ride.
Visit the event webpage for more information.
Kings Lake Diwali Event | 6-11:30 p.m. at Tompkins High School, 4400 Falcon Landing Blvd. in Katy
This nighttime event, hosted by Indo-Americans of Kings Lake, will feature traditional songs and dance along with a children's talent show. Tickets are $25 per person and can be purchased online. Children younger than 5 years old get in free.
SATURDAY, NOV. 4
Sri Meenakshi Temple Society Grand Diwali Celebration | 9 a.m.-midnight at 17130 McLean Rd. in Pearland
This all-day event south of Houston will include food and vendor booths, including for traditional jewelry and sarees, along with kids art, a kids carnival, temple and cultural programs and a fireworks display. There also will be a health fair in the morning and raffle drawing at night.
Children interested in participating in the cultural programs must register by Sunday, Oct. 29.
Find more information at the website for the Sri Meenakshi Temple Society.
Diwali Mela | noon-9 p.m. at Hindu Temple of The Woodlands, 7601 S. Forestgate Dr. in The Woodlands
This family-friendly event north of Houston will feature a Diwali Bazaar with 30-plus vendors, including those selling Indian street food as well as Indian clothing and jewelry, along with a kids zone and music and dancing representing various regions of India. There also will be a lighting of Diyas at 4:30 p.m.
Tickets, which can be purchased online, cost $2 leading up to the event and $5 on the day of the celebration. There is no entrance fee for children younger than 15 years old or for senior citizens.
12th International Diwali & Dussehra Festival | 2-10 p.m. at Fort Bend County Epicenter, 28505 Southwest Fwy. in Rosenberg
This annual celebration hosted by the Shri Sita Ram Foundation is moving from Constellation Field in Sugar Land to the new Fort Bend County Epicenter. There will be a parade along with traditional music, dances and theatrical performances, in addition to food and friendly competitions. The event culminates with a fireworks show after sunset.
Tickets are $12 in advance and can be purchased online. Admission is $20 on the day of the event.
BAPS Diwali & New Year Festivities | 6:45 p.m. at BAPS Shri Swaminarayan Mandir, 1150 Brand Ln. in Stafford
BAPS Shri Swaminarayan Mandir is kicking off three weeks of Diwali and New Year festivities with a Saturday night fireworks show and outdoor musical performance by Jaydeep Swadia. There are subsequent events scheduled for Nov. 11-13 as well as Nov. 23.
Overflow parking is available at Family Worship Center, 910 Brand Ln. in Stafford, and at Dulles High School, 550 Dulles Ave. in Sugar Land.
Visit the BAPS website for more information.
Deities & Demons – Houston Diwali Fest 2023 | 6 p.m. at Rise Rooftop, 2600 Travis St. Suite R
Rise Rooftop downtown is hosting a two-part evening event that will last until early the next morning. From 6-9 p.m. there will be a Diwali bazaar with street food, henna, cultural performances and a fashion show. Another fashion show will be held during the latter part of the event from 10 p.m.-2 a.m., when there also will be live performances and laser fireworks.
Tickets range from $10-$65 and are available on the event webpage.
SATURDAY, NOV. 11
2023 Sienna Diwali Celebration | 3-7 p.m. at Sawmill Lake Club in Sienna, 10323 Mount Logan in Missouri City
Attendees of all ages can enjoy Bollywood dancing, henna and jewelry artists, authentic food trucks, a fashion show and fireworks. There also will be plenty of photo opportunities along with face painting and children's crafts.
Tickets range from $5-$10 and can be secured online.
SUNDAY, NOV. 12
Diwali & Govardhan Puja | 5:30-9 p.m. at ISKCON of Houston, 1320 W. 34th St.
A festival of lights and food will be celebrated at this free event at ISKCON of Houston, which also is hosting a New Year celebration at 6:30 p.m. Monday, Nov. 13.
Visit the ISKCON of Houston website for more information.
SUNDAY, NOV. 19
Fort Bend Diwali | 4-8 p.m. at Sugar Land Town Square, 15958 City Walk in Sugar Land
Tickets start at $5 for this family-friendly event at Sugar Land Town Square, which is being organized by the office of Fort Bend County Judge KP George along with the Ashirwad A. Blessing family, Vedic Fair 11 and Indo-American Organizations of Fort Bend. There will be Indian food and jewelry, musical and dancing performances, costume shows, henna and face painting and a kids' zone with coloring competitions.
More information is available at the event website.