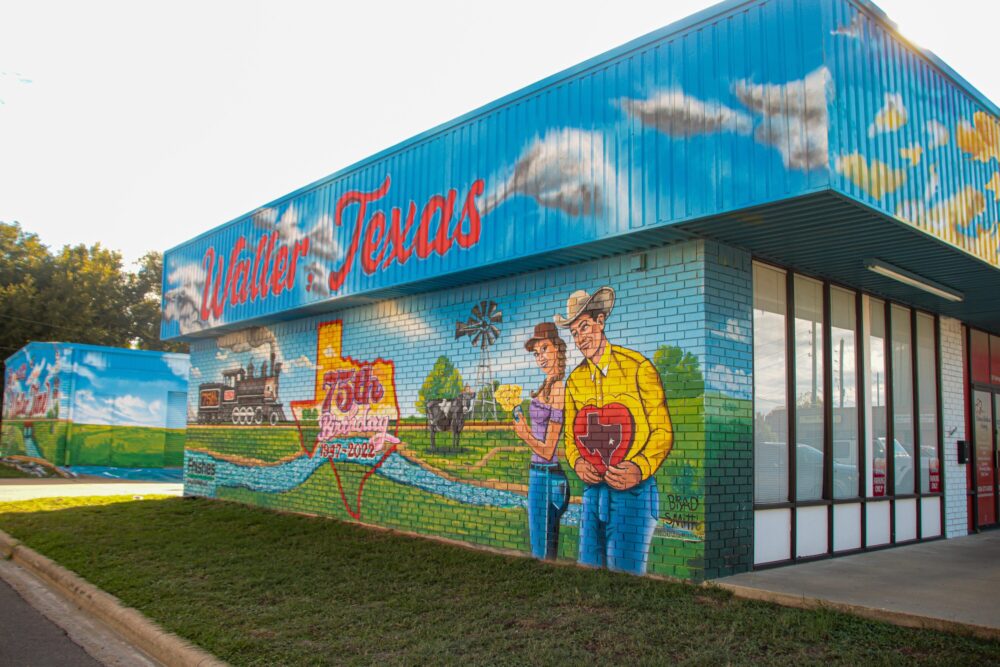 One of the murals painted by Brad Smith during the last year, on the outside of a strip center in Waller, depicts a cowboy and cowgirl holding a yellow flower and Texas-themed, heart-shaped box of chocolates. The cartoon-like characters are standing under a blue sky dotted with a few clouds and are surrounded by green grass, a stream, a cow, a train and a windmill.
Another of Smith's paintings, on the side of a building across the street, includes horses, the flowing flags of Texas and the United States and the word "Freedom" prominently displayed in the top-left corner. It also features the logos of the United States Armed Forces and an old pickup truck with James Dean, the iconic actor from the 1950s, sitting in the back .
These kinds of images can be found in small towns across the Lone Star State and also in big cities such as nearby Houston, where murals and graffiti art are celebrated and championed. But in Waller, a rural community of about 3,000 residents that sits 40 or so miles to the northwest, murals like the ones Smith painted are no longer allowed.
More on this story from Houston Matters:
In February, a few months after Smith and his wife, Kay Ray-Smith, moved to town and began painting murals on buildings owned by a local real estate developer that hired them and their company, Tilt Vision Art, the Waller City Council passed a mural-related ordinance that charges a $500 fee for new murals while restricting where they can be placed and what they can include. The law effectively banned the murals they were hired to create, according to the Smiths, who said they subsequently lost their $225,000 contract with the real estate developer, Waller-based Finishes Solutions.
"It makes no sense," Kay Ray-Smith said. "It has us scratching our heads."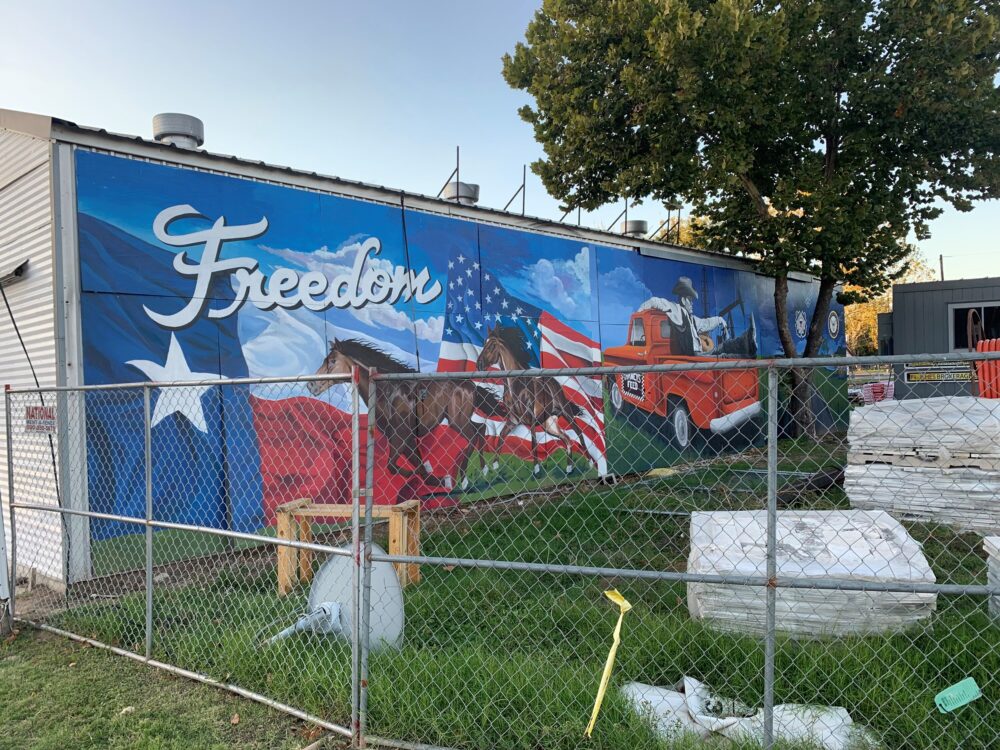 Waller's new mural ordinance also has left them without any work in their new community, where they decided to relocate from the Fort Worth suburb of Burleson after being enlisted to create a total of 13 murals by Finishes Solutions. So they're seeking to have the ordinance struck down and ruled unconstitutional by a court, having filed a federal civil rights lawsuit last week against the City of Waller.
The Smiths are being represented free of charge by the California-based Pacific Legal Foundation, which wrote in the lawsuit that Waller's mural ordinance violates their clients' freedom-of-expression rights under the First Amendment of the U.S. Constitution as well as their equal protection rights under the Fourteenth Amendment. Pacific Legal attorney Jeff Jennings said the ordinance also is overly restrictive and cumbersome while being too vague in its definitions and giving too much discretion to city administrators.
"We took the case because this is an important free speech issue," Jennings said. "Cities shouldn't be able to go around censoring people based on the content of their message. That's what this ordinance does."
Art Pertile, the city attorney for Waller, said Thursday neither he nor any of city's elected officials would comment about the lawsuit because they had not yet been served with it and had the chance to review it. He also said they would not speak about what prompted the ordinance.
Pertile said a copy of the ordinance has not been posted online but could be obtained from the city secretary, who did not respond to a Thursday email requesting a copy.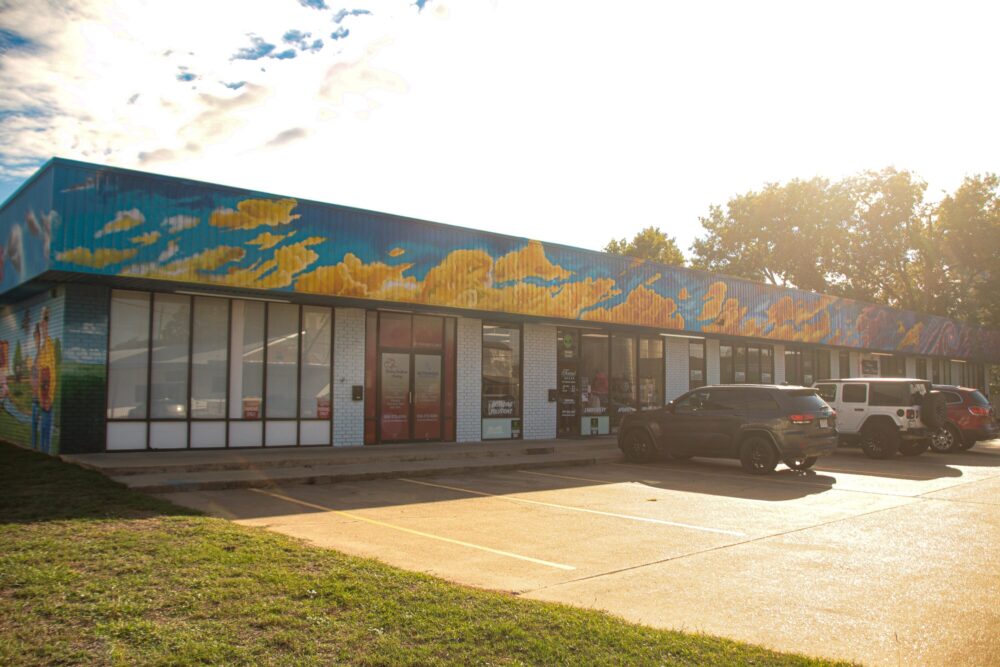 According to a copy of the ordinance provided by Kay Ray-Smith, murals "containing any commercial messages or advertising" are prohibited, they cannot be placed on residential buildings and they cannot be placed on the "primary façade of a building," meaning the side that faces the front door or a street. They also cannot contain "a logo, advertising symbols, lettering, trademarks, business, name, or other written references to the business on the premises, products or services that are provided within or at the premises where the mural is being painted."
When asked what types of murals or mural imagery would be permitted under the ordinance, the Smiths both said they didn't know. They also said the ordinance is cost-prohibitive for artists and businesses that want to beautify their properties, because in addition to the $500 registration fee for each new mural, violations of the ordinance are punishable by a fine of $2,000 per day.
"This ordinance damages and steps on the necks of every citizen, every business owner, every artist now and in the future," Kay Ray-Smith said.
In a meeting they had last fall with Waller Mayor Danny Marburger and some members of the city council – before they entered into a contract with Finishes Solutions and started painting murals – the Smiths said some at the city expressed concern about what kind of murals and images they might create. The Smiths tried to reassure them, they said, by discussing the work they had done in some other Texas cities, such as Burleson, Dallas and Fort Worth.
Brad Smith, 61, who said he began painting murals as a teenager, said none of the work he has done or planned to do in Waller could be considered controversial.
"My murals make people smile," he said. "I'm not trying to do anything controversial. There are plenty of artists that do that. I go into cities and try to help their economic situations."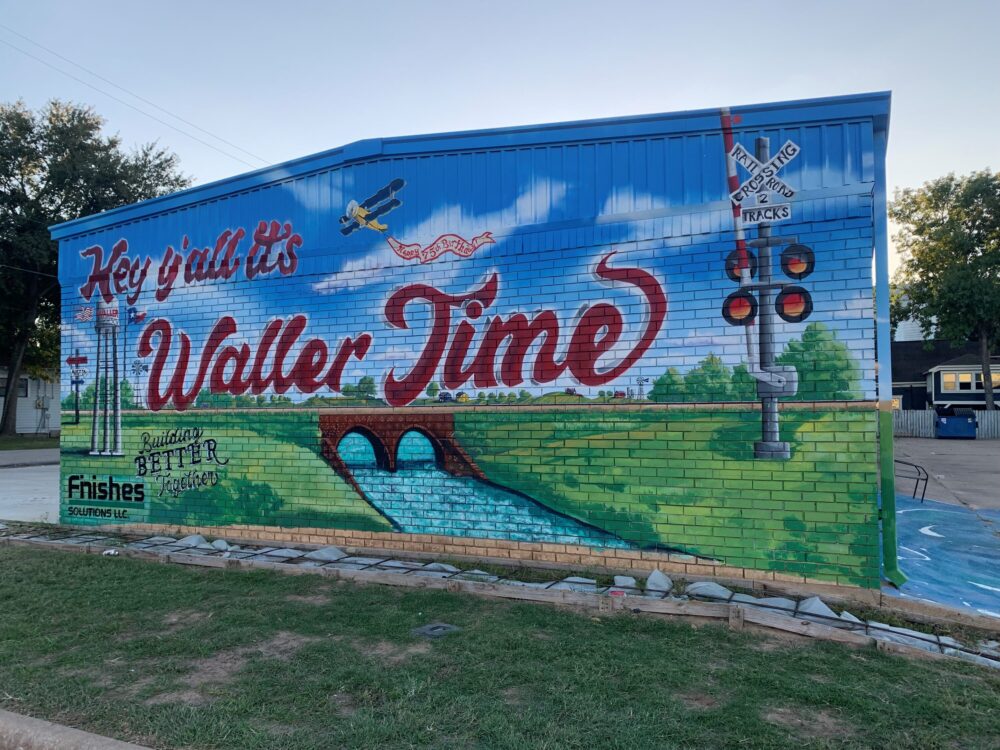 After completing their first few murals for Finishes Solutions, the Smiths said they got word that Waller's elected officials were working on an ordinance regulating them. They were told, they said, that a resident complained about the colors they used being too bright.
According to the lawsuit, Pertile addressed the reason behind the ordinance when it was passed at a city council meeting on Feb. 20.
"It allows for those people who may not care for public art not to have to see it every day ... because you're on a public road and people may not think that it's appropriate, even though you may believe it's appropriate, they may believe it's not appropriate and they may not want that on the front of the business every day," Pertile said at the time, according to the lawsuit.
The Smiths both said they wonder if Waller leaders are "afraid of progress" or trying to resist growth, development or any sort of change to the status quo in the community. Brad Smith said he considers it to be a "sweet community" that's "like Mayberry in a lot of ways," with him envisioning the town as a good place to retire.
The Smiths said they also have compared Waller to the fictional small town in the 1984 film "Footloose," where the main character portrayed by Kevin Bacon moves from a big city and discovers that dancing and rock music is illegal in his new hometown. Brad Smith's son created a meme by modifying a "Footloose" poster, replacing Bacon's head with Smith's and putting a paintbrush in his hand.
"We saw (the ordinance) as just that ridiculous," Kay Ray-Smith said.