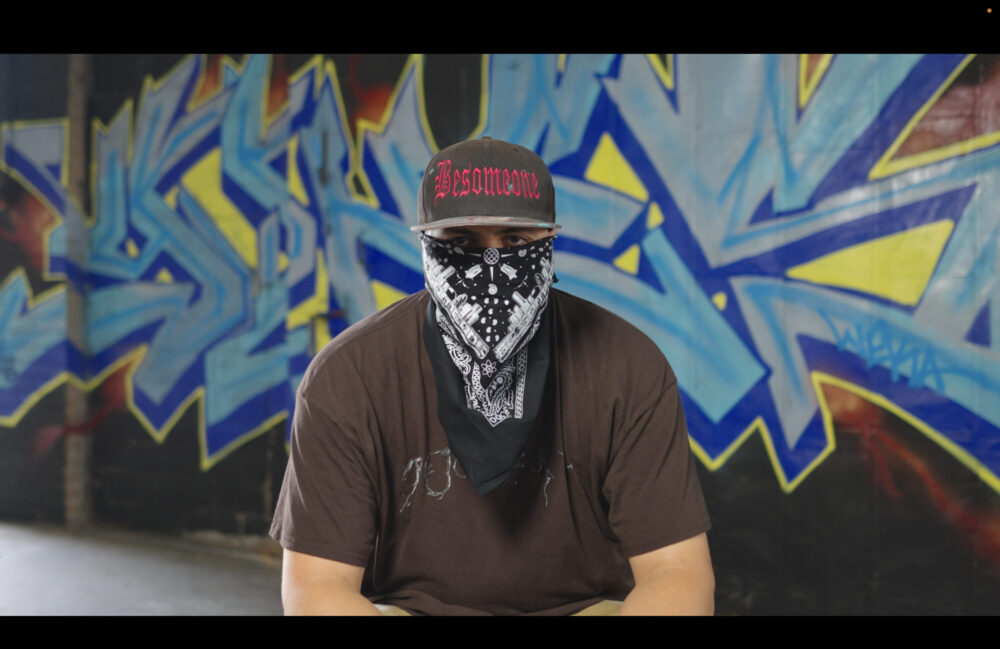 Iris Karami was a teenager the first time she saw the "BE SOMEONE" message.
The iconic Houston graffiti art immediately made her feel "seen" and motivated. It also made her curious to find out who was behind it and why they decided to paint it on the side of a rail bridge north of downtown.
She eventually did that, identifying the artist through social media research and convincing him to go on camera and share his story and his message – albeit with a covered face and distorted voice in order to keep his identity a mystery. Karami filmed a documentary about the graffiti artist and his signature work in 2016, when she was a freshman at the University of St. Thomas, and later used it to get into the University of Texas at Austin, land a job as a TV news reporter and work in the commercial film industry producing political ads.
Now the 26-year-old journalist and filmmaker is revisiting the "BE SOMEONE" art and the still-anonymous man behind it, along with illustrating how they have inspired other Houstonians to pursue their dreams and live their best lives.
Karami's new and longer documentary premieres Sunday night at City Cellars, a wine bar and restaurant at 1801 Binz St. Suite 120 that is included in the film because owner and executive chef Daniel Wolfe is among those who have benefitted from the message. Wolfe even had the "BE SOMEONE" artist paint a mural inside his business, according to Karami.
"I interview other people in the documentary whose lives have been impacted by his work," Karami said. "Their stories are similar. Even though they're different people from different backgrounds, they have the same experiences."
Showings of the 20-minute documentary are scheduled for 7:30 p.m. and 9:30 p.m. Sunday, although the earlier showing is sold out. Tickets for the latter showing are $35 and can be purchased online.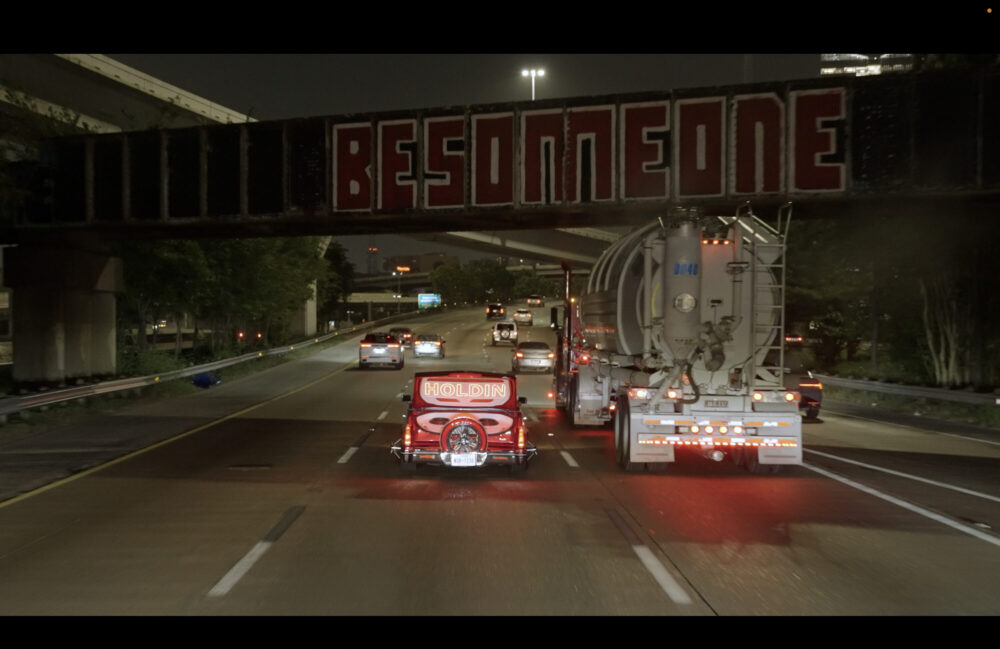 The film, titled "Besomeone Houston: a Documentary," was put together by Karami and her director of photography, Cesareo "Sosa" Barron of Opulent Films. She said it features new interviews with the graffiti artist as well as testimonials from Wolfe and Houston businesses such as Popston, an ice cream shop that recently collaborated with the artist on a flavor called Strawberry Cheesecake Traffic Jam.
The "BE SOMEONE" message, which debuted in 2012 on a Union Pacific-owned bridge that crosses above Interstate 45, also has inspired local craft beers and a Houston Rockets-themed T-shirt sold at Toyota Center, among many other things.
"I've even seen a therapy office call themselves 'Be Someone Therapy,'" Karami said. "That's cool."
The film also focuses on the "BE SOMEONE" artist and his personal arc as someone who started doing graffiti, went to college to study art, now has his own well-known brand and wants to continue evolving, according to Karami. There also are questions about the future of the message, which has been painted over a handful of times over the last decade.
Union Pacific Railroad pressed criminal graffiti charges in February against Houston artist Chandrika Metivier for allegedly painting "NO WAR KNOW PEACE" and "#WOMANLIFEFREEDOM" on the same bridge. A spokesperson for the railroad said at the time that charges were pursued because there were social media posts and media interviews that allegedly linked Metivier to the messages, adding that Union Pacific "cannot look the other when safety is on the line" and that artists "who trespass on bridges to 'tag' a message – whether a positive or a negative message – risk both their life and the lives of innocent motorists, pedestrians and others traveling below."
The "BE SOMEONE" message reappeared shortly thereafter and has since remained on the rail bridge.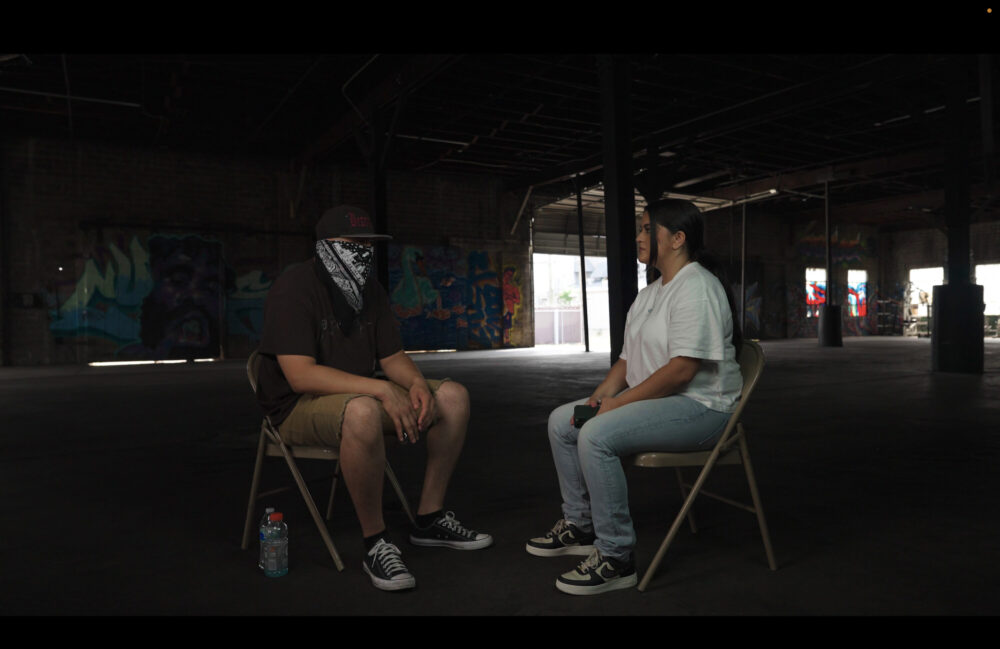 "(The film) asks some questions about the future of his art," Karami said. "How does he see himself going forward if he can no longer paint his message on the bridge?"
Karami also said her film has been a "hustle to the end," a concept to which many Houstonians likely can relate. She had to re-film the final scene on Wednesday night, she said, because she lost the original ending due to a technical issue.
She plans to show the film elsewhere after Sunday's premiere and hopes the latest documentary about "BE SOMEONE" can serve as another springboard in her own artistic career.
"This is an ongoing vision for me," she said. "I'm going to continue talking and doing work in Houston around arts and culture in our communities. I think it's so important to continue to reiterate what Houston is and kind reflect or examine our versatile culture here and how this place is a magnet for so many people for a reason."