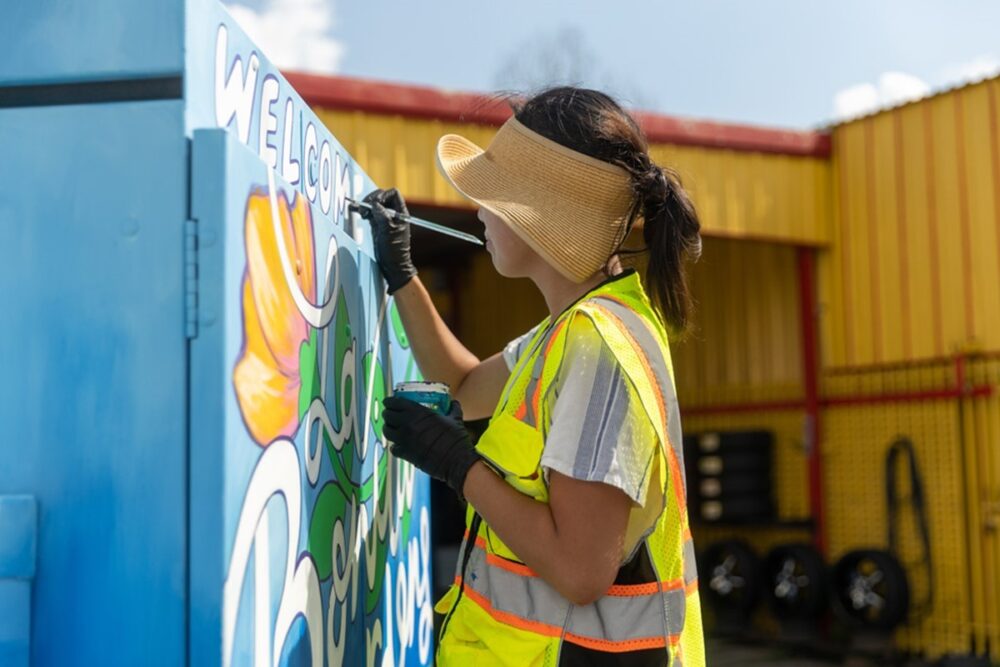 New collections of mini murals, the colorful art installations that beautify street intersections across Houston, are coming to parts of the city that lack public art.
The Houston City Council voted unanimously this week to commission 20 new works as part of the city's Traffic Signal Control Cabinet Program, which is implemented through a partnership with Houston-based UP Art Studio. The city is awarding the studio a two-year contract worth up to $395,000 to create five mini murals apiece in the Alief/Westwood, Fort Bend Houston, Kashmere Gardens, Magnolia/Manchester and Sunnyside neighborhoods, according to the Mayor's Office of Cultural Affairs, which said the program had been on a one-year hiatus.
"It's wonderful," said UP Art Studio co-founder Elia Quiles, who runs the studio along with her husband, Noah. "Those are underserved areas that generally don't have as much exposure to public art. We are very passionate about adding public art in those communities."
Nearly 400 mini murals have been created in the Houston area since the city launched its initiative in 2015, Quiles said. The idea, according to the city, was to curb graffiti in neighborhoods and serve as a gateway for artists to engage in civic art.
In addition to those inside the city limits, Quiles said League City, Harris County and the Texas Department of Transportation also have commissioned UP Art Studio to paint traffic signal control boxes in the region. The studio enlists mostly Houston-area artists to complete the works, such as Joy Matheson, Anat Ronen and Pilot.
The mini murals depict a range of people, places and themes, from former presidents and civil rights activists to local leaders and cultural icons to wildlife and plant life. Some include nods to the hospitals, fire stations or schools in the communities where they are located as well as to Houston's major professional sports teams such as the Astros and Texans.
"They have really transformed a lot of the infrastructure that just looks like concrete and metal boxes into beautiful pieces of art throughout the city, really contributing to the fabric of the culture of our city and improving spaces that traditionally just look like regular concrete," said Houston City Council member Martha Castex-Tatum, who serves as the city's vice mayor pro-tem.
The exact locations of the forthcoming murals have yet to be determined, with Mayor Sylvester Turner saying during Wednesday's council meeting that locations would be selected by the Mayor's Office of Cultural Affairs with input from community members. Requests can be submitted online at https://www.houstontx.gov/culturalaffairs/tscc-inquiry-form.html.
The mini murals can be financially sponsored by council district offices, city departments, management districts, community organizations, businesses and other entities. Quiles said UP Art Studio's contract with the city, which is for two years with the option for a pair of one-year extensions, covers up to $197,500 per year in city-sponsored mural projects. They can be sponsored by other entities at a cost of $3,250 or more, she said.
UP Art Studio also operates two websites, minimurals.org and houstonmuralmap.com, that include locations of all its murals as well as photos.
"UP Art has really helped democratize art, to get it to so many parts of our city where there was nothing like that," Houston City Council member Karla Cisneros said. "I really applaud the stable of artists that they have employed to create these art pieces. That's a very diverse group of people, too, that are a wonderful reflection of who this city is. It's just successful on so many levels, and our communities love this."