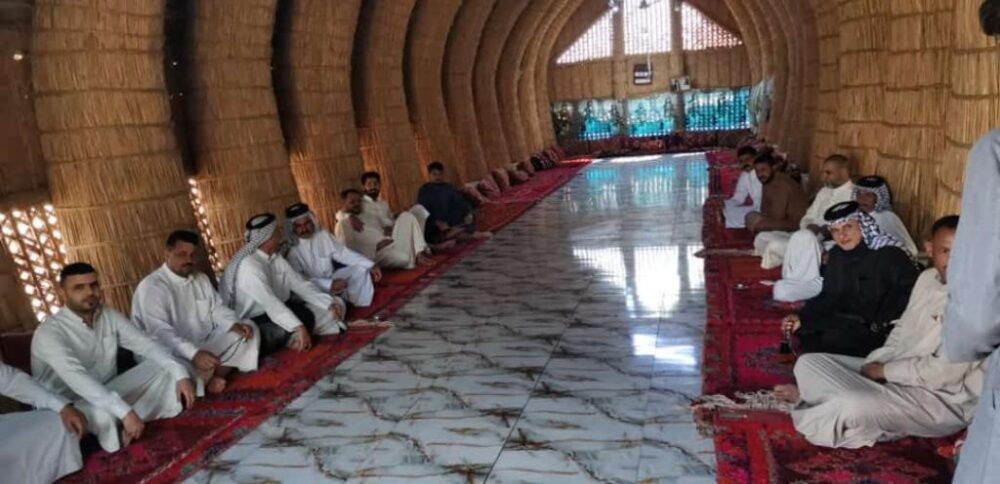 Motashar Alamyan left behind close family and friends, along with a beloved way of life in the freshwater marshes of Iraq, when he fled his home country during the Gulf War in 1991.
Now more than 30 years later, a significant piece of his homeland and culture – which can be traced back to the early days of human civilization – is coming to his adopted hometown. And he can hardly wait to share it with his fellow Houstonians.
Materials from Iraq are being shipped to Houston for the creation of a traditional mudhif, a handmade structure composed of reeds that serves as a community center in the marshes found in southeastern Iraq near the convergence of the Tigres and Euphrates rivers. The mudhif will be displayed at Rice University through the end of the year and serve as the focal point of the Marsh Arabs Project, a multifaceted, multi-organization initiative that aims to bring awareness to an ancient culture and its recent plight.
The 50-year-old Alamyan, who runs a limousine service in Houston, said he placed an excited call to his relatives in Iraq upon learning about the project.
"I told them we're going to have a mudhif here. We can sit down and drink coffee and meet people of different cultures," Alamyan said. "I'm so happy for it."
The same is likely true for the thousands of other native Iraqis in the Houston area, including a few like Alamyan who come from the marshes. The city's large number of residents from Arab nations, along with its overall diversity, made it an ideal location for the Marsh Arabs Project, according to project leaders Becky Lao of Houston's Archeology Now chapter and Ruth Ann Skaff of the Houston-based Arab-American Educational Foundation.
The mudhif will be the first in the U.S. made from authentic materials from Iraq, according to Lao, who said the structure – at 15-feet tall, 15-feet wide and 27-feet long – will be used this summer as part of the coursework in Rice's School of Humanities. The mudhif will then be unveiled to the Houston-area public during a grand opening celebration scheduled for Sept. 9, and after that it will host a series of educational and cultural activities, including family weekends, field trips for schoolchildren, culinary events and art events.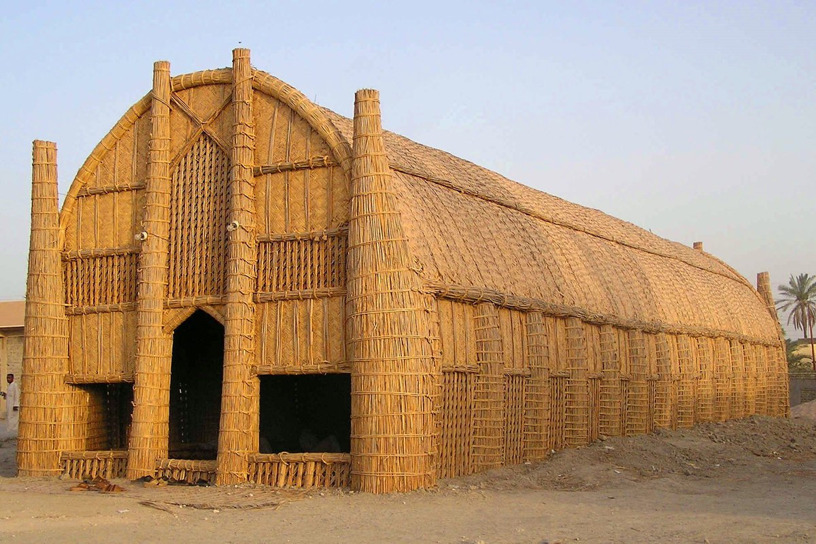 The project, funded in part by grants from the City of Houston and Humanities Texas, launches this week with a lecture about the Iraqi marshes scheduled for 7 p.m. Thursday in the Brown Auditorium at Museum of Fine Arts, Houston. Then, at 7 p.m. Friday in the museum's Lynn Wyatt Theater, there will be a film screening of "Miracle in the Marshes of Iraq" featuring film star Azzam Alwash, the co-founder of Nature Iraq who also is making a film to document the Marsh Arabs Project in Houston.
Lao said the two events this week, along with most of the other planned events, will be free and open to the public. Tickets for the Thursday and Friday events can be reserved on the Archeology Now website.
"These two events are going to launch six months of programming," Lao said. "The first one sets the stage. It helps you understand the people that arose in the marshes of Iraq and how they basically built western civilization."
Lao said the original plan for the mudhif involved bringing over a master builder from the marshes of Iraq, but that fell through because the enlisted man had never left that region and was "petrified" by the idea of traveling to the U.S. So project organizers arranged for the man to construct parts of the mudhif using reeds and then send those materials, along with building instructions, to Houston.
The materials were supposed to have arrived in April, according to Lao, who said the shipment has been delayed and is now expected to arrive later this month.
Lao said those difficulties are symbolic of the fragility of the Marsh Arabs and their way of life, with their population having once been larger than 500,000. The people and its ecosystem have been decimated in recent decades, Alamyan and Lao said, by a combination of climate change, damming and deliberate actions by former Iraq leader Saddam Hussein.
In response to uprising and opposition by people from the marshes, Alamyan said Hussein and his Baath Party built roads around the marshes and used other means to restrict the flow of water to the area. The wetlands are now about 95 percent smaller, Alamyan said, making them largely uninhabitable and driving marsh populations to more urban locales.
Historically, the region has teemed with water buffalo and fish and been a hub for migratory birds.
"I went back home (in 2006) to see what's going on there, and I found whole villages gone," Alamyan said. "I counted by hand the ones still there."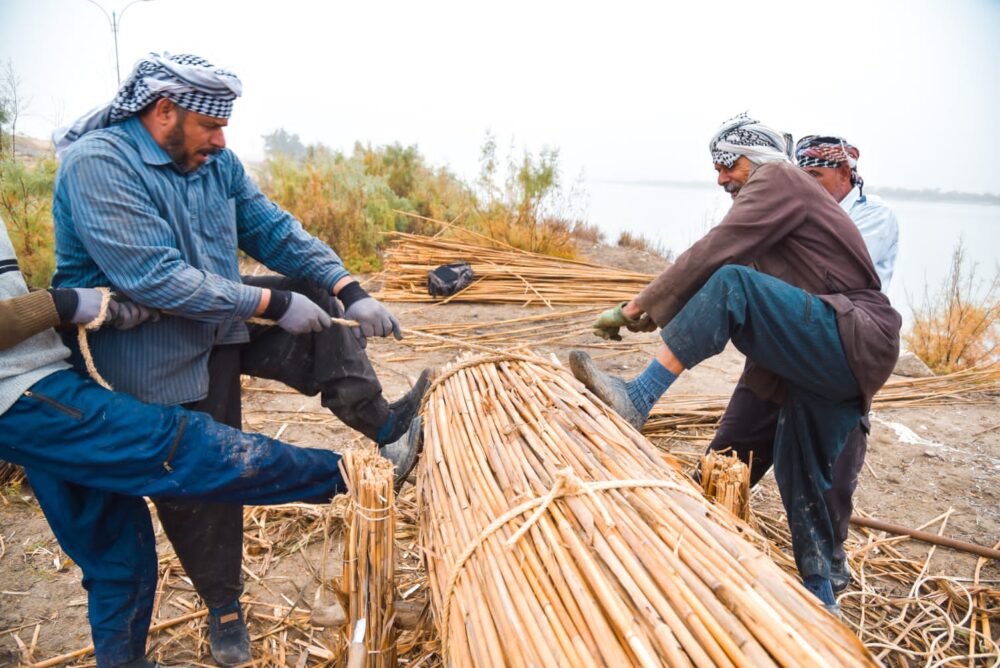 The plight of the marshes can provide lessons for people along the Gulf Coast, according to Lao, who said there are parallels between the two regions. The species of reed used to construct the mudhifs – Phragmites australis – also can be found in the Galveston area, which also has extensive biodiversity and is a destination for migratory birds.
Both regions also have deep ties to the oil industry.
"What lessons can we learn about evolving and living in better harmony with nature?" Lao asked. "This is a culture that has 5,000 years of living in harmony with the natural world. Our way of life could be threatened, too. With rising sea levels, Galveston could certainly go under water and it's going to impact Houston. So what can we do here?"
Another aim of the Marsh Arabs Project is to help preserve the traditions of a dwindling population. For example, Lao said the knowledge for constructing a mudhif "resides only in the minds of old men in Iraq." So by learning how to build one and documenting the process, that information can be passed down even if the marsh Iraqis are wiped out entirely.
Aqeel Alazraki, a local businessman and leader in Houston's Iraqi community, called it an "amazing" initiative that is resonating with Iraq natives both in the Bayou City and beyond. He said he's received inquiries about it from people in places such as Detroit and Oklahoma who want to come to Houston and see the mudhif once it is constructed.
Skaff said the atmosphere was "electrified" at an informational meeting about the project earlier this year, with Houston-area residents from Iraq offering both ideas and assistance. Many of them participated in a subsequent reed-gathering event along Sims Bayou, with the reeds harvested there to be used not for the mudhif but for related activities.
Once the mudhif materials arrive from Iraq, Alazraki and Alamyan said they'll be among the Houstonians who help put it together.
"I'm so proud, really," Alamyan said. "I'm so happy, too, to see people hear about another culture. Now the world, we are close with each other. We have to learn from each other, from history, from everything."