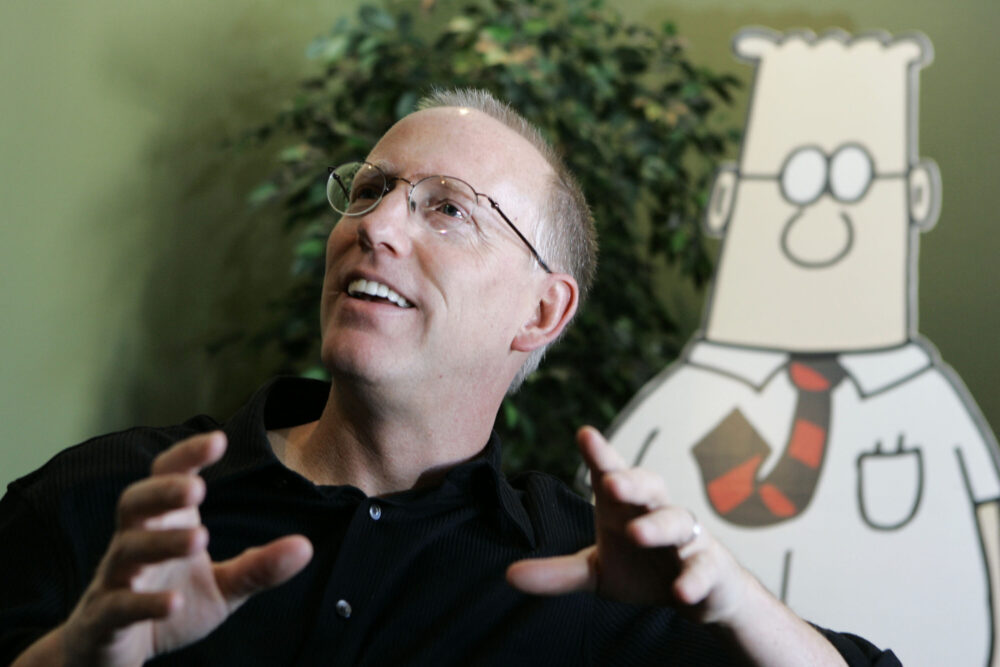 The Houston Chronicle is among several newspapers across the United States to cut ties with the long-running "Dilbert" comic strip over racially insensitive comments made by its author and creator.
Scott Adams, who has written and illustrated the workplace-themed comic since 1989, referred to Black people as members of a "hate group" during his YouTube show last Wednesday, also saying, "... the best advice I would give to white people is to get the hell away from Black people."
Chronicle Editor Maria Reeve said newspaper leaders decided two days later, on Friday, to stop publishing "Dilbert." She said the comic itself had become increasingly controversial, sometimes including questionable remarks about issues such as slavery and sexual orientation.
"We were finding ourselves having to monitor those and make sure we weren't running comics that were going to be offensive, derogatory, discriminatory or blatantly racist," Reeve said. "I think the final straw for a significant number of papers in the country was that podcast that (Adams) did last week. In listening to it – I didn't listen to the whole thing – but I listened to enough to come to the conclusion that this isn't a relationship that we want to continue."
The New York Times, Washington Post, Los Angeles Times and USA Today Network were among the other publishing companies to announce they were cutting ties with "Dilbert" after Adams' remarks. Then on Sunday, Adams and his comic were dropped by distributor Andrews McMeel Universal.
Andrews McMeel chairman Hugh Andrews, along with CEO and president Andy Sareyan, said in a joint statement that Adams' comments "were not compatible with the core values" of their syndication company.
"We are proud to promote and share many different voices and perspectives. But we will never support any commentary rooted in discrimination or hate," Andrews and Sareyan said.
In a YouTube episode released Monday, Adams said that new "Dilbert" strips will only be available on his subscription service on the Locals platform.
"They made a business decision, which I don't consider anything like censorship," he said of Andrews McMeel Universal, adding that his comments about Black people were hyperbole.
Adams had previously defended himself on social media against those whom he said "hate me and are canceling me." He also drew support from Twitter CEO Elon Musk, who tweeted that the media previously "was racist against non-white people, now they're racist against whites & Asians."
During the Wednesday episode of "Real Coffee with Scott Adams," he referenced a Rasmussen Reports survey that had asked whether people agreed with the statement "It's OK to be white." Most agreed, but Adams noted that 26% of Black respondents disagreed and others weren't sure.
The Anti-Defamation League says the phrase at the center of the question was popularized as a trolling campaign by members of 4chan — an anonymous and notorious message board — and began being used by some white supremacists. Rasmussen Reports is a conservative polling firm that has used its Twitter account to endorse false and misleading claims about COVID-19 vaccines, elections and the Jan. 6, 2021 attack on the U.S. Capitol.
Adams, who is white, repeatedly referred to people who are Black as members of a "hate group" or a "racist hate group" and said he would no longer "help Black Americans."
"Dilbert" no longer appeared in the Houston Chronicle as of Monday, according to Reeve.
"The kind of values that we're upholding, which is fairness, objectivity and where we don't set out to hurt groups of people, this runs afoul of that," she said.
The Associated Press contributed to this story.