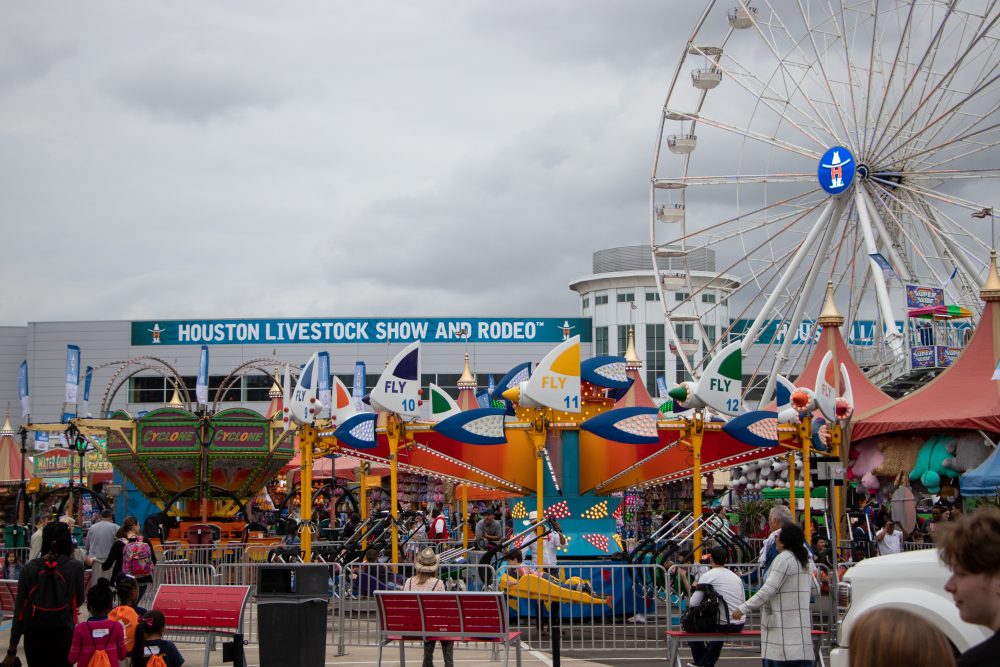 The return of the Houston Livestock Show and Rodeo is one week away, but Southeast Texans do not need to wait that long to put on their boots and cowboy hats and get into the rodeo spirit.
A series of rodeo-themed events, some of which are free and family friendly, are planned for the days leading up to the first rodeo performance and concert on Feb. 28 at NRG Stadium.
The following is a rundown of those events, the first of which kicks off Thursday:
Thursday-Saturday
The three-day World's Championship Bar-B-Que Contest is a popular pre-cursor to the rodeo. It will be held from 5-11 p.m. Thursday, noon-11 p.m. Friday and 9 a.m.-11 p.m. Saturday at NRG Park, where the aromas of slow-smoked barbecue will be accompanied by the sounds of Texas country music.
Tickets are $20 for adults and $10 for children ages 3-12, while on-site parking is $25. The price of admission includes entry to the rodeo carnival and access to The Garden, Rockin' Bar-B-Que Saloon and Chuckwagon, where complimentary sliced brisket plates will be served.
Entry to private team tents is by invitation only. Those guests must also have tickets to be on the grounds.
Among the musical acts to be featured are Dos Borrachos featuring Kevin Fowler and Roger Creager on Friday night and Reckless Kelly on Saturday night.
For more information, visit https://www.rodeohouston.com/Visit-the-Rodeo/Pre-Rodeo-Events/Bar-B-Que-Contest.
Friday
It's Go Texan Day on Friday, when all of Greater Houston is encouraged to sport Western-themed clothing and décor, host rodeo-themed events and listen to country and western music.
Part of the celebration is a free downtown event called the Rodeo Roundup, which starts at 11 a.m. in Hermann Square. Mayor Sylvester Turner will read a proclamation, chopped barbecue sandwiches will be distributed, live music will be playing and kids can pose for pictures atop a Texas Longhorn steer.
Those who best capture the spirit of Go Texan Day can enter an online contest by Feb. 28 in which winners will be declared in the following four categories: schools, small business, large business and government or non-profit. Entrants are asked to post a 60-seconds-or-less video, slideshow or montage from their event on YouTube, and then copy the link on the contest submission page at https://m.cmpgn.page/CPNRH.
Also Friday, all 10 rodeo trail rides are expected to reach Memorial Park. Each of the trail rides began last weekend, and together they will cover approximately 1,300 miles on horseback before participating in Saturday's Downtown Rodeo Parade.
For more information about the trail rides and their specific routes, visit https://www.rodeohouston.com/Visit-the-Rodeo/Pre-Rodeo-Events/Trail-Rides.
Saturday
It will be a morning filled with walking, running and riding horses in Downtown Houston.
The Rodeo Run starts with a wheelchair race at 9:10 a.m., followed by 5K and 10K events. Entry fees are about $40, and there is a "sleep-in" option in which supporters will receive a Rodeo Run T-shirt without having to show up and complete the course. All proceeds benefit the rodeo.
A post-race party for participants and supporters is scheduled for 10:30 a.m.-12:30 p.m. at Eleanor Tinsley Park, where there will be a "Family Fun Zone" with food and entertainment.
Rodeo Run participants will follow the same route as the Downtown Rodeo Parade, which starts at 10 a.m. on Walker Street between City Hall and Tranquility Park. The route will proceed east on Walker, south on Travis Street, west on Bell Street, north on Louisiana Street and west on Lamar Street to Bagby Street. Those streets will be closed to other traffic by 8:30 a.m. and are expected to reopen by 2 p.m.
Parking for both the parade and Rodeo Run is available at the Alley Theater Garage, Lyric Center, 1100 Smith Garage and Theater District Parking, in addition to street parking.
Visit www.rodeohouston.com for more information.