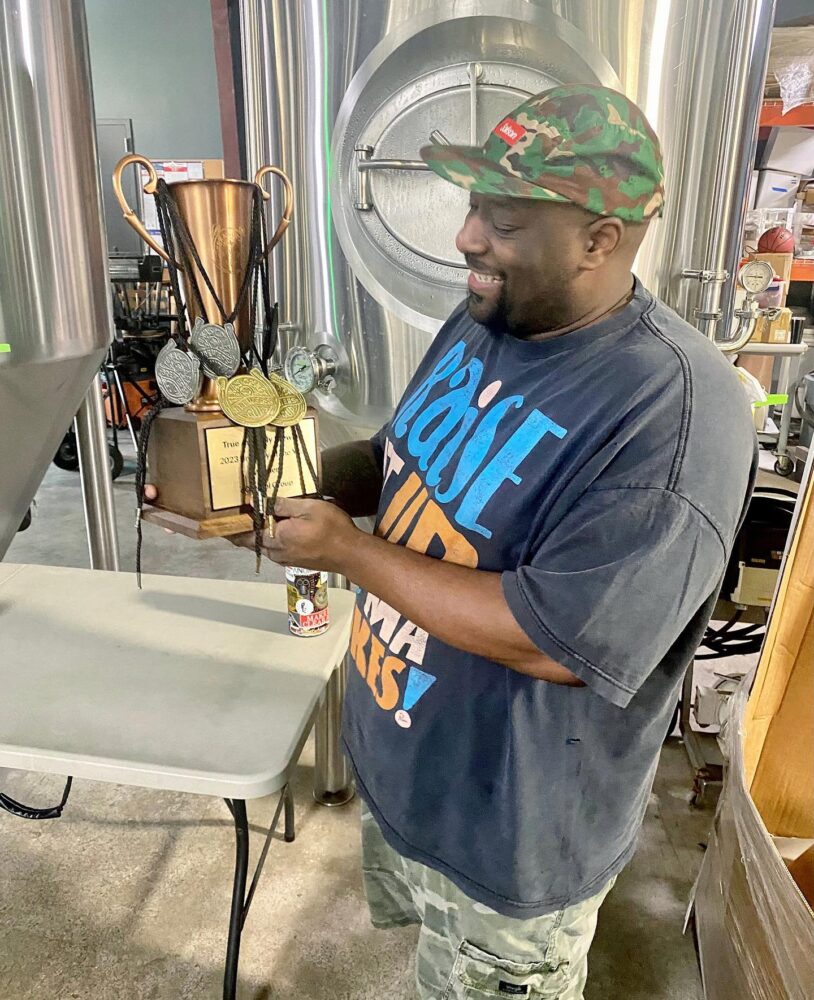 The four co-founders of True Anomaly Brewing Co., who met while working together at NASA and the Johnson Space Center, are just as passionate about pushing the boundaries of beer-making as they are about space exploration.
The East Downtown brewpub, about five years after launching into Houston's growing craft beer market, appears to have all its engines firing in unison and is propelling itself toward stardom.
True Anomaly, 2012 Dallas St., was the biggest winner from not only the city but the entire state last weekend at the Texas Craft Brewers Cup in Austin, where its beers were awarded three gold medals and two silvers. The haul earned the Houston business the distinction of 2023 Brewery of the Year among the state's largest independent brewers.
"It's tremendous," True Anomaly CEO Michael Duckworth said. "Being brewery of the year is something we're genuinely excited about. We hope it will elevate our brand in general."
Nine other Houston-area breweries took home medals from the statewide competition, with three of them also claiming gold medals. B52 Brewing Co. in Conroe won the Decadent Beer category for Super Smoothie: Pear Blueberry Crumble, while Saint Arnold Brewing Company earned a top award for French Press in the Chocolate & Coffee category and Walking Stick Brewing Company won gold in the Classic UK Styles category for its Castle Pale Ale.
True Anomaly's awards were gold and silver in the Brett & Mixed Culture category for Aurora 7 and Moonbow, respectively; gold in the Belgian & Farmhouse Ales competition for Small Giant; gold in the Wood & Barrel-Aged Sour & Brett Beer category for its Sea of Waves; and silver in Belgian Abbey Ales for its Sixteen Suns beer.
Duckworth said Sea of Waves is True Anomaly's most decorated creation. It repeated as a gold medalist at the Texas Craft Brewers Cup after winning a 2021 gold medal at the Great American Beer Festival and a bronze medal at the 2022 World Beer Cup.
"It's really proved itself out," Duckworth said. "At this point, we're thinking it's one of the better barrel-aged sours in the nation, maybe across the world."
True Anomaly is unique among local breweries, according to Duckworth, because it uses different types of yeast and offers an array of styles including wood-aged and fruited sours as well as Belgian-style brews. Some of the beers can take up to two or three years to make, he said.
Perhaps that patience and attention to detail stems from True Anomaly's roots in the aerospace industry. Duckworth said each of the other three co-founders – Tom Ahlstrom, David Lantz and Brian Stahl – have backgrounds as aerospace engineers, with Lantz and Stahl continuing to work for NASA.
Astronauts and flight directors frequent the True Anomaly taproom, Duckworth said, and many of the beers on offer have space-themed names. Sea of Waves is a nod to the Sea of Tranquility on the moon, for example.
"We really push with exploring styles of beer," Duckworth said. "We want to get people to come by the taproom to enjoy something a little more unique."
HARDWARE FOR HOUSTON
The following is a list of medaling breweries from the Houston area at the Texas Craft Brewers Cup, held Feb. 11 in Austin:
True Anomaly Brewing Co.: gold medal in Belgian & Farmhouse Ales for Small Giant; silver in Belgian Abbey Ales for Sixteen Suns; gold and silver in Brett & Mixed Culture for Aurora 7 and Moonbow, respectively; gold in Wood & Barrel-Aged Sour & Brett Beer for Sea of Waves; 2023 Brewery of the Year among large breweries
B52 Brewing Co. in Conroe: gold in Decadent Beer for Super Smoothie: Pear Blueberry Crumble
Saint Arnold Brewing Company: gold in Chocolate & Coffee for French Press
Walking Stick Brewing Company: gold in Classic UK Styles for Castle Pale Ale
8th Wonder Brewery: silver in Barleywine & Strong Ale for Sabotage
11 Below Brewing Company: silver in Decadent Beer for Coconut Space
Senate Avenue Brewing Company in Jersey Village: silver in Classic UK Styles for House of Lords
Frost Town Brewing: bronze in Kolsch for Frost Bier
No Label Brewing Co. in Katy: bronze in Specialty Hoppy for Warrior Road
Vallensons' Brewing Company in Pearland: bronze in Belgian Abbey Styles for QUAD