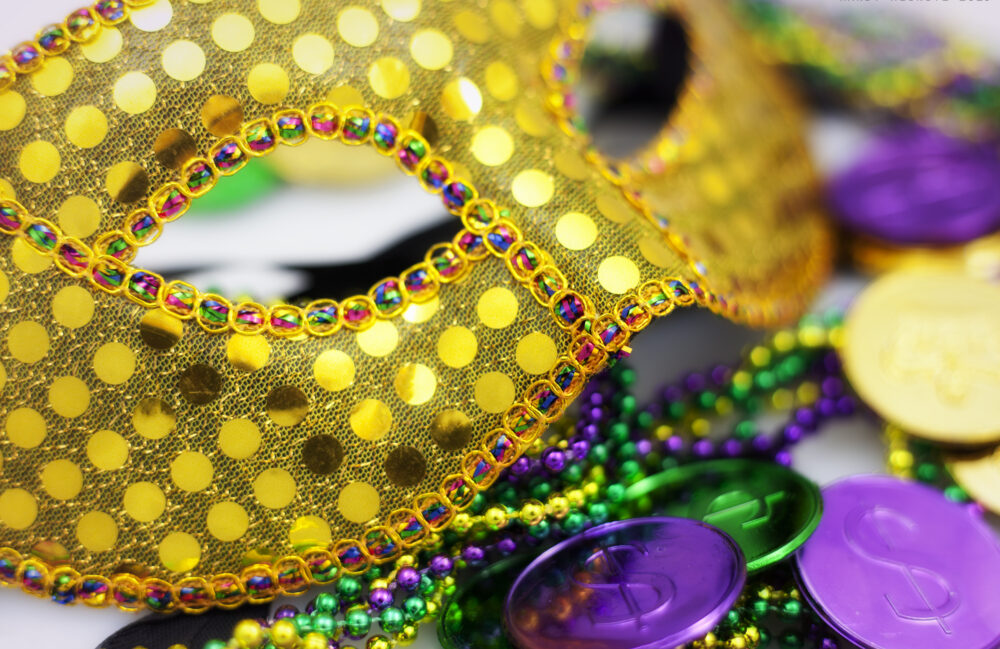 Mardi Gras is technically next Tuesday, Feb. 21. But many in and around the Houston area are not waiting until then to feast, imbibe and dress up in purple, green and gold costumes.
Local festivities for Mardi Gras, or Fat Tuesday, which is an annual celebration preceding the period of fasting and sacrificing associated with Lent, kicked off last weekend in Galveston and will ramp up this weekend. More themed events are on tap for next Tuesday.
Here is a rundown of ongoing and upcoming Mardi Gras events throughout the Houston region. Among them are free, family-friendly activities as well as special occasions at restaurants, bars and banquet halls.
HOUSTON-AREA MARDI GRAS EVENTS
ONGOING
Mardi Gras! Galveston
Arguably the biggest Mardi Gras bash in Greater Houston – partly because it spans 11 days and is 112 years old – kicked off last weekend on Galveston Island, continues this weekend and concludes next Tuesday, Feb. 21. There are a total of 23 themed parades on The Strand, including a golf cart parade, fire truck parade, kids parade and dog-and-cat parade. Festivities also include balcony parties and live music.
General admission tickets start at $15, and children 12 and under get in free with a parent or guardian. There is free admission for all on Sunday, Feb. 19.
Visit https://www.mardigrasgalveston.com/ for ticket information and a detailed schedule of events.
FRIDAY, FEB. 17
San Luis Salute
The region's most exclusive and extravagant Mardi Gras party also is in Galveston, at the San Luis Resort, Spa and Conference Center on the Seawall, and has long been sold out. Hosted by Galveston native and Houston Rockets owner Tilman Fertitta, the Salute typically features well-known entertainers. Grammy Award-winning rapper Pitbull is this year's featured performer, according to the Houston Chronicle.
SATURDAY, FEB. 18
Mardi Gras Brunch & Live Music
B&B Butchers & Restaurant, 1814 Washington Ave., is hosting a New Orleans-inspired brunch from 11 a.m.-3 p.m. Along with festive food and drinks, there also will be face painting and dueling pianos.
Tables can be reserved online at https://www.bbbutchers.com/posts/mardi-gras-brunch-w-live-music. Space is limited.
Mardi Gras Crawfish Boil
Truck Yard Houston, 2118 Lamar St., will celebrate Mardi Gras with live music, Cajun-style mudbugs and New Orleans-themed cocktails from noon-8 p.m. Food trucks serving other items also will be on site.
Visit https://www.eventbrite.com/e/mardi-cras-crawfish-boil-truck-yard-houston-tickets-515523403377 for more information.
Mardi Gras on Main
La Porte's annual celebration, from 4-9 p.m., includes markets, a parade, jugglers and stilts walkers. Step Rideau & the Zydeco Outlaws will provide live entertainment.
Find more details at https://visitlaportetx.com/mardigras.
Mardi Gras Celebration at B-52 Brewing
The Conroe craft brewery will transform from 5-10 p.m. There will be face painting, food from Space City Cajun, king cakes from Nola Girls Sweet Treats and live music by the On 3 Jazz Band.
More information is on the brewery's Facebook page.
Party Gras
RSVPs are required for this free, family-friendly event at Sugar Land Town Square, which is scheduled for 4-9 p.m. and will include a street art market, a parade by the Houston Art Car Klub, crafts and games for kids, costume contests, a king cake-eating contest and an oyster-eating contest. Live music also will be playing, and food and drink will be available from several local restaurants.
RSVP at https://www.eventbrite.com/e/party-gras-tickets-517938075727
Downtown Rotary Club of Houston's 2023 Mardi Gras Celebration
Celebrate in style at The Ballroom at Bayou Place, 500 Texas Ave., where there will be food, drinks and music from the Richard Brown Orchestra from 6:30-10:30 p.m. The cocktail attire event also will include live and silent auctions. Tickets cost between $200-$2,500.
Visit https://www.eventbrite.com/e/2023-mardi-gras-celebration-tickets-460354511737 for more information.
TUESDAY, FEB. 21
Fat Tuesday on The Plaza
Live music will blare during a free event at The Plaza at City Place, 1250 Lake Plaza Dr. in Spring. There will be king cake from Common Bond while supplies last, along with a gumbo food truck.
Visit https://cityplacenow.com/events/fat-tuesday-on-the-plaza-2-21/ for more information.
Fat Tuesday Mardi Craw at the Rustic Downtown
There will be boiled crawfish, drinks and music from Bayou Roux at this all-day celebration at The Rustic's downtown location, 1836 Polk St., where festivities are scheduled from 11 a.m.-11 p.m.
Find more at https://www.downtownhouston.org/calendar/mardi-craw/110437/.
Fat Tuesday at Watson House of Ales
There will be hourly cart parades at Watson House of Ales, 14656 Grigsby Rd. in the Energy Corridor, from 5-9 p.m. A DJ will be on hand as well.
More details are on the event page at https://www.watsonshouseofales.com/events/fat-tuesday.
Brennan's of Houston
New Orleans is the inspiration for Brennan's, 3300 Smith St., which is going all out for Mardi Gras from 5-9 p.m. A special three-course dinner will be served for $79, and the Sin City Drag Queens will play live jazz.
Visit https://www.brennanshouston.com/event/mardi-gras-2023/ for more information.
A Mardi Gras Murder Mystery & Chef's Table Dinner
A unique event from 7-9 p.m. at Murdoch's Backyard Pub, 18541 Mueschke Rd. in Cypress, will feature a Cajun-inspired four-course meal for $99. Masqueraded servers will wait on guests, who are encouraged to dress up for a Mardi Gras costume contest. Non-alcoholic drinks are included, and a cash bar will be available.
Sign up at https://www.eventbrite.com/e/murdochs-backyard-presents-mardi-gras-murder-mystery-chefs-table-dinner-tickets-525917572617.