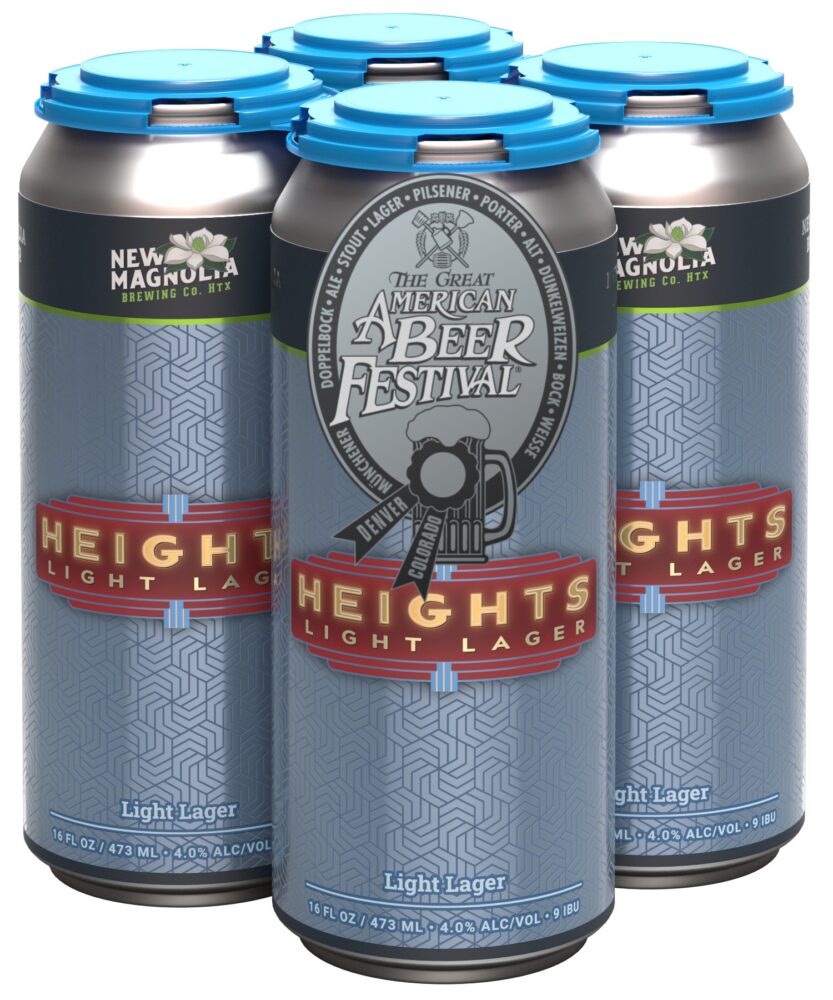 Shayn Robinson said gaining a foothold in an increasingly competitive craft beer market has not been easy for New Magnolia Brewing Co., which he opened in the months leading up to the COVID-19 pandemic.
It had to temporarily close its tap room in the Heights area, along with restaurants, bars and other brewpubs around the Houston region and the state. It then pivoted to to-go sales before later welcoming customers back for on-site consumption once pandemic-related restrictions were relaxed. And that was not the only early challenge for New Magnolia, which was sued by a similarly named brewer in Mississippi shortly after opening and had to dedicate time and resources to a federal trademark dispute it ended up winning.
New Magnolia kept chugging along and continued to brew beer. It's now hitting its stride as it prepares for the third anniversary of its opening, according to Robinson. And his family-operated business gained some significant momentum last weekend in Denver, Colorado, where its Heights Light Lager received a silver medal in the light lager category at the Great American Beer Festival.
It was the second national award in three years for New Magnolia's best-selling brew, which earned a bronze medal in 2020 in the American light category of the U.S. Open Beer Championship.
It's really validating, because we worked really hard on that beer," Robinson said. "When you win one award in one competition, then circle around a year or so later and win in another competition, it really puts a solid stamp of approval on that beer and what we're doing."
Houston's exploding craft beer industry, with 60-plus independent brewers around the region, has been recognized before at the annual Great American Beer Festival. True Anomaly Brewing Company in East Downtown, Eureka Heights Brew Co. in the Heights and Vallensons' Brewing Company in Pearland each won gold medals during the previous two competitions, with New Magnolia receiving a bronze medal in 2020 for its Fr. Bernard's Grodziskie, a smoked Polish beer.
New Magnolia was the only Houston-area brewery to medal in this year's competition, in which there were a total of 17 medalists from Texas.
"For us to be the only Houston brewery, it's kind of mind-blowing," Robinson said.
The Heights Light Lager, which is 4 percent alcohol by volume, is a creation of Robinson's father-in-law, John Ferguson, who is New Magnolia's co-founder and head brewer. It is made with grain and hops from Germany and with a water profile that matches a region in Germany, according to Robinson, who said the beer is "very clean and crisp" with little-to-no bitterness from the hops.
Robinson said the recent award figures to be a source of pride for the Greater Heights, which has become a craft beer hub of sorts, with more than 10 breweries in the area. He also hopes it can help New Magnolia build on its recent growth.
The brewery has about a half-dozen beers in distribution around the Houston area, including at Whole Foods Market, Total Wine & More and some H-E-B locations. And light lagers are becoming increasingly popular among craft beer consumers, according to Robinson, who said he's seen more kegs shipped out of New Magnolia, located at 1616 Bevis St., since the Heights Light Lager was awarded on Oct. 8.
"We're in this honeymoon period," Robinson said. "It'll probably carry us into next year, the first or second quarter. It's given us the opportunity to further expand our footprint in the Houston market. We've already seen it."