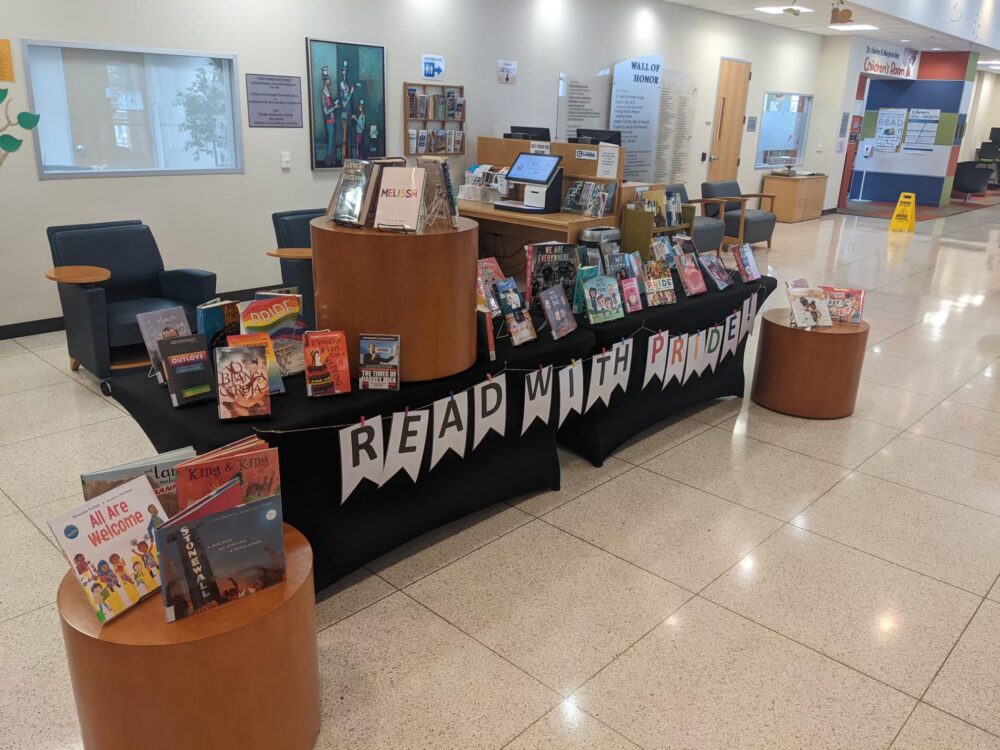 The removal of a "Read With Pride" display at the Huntsville Public Library, which included a collection of books about LGBTQ+ themes, has prompted outrage from some community members who say they welcome inclusivity and fear discrimination in the small college town an hour north of Houston.
The library posted last Wednesday afternoon on Facebook that it had reopened – using a graphic with rainbow-colored borders – prompting an impassioned discussion on the post about why it had been closed. Huntsville City Manager Aron Kulhavy said in a statement that the municipal library was temporarily closed Wednesday in order to remove "all displays until such time that the city can review the policies and procedures governing displays."
When asked about the specifics of the display removal, both library staff and Huntsville City Council member Daiquiri Beebe deferred to Kulhavy. In a statement Tuesday, he said multiple displays were removed at his direction. One of the reasons he gave was to "be able to better respond to citizen concerns from all viewpoints."
Both the "Read With Pride" display as well as a "Banned Books Week" display – which featured some classic novels that have been banned elsewhere in the United States and abroad – were up at the library early last week, according to Huntsville-area resident Deta Rogillio and photos of the displays obtained by Houston Public Media. Huntsville resident John Rhine, who provided the photos, said they were taken by someone who wishes to remain anonymous for fear of reprisal.
"There are kids who would identify under LGBTQ, so I think that taking down the display is sending a really hurtful message out into the community," said Huntsville resident Michelle Dimmick, a regular library visitor along with her two young children. "It's not an accepting or inclusive message, so that's why I was really upset about it."
Huntsville Texas Pride, a nonprofit organization that advocates for LGBTQ+ community members, condemned the display removal in a statement, calling it "discrimination" and "censorship." President Nick Ransford said the group also has organized a protest scheduled for 4 p.m. Tuesday outside City Hall, prior to a regularly scheduled city council meeting, where the library issue is not on the agenda.
Rhine also criticized the display removal in a letter he said he sent to Kulhavy and all eight members of the Huntsville City Council, saying the decision lacked due process and violated the public's trust. Rhine wrote that the city's move also could negatively impact the well-being of LGBTQ+ children in Huntsville.
"We are ashamed of and concerned by the fact that any city leader or employee would be involved in censoring a book display or the books themselves without due process and hearing from all sides on the matter," Huntsville Texas Pride said in its statement. "The library is a place for everyone and one or two individuals should not and cannot be allowed to dictate what can or can't be done in a public space based on their own beliefs or prejudices."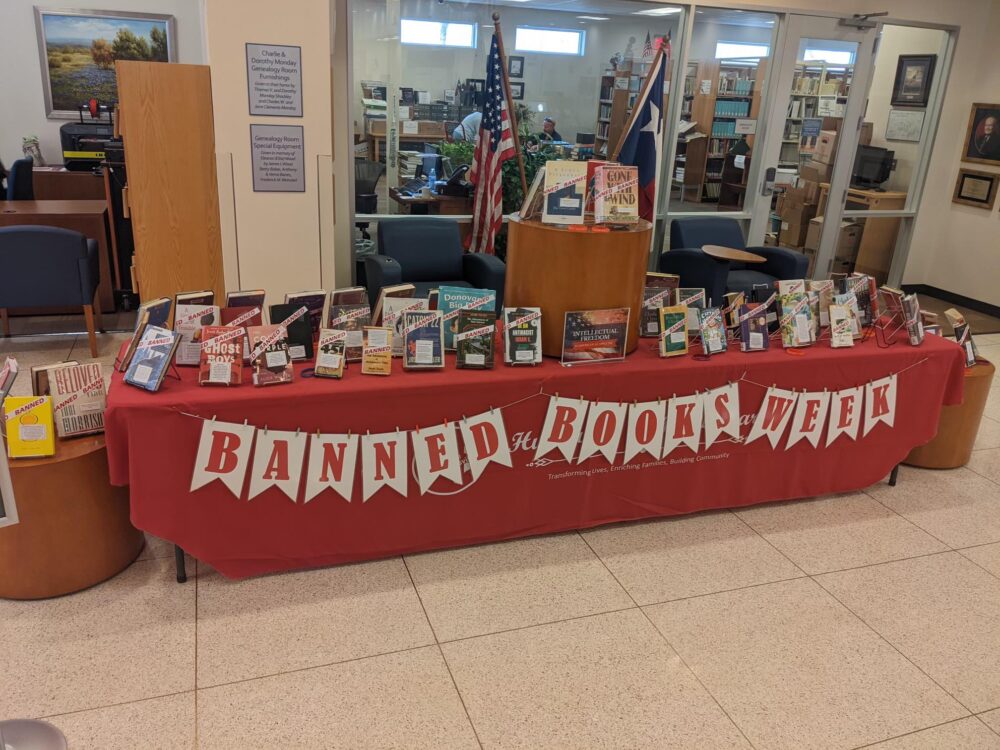 Kulhavy, while not addressing the specifics of the removed displays, said the decision was "not directed at any specific content because all displays are discontinued until review of policies by the city and to respond to all concerns from all viewpoints." He also said the city has not banned any books at its public library.
The library had made a series of Facebook posts during the month of August in which it highlighted well-known books that have been banned over the years by governments or school districts. Its "Banned Books Week" display featured titles such as "Gone With the Wind" and "Friday Night Lights."
Houston Public Media sent emails seeking comment to Huntsville Mayor Andy Brauninger and each of the eight city council members. As of Tuesday afternoon, only Beebe had responded.
"I have been advocating for freedom of speech at the library," she wrote in an email, adding that she believes residents should be able to choose what they read or don't read for themselves and their children.
Huntsville homeowner Al Bartell said the town of about 45,000, where Sam Houston State University and a state prison are located, has an active LGBTQ community but also a fair number of residents who oppose such lifestyles. That sentiment was echoed by Brittany Sanchez, a former Huntsville resident whose kids still attend schools there.
Sanchez said she has family members who would be uncomfortable with an LGBTQ pride display in a public place.
"I don't see it as pride being put in their face," she said. "It wouldn't offend me, but I don't blame the people that think negatively about it. It's in their beliefs, in their values."
Bartell said it's important for public libraries to offer books about LGBTQ+ issues, because they can help to educate young community members like his elementary-age daughters. Some of their friends have same-sex parents, according to Bartell, who said he's checked out books such as "My Two Moms" and "My Two Dads" – Claudia Harrington books that were on display at the Huntsville library – to help answer questions posed by his daughters.