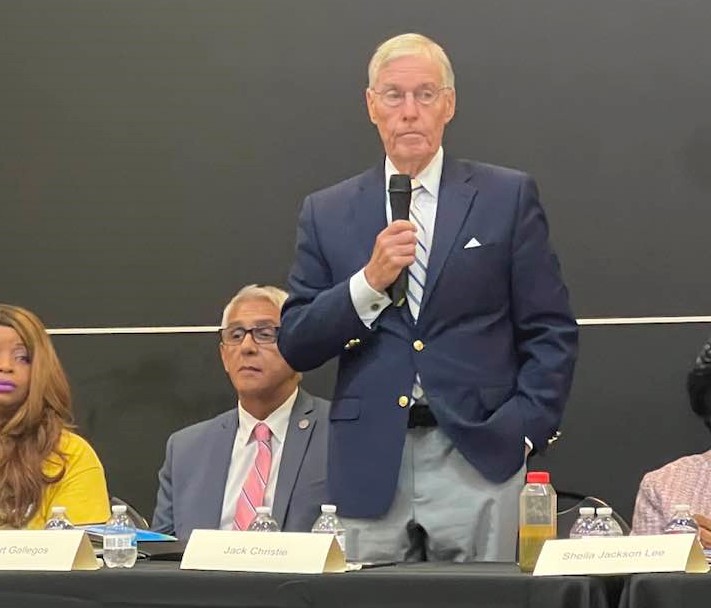 The election campaign for Jack Christie, a former Houston City Council member who is running for mayor, sent out news releases Thursday afternoon and again Friday morning saying he had been endorsed by a prominent local businessman and political donor.
The announcements linked to a short video clip of Gallery Furniture owner Jim "Mattress Mack" McIngvale, who is asked, "Would Jack Christie be a good mayor?" A smiling and enthusiastic McIngvale responds by saying, "Absolutely. Lots of experience and a very hard-working, good-looking guy."
But a spokesperson for McIngvale on Friday called it a "bait-and-switch" on the part of Christie's campaign, adding that McIngvale's comments were taken out of context and that he did not realize they would be used to claim he was endorsing Christie for mayor. McIngvale released a statement Thursday night saying he plans to vote for state Sen. John Whitmire, who is considered a frontrunner in the 17-candidate mayoral race to be decided Nov. 7.
"They're going to have some egg on their face, and it's kind of a scramble," Wayne Dolcefino, the spokesperson for McIngvale, said of Christie's campaign.
RELATED: Houston mayoral candidates go on attack with less than two months until election
Rashena Franklin, a spokesperson for Christie's campaign, disputed the claims made by McIngvale's camp in an email Friday. She said McIngvale knew his recorded comments would be utilized by the campaign for Christie, a 74-year-old chiropractor who served on the city council from 2012-20 and describes himself as a fiscally conservative Republican.
Franklin also said Christie's campaign was "shocked" to hear McIngvale "would now support an opponent," even though the businessman has long been behind Whitmire in the mayor's race. McIngvale took part in a campaign kickoff fundraiser for Whitmire last November.
"A person as well-known as Mattress Mack, and knowing Jack as well as he does, he knew the video would be used as a positive in the mayoral campaign for Jack Christie," Franklin said.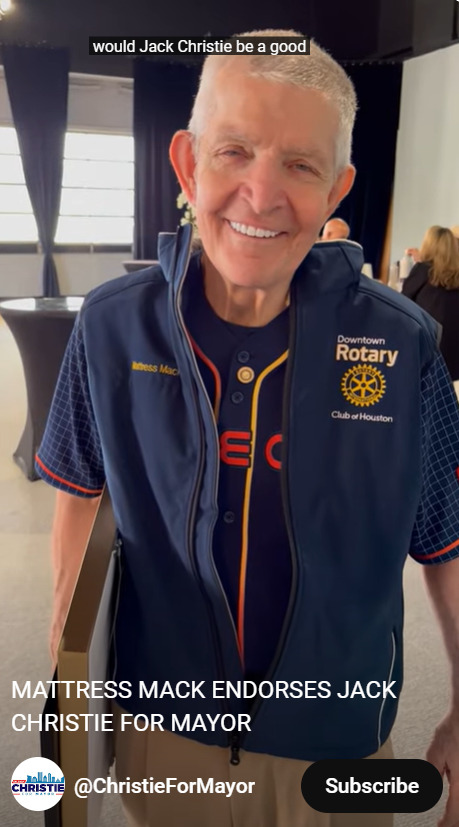 The campaign for Whitmire, a 74-year-old Democrat who has served as a Texas lawmaker since 1973, declined to comment. He and U.S. Rep. Sheila Jackson Lee, a 73-year-old Democrat, are widely considered the favorites to succeed the term-limited Sylvester Turner as mayor.
Dolcefino said McIngvale, who has previously endorsed and made donations to Republican political candidates, meant what he said in the video clip but was asked to say it by someone who approached him following a recent speaking engagement at the Downtown Rotary Club of Houston.
McIngvale received an apologetic text message from Christie on Friday morning, about an hour after the most recent email sent by his campaign, according to Dolcefino. He said the text message read, "My apologies for my overexuberant staff. I really appreciate you. Jack Christie."
Regarding the Friday text message, Franklin said, "The apology came from Dr. Christie, but the apology should have come from Mack to Dr. Christie."
The video clip featuring McIngvale's comments about Christie, along with Christie's campaign logo, remained posted on YouTube as of Friday afternoon.
"It's not a secret that Mack endorsed Whitmire, not a secret at all, not even remotely a secret," Dolcefino said. "Jack Christie knows that.
"No harm, no real foul," Dolcefino added, "but it's been 15 hours or so since they knew that it wasn't right, and it needs to come down immediately."