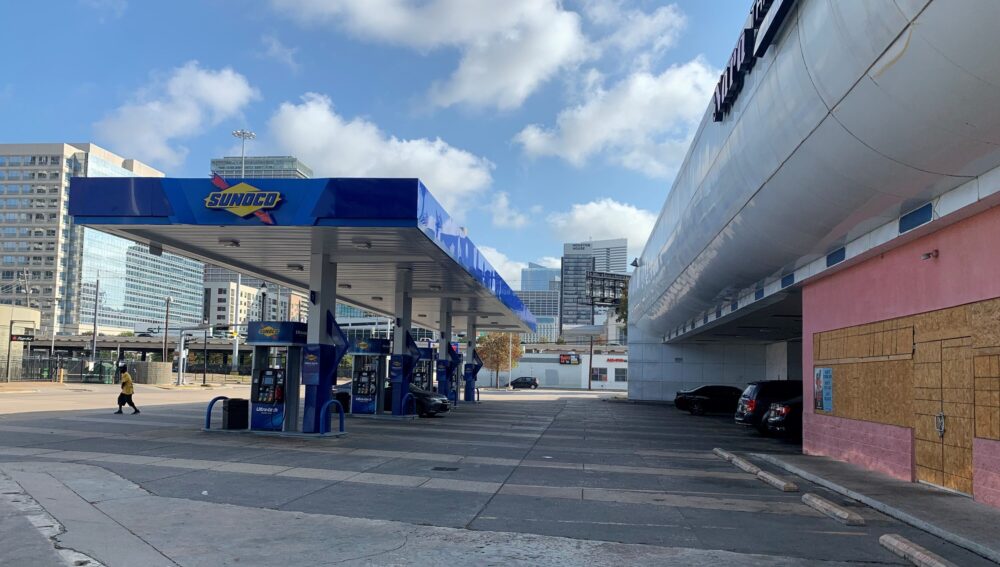 The part of Midtown just southwest of Interstate 45 has long been a "hot spot" for crime, according to Houston Police Department Cmdr. Caroleta Johnson, who oversees the division charged with patrolling the area.
She said it is plagued by homelessness, mental illness and both drug use and drug trafficking, with the presence of narcotics regularly resulting in violence. There were two shootings during the span of a week earlier this summer at the gas station near the corner of Fannin and Gray streets, with the second happening inside the store and causing a death.
Houston Police Chief Troy Finner vowed shortly after, in early August, to increase patrols in that part of Midtown and clean up the area. It remains an ongoing challenge, according to Johnson, who said her officers have seen some incremental improvements.
"We've had some noticeable differences when we drive through," she said. "We don't see as many people hanging out, so that's a good thing."
There has not been any more gun violence at the Sunoco station at the corner of Fannin and Gray, where a store manager said after the fatal shooting that crime and panhandling were scaring away customers and hurting his business. The manager could not be reached for comment this week, but the store still seems to be coping with those issues.
It was closed at 9 a.m. Thursday, when a man approached a reporter outside the store and asked for food or money.
Johnson said HPD is trying to continuously keep one or two officers in the immediate vicinity of the gas station, which is near a freeway overpass and a long-standing Greyhound bus station where Texas Department of Criminal Justice inmates are regularly dropped off once they have completed their sentences and are released from prison. Johnson said those people are not necessarily contributing to crime in that area, but part of the motivation for reducing criminal activity there is to "reduce their vulnerability to being sucked back into a lifestyle they had prior to them going to prison."
"It's really important to us," Johnson said. "We want to see them get off that bus, get a new start and not turn back."
In addition to increasing police presence – Johnson said HPD made 92 misdemeanor arrests and 55 felony arrests in that area during July and August – the department also has partnered with the Midtown Management District to do regular trash cleanups. The management district and office of Houston City Council member Carolyn Evans-Shabazz also have contributed funding to help pay for additional patrols and police overtime hours, according to Johnson, who said HPD also is deploying its homeless outreach team and trying to connect those people with resources and services.
SEARCH Homeless Services, a local nonprofit, and 7More, a Houston ministry that assists former prisoners once they are released, are also teaming up with HPD to address what Johnson described as "so many different societal issues."
"Despite historical hurdles, our dedication to resolving Midtown's challenges has never been stronger," Evans-Shabazz said.
Market forces and long-term transportation planning also could contribute to changing the conditions in that part of Midtown. The bus station went up for sale earlier this year, with the commercial real estate services firm that listed the property advertising it as a redevelopment opportunity, and a nearby McDonald's location shuttered after also coping with crime and homelessness.
The stretch of I-45 immediately to the northeast, known as the Pierce Elevated, also is expected to be rerouted to the opposite side of downtown in the coming years by the Texas Department of Transportation.
In the meantime, Johnson said her "heart goes out" to the Houston residents who live and work in the area. She said they deserve a safe environment.
"I do believe that it's an area that can change permanently, but it's an all-hands-on-deck approach," Johnson said. "It's not just an HPD problem. This is bigger than HPD. This has to do with a health epidemic. You're dealing with chemical dependency, dealing with individuals that are in need of services.
"I believe that we'll get there someday," she added, "but it's going to take more than just a law enforcement approach."