Loading…
It's been nearly half a century since Texas lawmakers considered removing an elected official from office. On Tuesday, that clock will start over once more, as the Texas Senate begins impeachment proceedings for suspended Attorney General Ken Paxton.

Paxton, a member of the Texas Republican Party's most conservative bloc, was removed from office in May by the Texas House after an investigative committee presented the chamber with 20 articles of impeachment. They allege Paxton committed bribery and abused the power of his office, among other allegations. Paxton was ousted from the Texas House after 121 members, including 60 Republicans, voted for his removal.

The acts were tied to a real estate developer and campaign donor, Nate Paul, who the investigators said benefited from his connections to Paxton. The Texas House investigators alleged Paxton used his office to intervene in a federal investigation into Paul and asked also staff in the attorney general's office to modify a legal opinion to benefit his friend. That came despite several top Paxton staffers and aides pleading with the attorney general to reconsider. Those top deputies eventually reported Paxton to the FBI and were subsequently fired or quit; four of them later sued Paxton under state whistleblower protections laws.

Paul has since been charged with eight federal felonies; Paxton's attorneys have denied the charges are connected to Paxton's case.
---
Prosecution's first witness is a 'lifelong' conservative who worked with Paxton
The prosecution's first witness is Jeff Mateer, who served as first assistant attorney general of Texas under Ken Paxton from March 2016 to October 2020. He is a veteran of the Federalist Society and was unsuccessfully nominated as a federal judge by former President Trump.
Mateer testified that he considers himself a lifelong conservative Republican. He said that at the time he began working for Paxton, he'd known him for ten years. Before and since his time with the attorney general's office, he has worked as chief legal officer for First Liberty Institute, a national religious liberty law firm.
---
Paxton's defense swings back at prosecution
Paxton attorney Tony Buzbee said in his opening statements that the attorney general has already been tried and convicted in the court of public opinion, embracing a theory embraced by Paxton supporters that lawmakers and the media have "an agenda."
"Are we really going to get a fair trial here have you already decided?" Buzbee asked state Senators. "Ken Paxton has been convicted in the press based on ignorance, innuendo and outright lies."
He also accused the Texas House Republicans, who led the investigations and who voted to oust Paxton, of colluding with a "drunken" lawmaker. That's a reference to videos surfaced in May showing House Speaker Dade Phelan slurring his words at the dais. Videos of Phelan before and after the incident show him speaking clearly.
Immediately afterward, Paxton demanded Phelan resign.
"Phelan was so drunk he couldn't even hold the gavel," Buzbee said. The Texas House committee that would later present the articles of impeachment announced its investigation into Paxton hours later. Buzbee said that wasn't a coincidence.
The indictments, he said, were brought by "a group of representatives fueled by a power lobbyist and led by a drunken speaker."
Buzbee also disputed that the Paxtons benefitted from the attorney general's relationship with Nate Paul, the real estate developer at the center of the allegations against Paxton. He said the allegations that Paul gave the Paxtons materials to remodel their house, specifically about $20,000 worth of material for granite countertops, aren't true. Buzbee adding there is proof the couple spent time at home improvement stores Lowe's and Home Depot pricing the materials themselves.
"You're going to hear a much different story when you hear the evidence, " Buzbee said.
---
Prosecution lays its case for impeachment in opening statements
State Representative and chief impeachment manager Andrew Murr laid out the case for the prosecution. He wove together a tapestry of the articles focusing specifically on the accusations that Paxton abused his office to aid friend and political donor Nate Paul, an Austin real estate investor. He argued that Paxton had committed crimes and that Paxton should be held to account. And Murr said that witnesses, House members and Senators sitting in judgment of Paxton had all come under heavy political pressure to either remain silent or to support Paxton.
At the center of the impeachment of Ken Paxton is a real estate investor named Nate Paul. Paxton was impeached on 20 articles, and most of them are related to Paul. Paul is a donor to Ken Paxton, and in 2020, Texas House investigators say Paxton used his office to intervene in a federal investigation against Paul. They say he also instructed his deputies to change a COVID-19 opinion to favor Paul.
Separately, Nate Paul is also facing eight counts of providing false statements to an array of financial institutions in California, Connecticut, New York and even Ireland. In one instance, prosecutors say Paul reported having $31.6 million in cash when he knew that account actually had less than $500,000.
It's too early to know if Nate Paul's indictment dovetails with the investigation into Paxton, and Paxton's lawyers have tried to distance their client from Paul, and have criticized those trying to connect the dots between the two men, saying it shows the weakness of the state's case against the suspended AG.
---
Opening statements begin in impeachment trial
Several staffers from the attorney general's office had filed a whistleblower complaint against Paxton and are part of an ongoing FBI investigation.
Patrick declined to rule on the question up front, saying he would decide on the issue "as it came up."
Opening statements began afterward. Each side will have an hour to outline their case.
---
Paxton pleads not guilty to all 20 impeachment charges
The Senate read each of the 20 impeachment charges against suspended Texas attorney general Ken Paxton. Speaking through his lawyer, Tony Buzbee, Paxton pleaded not guilty to all 20.
After more than half the charges were read, Buzbee opened by saying the charges were false or that Paxton was innocent, even going so far to call one of the charges "offensive," before adding Paxton pleaded not guilty.
Prosecuting attorney Rusty Hardin objected to Buzbee's claims, saying that if Paxton wished to speak in his own defense he could, but that he couldn't make speeches through his lawyer. After Hardin's objection, Buzbee responded to each charge by simply stating that Paxton was not guilty.
The Texas Senate is now on a lunch break. Lt. Gov. Dan Patrick said opening statements will begin at 1 p.m.
---
Paxton supporter at the trial ties charges against the attorney general to Donald Trump
As Paxton's team watched its various motions fail one by one Tuesday morning, several of his supporters gathered in and outside the Senate chamber to show their support for the embattled attorney general.
Peter Bowen, a Michigan native who's called Houston home for more than 20 years, said the charges against Paxton are tied to another controversial Republican.
"You have to understand something (in) this country right now: The only thing that's going on is whether or not Trump's going to be the next president," Bowen said. "Paxton is a big supporter of President Trump. He has fought to stall this idiotic ESG control over finance and he has supported the fight to investigate vote fraud. And he has championed Trump as that's why he's being attacked."
When asked his thoughts on why so many Texas Republican senators — not at all a liberal bunch — have voted to continue with the trial, Bowen said it's all tied to money.
"Look at their contributions," he said. "I don't have a lot of faith in elected officials because they are so dependent on money from large donors. So the real question is, can you lie enough to the population to get them to vote for you. And then you do what the money tells you to do."
---
Paxton will not be required to testify in his impeachment trial
Lieutenant Governor Dan Patrick has just ruled that — because of the similarities of the impeachment trial to a criminal trial and the House managers repeated treatment of the trial as such — Attorney General Ken Paxton cannot be compelled to testify.
This was the only major significant victory Paxton could claim this morning. Virtually every other significant motion Paxton made to try to strike down impeachment charges or exclude evidence against him was denied.
After a short break, the articles of impeachment will be read in the Senate, and Paxton will be asked how he pleads to each. The Senate will take lunch at 12:15 p.m. and opening arguments will begin afterwards. Each side will have one hour to present their opening arguments.
---
Rally in support of Ken Paxton planned outside Houston
Paxton supporters in Katy, near Houston, plan to protest the suspended attorney general's impeachment trial on Tuesday.
The "peaceful protest to support Paxton" is being hosted by the Houston-based Freedom Matters Action Group, according to the event's Facebook page. Seven people said they were attending as of 11:15 a.m. Tuesday.
---
Motion to dismiss rejected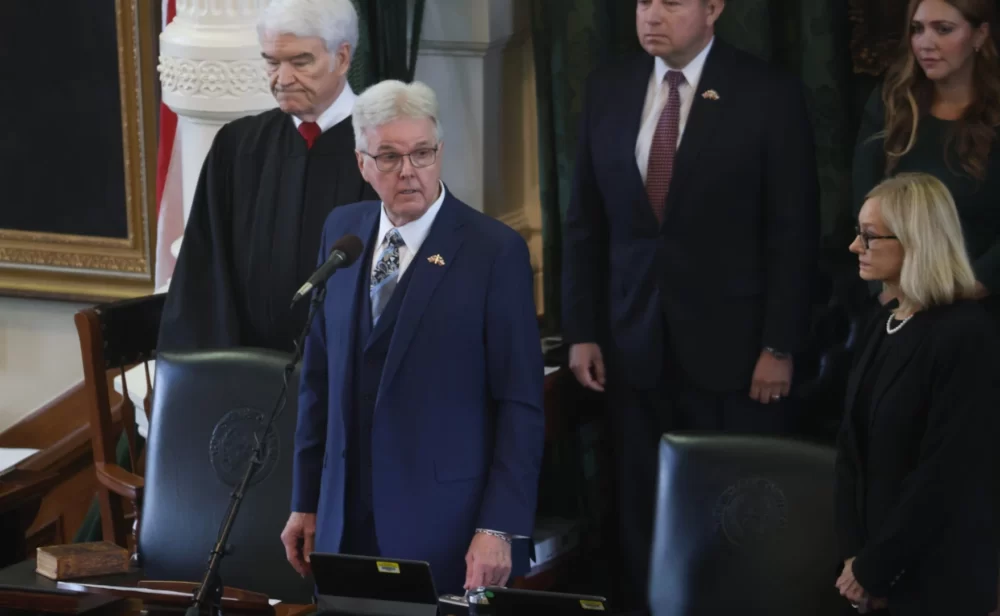 The senators voted on the first motion to dismiss the impeachment charges, and they rejected. This means the trial will move forward. A majority of Republicans voted against the motion to dismiss the charges outright with 24 votes. Only six senators voted to dismiss.
The six senators who voted yea were unsurprising: Senators Bob Hall (R-Edgewood), Lois Kolkhorst (R-Brenham), Paul Bettencourt (R-Houston), Brandon Creighton (R-Conroe), Tan Parker (R-Flower Mound) and Donna Campbell (R-New Braunfels).
One note: Angela Paxton, the wife of Ken Paxton, is in the Senate gallery and is watching the proceedings but she is not allowed to cast votes.
Mark Jones of Rice U's Baker Institute said if this motion is defeated, it means the GOP senators may be more open to removing Paxton from office. The alternative is a full airing of the party's dirty laundry and acquitting Paxton anyway.
---
Senators vote on Paxton's motion to dismiss
First order of business is to address dozens of pre-trial motions. Any motions that could result in dismissal of impeachment counts will be voted on by senators. The first motion is to dismiss all articles of impeachment.
There are 16 such motions, according to the Lt. Gov Dan Patrick. A simple-majority vote is needed to grant a motion.
Among other things, Paxton's attorneys say that 19 of the 20 articles of impeachment have to do with allegations that happened before the Republican was most recently reelected. And that's an important part: "most recently" reelected. They claim a legal rule called the "prior term doctrine" bars his impeachment on those articles, and therefore they should be dismissed.
Now, it's important to note that under the Texas Constitution, a public official cannot be removed from office for acts committed before the person's election to office. However, it's not specific on whether it refers to the first time the official is elected or the most recent election. And that's something, at the end of the day, the Senate Court of Impeachment will have to decide.
---
Lt. Gov. Dan Patrick swears in the Senators
---
LISTEN LIVE: Ken Paxton's Texas Senate impeachment trial