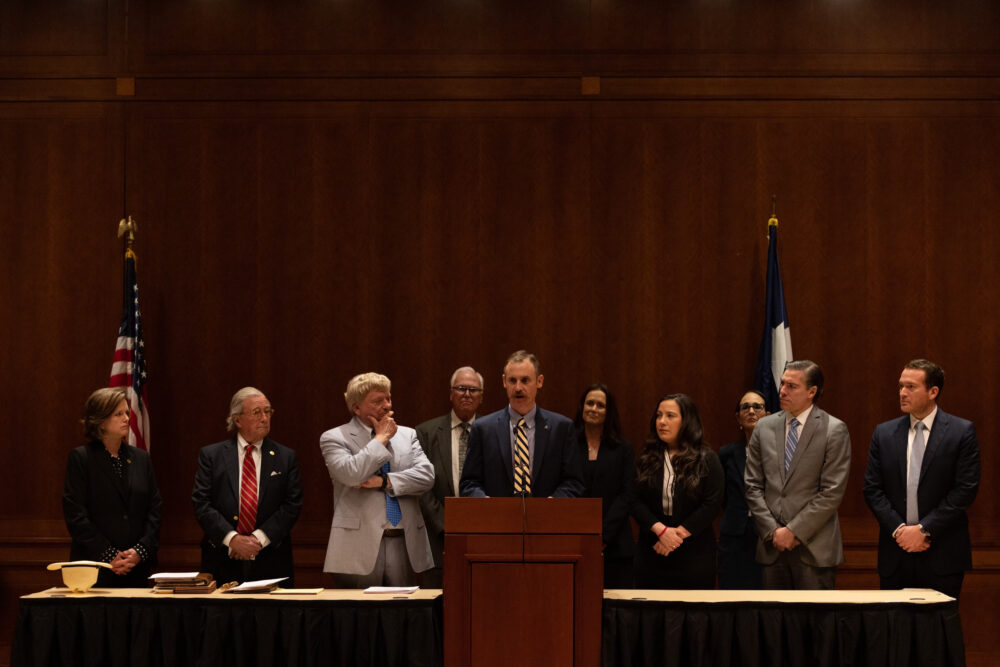 Prominent lawyers Dick DeGuerin and Rusty Hardin will serve as lead prosecutors for the Texas House in the Senate impeachment trial of suspended Attorney General Ken Paxton.
The two Houston-based attorneys are legends in their own right, having separately participated in numerous high-profile criminal and civil cases.
DeGuerin defended former U.S. House Majority Leader Tom DeLay against money-laundering and conspiracy charges. DeLay was found guilty, but his conviction was overturned on appeal. DeGuerin also successfully defended former U.S. Sen. Kay Bailey Hutchison from misconduct charges, and other high-profile clients have included New York real estate mogul Robert Durst and Branch Davidian leader David Koresh during the 1993 Waco standoff.
Hardin has similarly represented a slew of celebrities, star athletes and leading businesses, including Arthur Andersen, the accounting firm at the heart of the Enron scandal, and NFL quarterback Deshaun Watson as he faced a litany of sexual misconduct lawsuits in Harris County.
At a brief news conference Thursday, Hardin and DeGuerin said they were honored to represent the House in Paxton's trial, which has not been scheduled but will occur before Aug. 28, according to a resolution recently adopted by the Senate.
Hardin said their job was to be transparent as they lay out all of the allegations against Paxton so senators, who will sit as a jury, as well as members of the public can decide for themselves if Paxton deserves to be permanently removed from office.
Of the accusations against Paxton detailed in the 20 articles of impeachment, Hardin added, "I promise you it is 10 times worse than what has been public."
Disclosure: Dick DeGuerin and Rusty Hardin have been financial supporters of The Texas Tribune, a nonprofit, nonpartisan news organization that is funded in part by donations from members, foundations and corporate sponsors. Financial supporters play no role in the Tribune's journalism. Find a complete list of them here. This article originally appeared in The Texas Tribune at https://www.texastribune.org/2023/06/01/ken-paxton-impeach-rusty-hardin-dick-deguerin/. The Texas Tribune is a member-supported, nonpartisan newsroom informing and engaging Texans on state politics and policy. Learn more at texastribune.org.