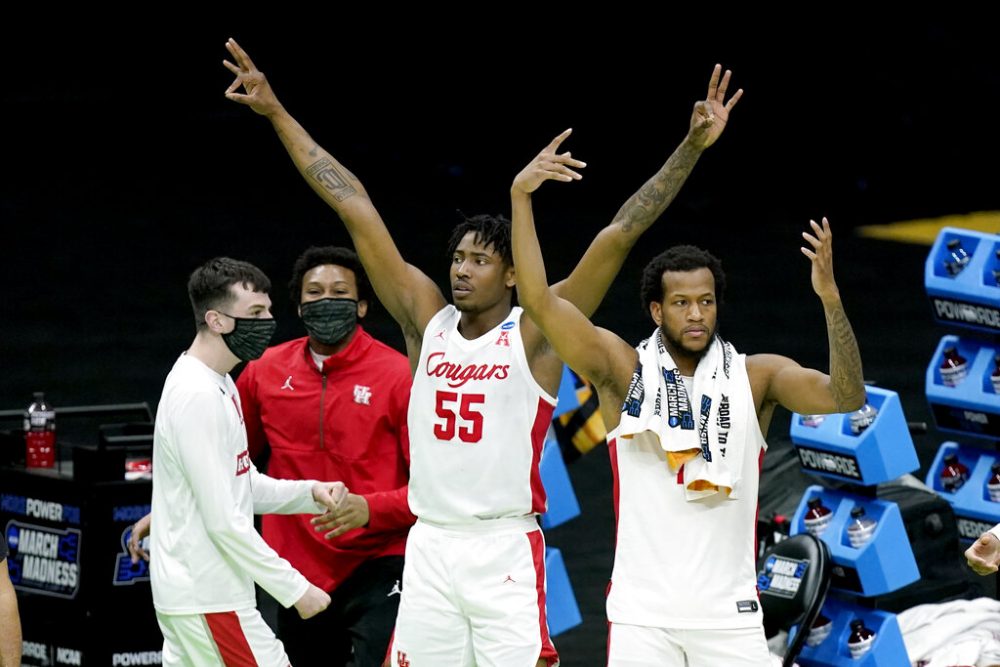 The University of Houston's men's basketball team will compete in its second straight Sweet 16 appearance Saturday, facing No. 11-seed Syracuse in the regional semifinals of the NCAA men's tournament.
It's the school's 13th appearance in the Sweet 16. A win Saturday would mark its first Elite 8 appearance in more than 30 years.
The No.2-seed Cougars (26-3) advaned after beating Rutgers on Sunday, led by defensive player of the year, DeJon Jarreau, and guard Quentin Grimes.
Grimes said there never really is a day off for the tem — from before practice, after practice, and on off-days, he said he's always on the court shooting with Assistant Coach Quannas White
"He never lets me slack off, even on days when I'm tired," Grimes said
Houston has started four transfers in the past five games, according to the Associated Press: Grimes (Kansas), No. 3 scorer Jarreau (Massachusetts), Justin Gorham (Towson) and Reggie Chaney (Arkansas).
"Sometimes that's just the way it works out," Head Coach Kelvin Sampson told the AP.
Jarreau said he took a few days off to recover, after suffering a hip injury against Cleveland State, but will be back in time for Saturday's game.
He said he doesn't believe his injury will play a major factor in determining his success this weekend.
"I'm just trying to play through it as much as possible," he said.
With a long zone and great defenders on the opponent's side, Jarreau said, this weekend's match-up will likely focus on solid three-point shooting from the Cougars.
Coach Sampson has also emphasized defensive drills since day one, Jarreau said, which has contributed to the successful culture of the program. Another one of Sampson's biggest focuses is the individual development of each player, he said.
Jarreau said Sampson has remained at the same intensity of coaching from day one, and the team is expected to match his energy at each practice. He praised the coach for continually pushing the team forward.
"I feel like all the guys feed off that," Jarreau said.
While admitting the team realizes the pressure going into the first game, Jarreau said they are focused on each game individually, and limiting their mistakes on the court.
"We know the opportunity that we have at hand, we know the history we can make, but we're trying not to think about it," Jarreau said. "We're trying to take it one game at a time."
Disclosure: Houston Public Media is licensed to the University of Houston.