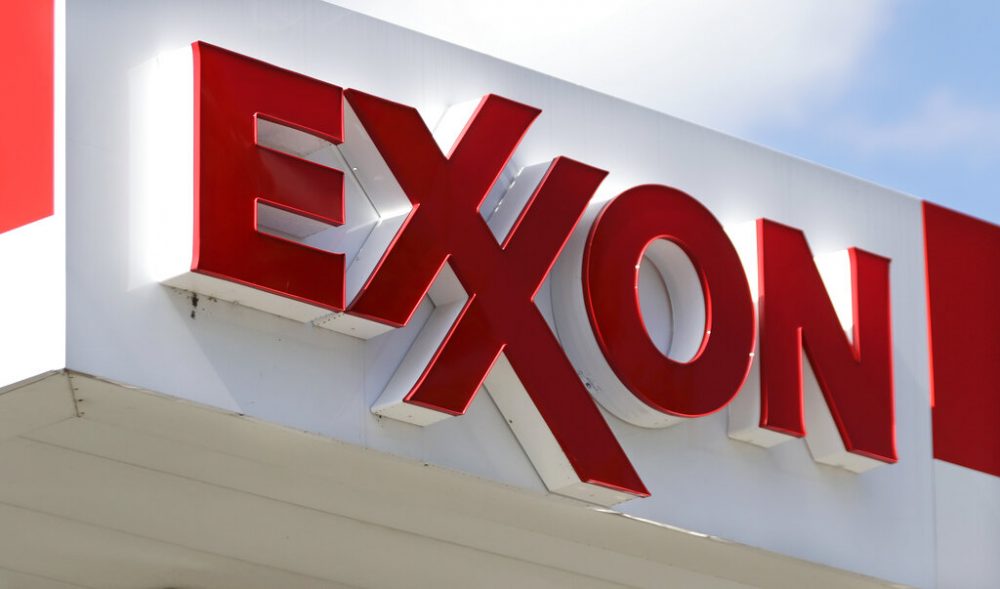 For years, Irving-based Exxon has released data about the company's direct and indirect greenhouse gas emissions. But in a new report published this week, the company for the first time has included estimated emissions from people using their products.
Emissions from consumer use of ExxonMobil petroleum and gas hit an estimated equivalent of 1,300 million metric tons of carbon dioxide in 2019, according to the company.
Direct greenhouse gas emissions from the company totaled the equivalent of 120 million metric tons of carbon dioxide in 2019. That same year, the use of Exxon natural and crude gas production added another estimated 570 million metric tons, and consumer use of petroleum products like fuels added an estimated 730 million metric tons.
The entire state of Texas emitted 711 million metric tons of energy-related carbon dioxide in 2017, the most recent year the U.S. Energy Information Agency has on record.
Exxon has resisted releasing information on indirect emissions resulting from the use of their products, known in the industry as Scope 3 emissions. However, after pressure from investors the company cautiously reversed course.
"Scope 3 emissions do not provide meaningful insight into the Company's emission-reduction performance and could be misleading in some respects," the report reads. "Increased natural gas sales by ExxonMobil that reduce the amount of coal burned for power generation would result in an overall reduction of global emissions but would increase Scope 3 emissions reported by the Company."
Rivals like BP and Shell have already noted the importance of Scope 3 emissions in their carbon reduction plans. In 2019, BP reported the equivalent of 357 million metric tons of carbon dioxide in Scope 3 emissions for its oil and gas operations.
And recently a group of investors has been pushing Exxon to do the same. In December, a new California firm called Engine No. 1 called for a more meaningful commitment to shifting to cleaner fuels, according according to Reuters. Those demands were echoed from other investors like the Church of England and the California State Teachers' Retirement System.
In its report, Exxon noted investor interest as the reason for releasing more comprehensive emissions data.
"Few would disagree that one of the most urgent societal challenges we face today is addressing the risks of climate change," wrote Exxon CEO Darren Woods in a letter for the report. "How we meet the world's demand for the energy necessary for economic growth while mitigating the long-term impact on our environment is key to our sustainable future."
That might be the sentiment of the current CEO, but some of his predecessors vehemently disagreed.
Lee Raymond ran the company until 2005, and he's known for publicly refuting scientific evidence that climate change is driven by human activity. Raymond pushed for aggressive oil exploration and production during his time, and he passed that on to the next leader.
Rex Tillerson took over after Raymond, but in 2006 slowly began to break from his former boss and directed the company to focus more on its climate policy, according to Steve Coll's 2012 investigative book "Private Empire."
"They intensively analyzed alternatives to the climate policy positions ExxonMobil had articulated and supported under Lee Raymond," Coll wrote. "One manager who participated saw the exercise as an effort by Tillerson to carefully reset the corporation's profile on climate positions so that it would be more sustainable and less exposed."
That means less exposed to the public, which the company has a somewhat rocky relationship with. Exxon has a reputation for being set in its ways, and is often criticized for doggedly increasing drilling activity that in turn increases the company's carbon footprint.
However, under current CEO Darren Woods — who took over when Rex Tillerson was tapped to become Secretary of State in 2016 — the company has more publicly acknowledged their emission mitigation plans. That includes the current report, which says Exxon plans to gradually reduce methane emissions and natural gas flaring.
"The steps we are taking to reduce emissions reflect ExxonMobil's commitment to addressing the risks of climate change," Woods wrote in the report. "We also continue to invest in lower-emission technologies, such as carbon capture and advanced biofuels, which are necessary for society to achieve its ambition for net zero emissions by 2050."