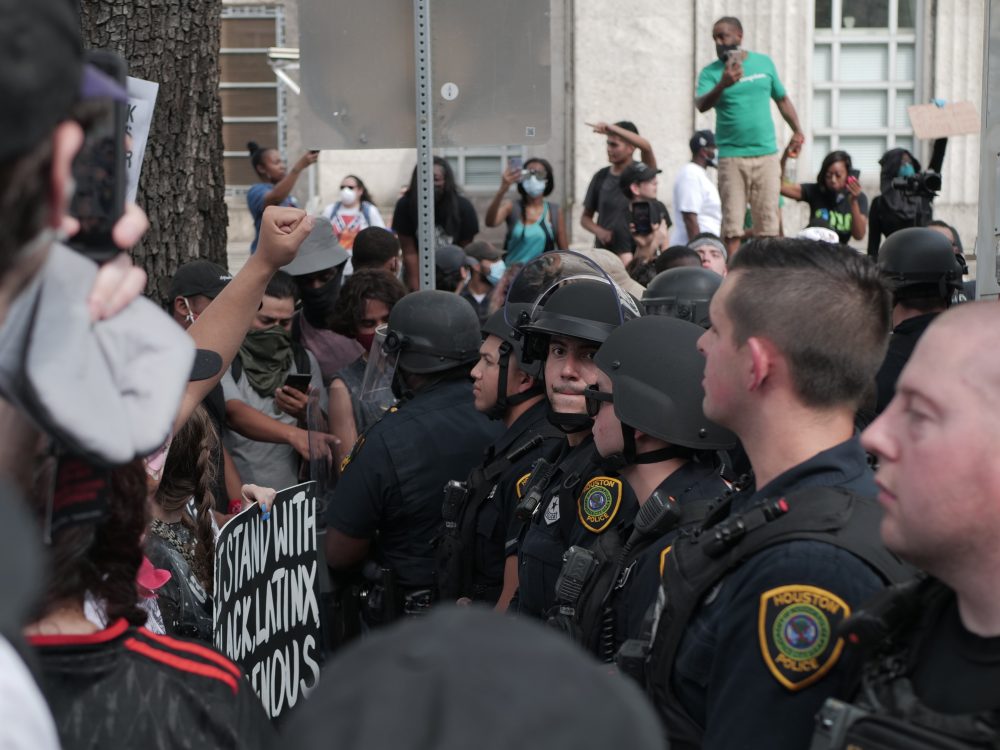 Houston community advocates pushed back against a proposed increase in police funding, arguing at a Wednesday City Council meeting that the city should instead prioritize that spending on mental health and other social services.
Dozens of people spoke out against the proposed increases in the city's fiscal year 2021 budget, and said that instead the city should divert that funding to meet rising demand for public health services during the COVID-19 pandemic.
Members of the public suggested various HPD expenses to cut — including tear gas and rubber bullets — and said officers should pay for their own liability insurance instead of the city covering the cost. Many argued that funding should go toward public health instead.
"One riot gear load can buy 55 frontline care workers full PPE," Gillian Mellor said in her testimony. "So while I do think that infrastructure investment in HPD is important, I think that there are a lot of ways that we can reduce the funding that is going towards them in harmful ways."
Another speaker, Hiab Habtom, attended the protest in downtown Houston on Tuesday and argued HPD doesn't merit additional funding because of what he described as the unnecessary arrests of hundreds of protesters, including a family member and friend.
"You mentioned that we need public safety, and that is very important, but they are not keeping us safe," Habtom said.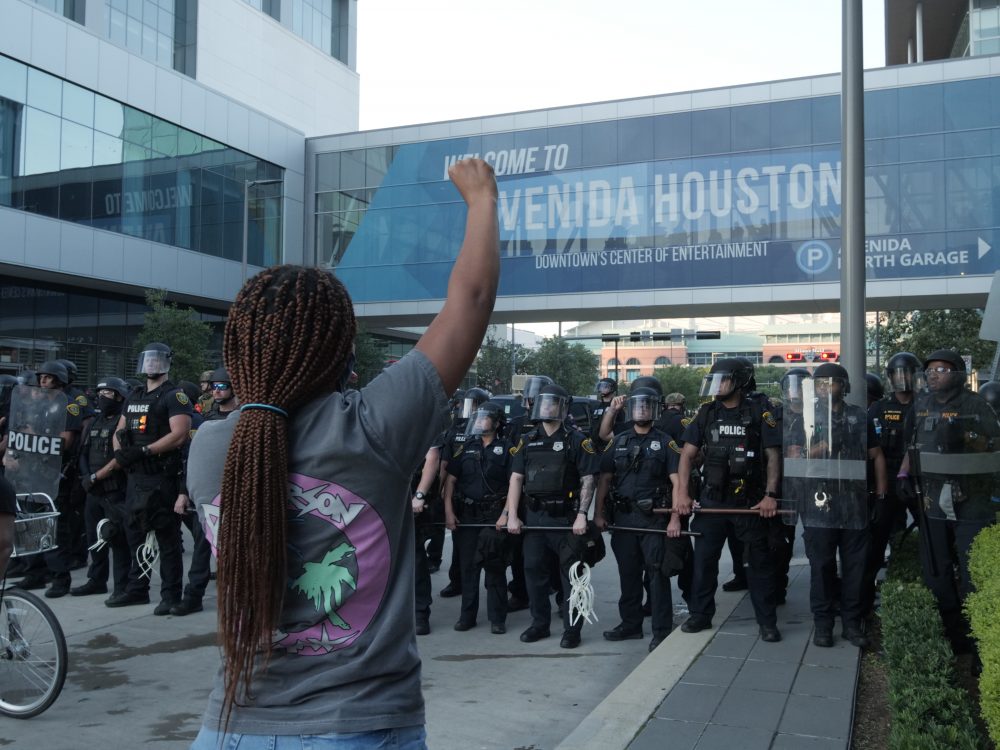 In response, several council members defended the proposed HPD budget increase, and argued the department needs more accountability, not less money. No council member spoke against the HPD budget increase.
In part due to a drop in sales tax revenue related to the COVID-19 pandemic, Mayor Sylvester Turner's proposed budget for Fiscal Year 2021 must close an estimated $169 million budget gap — an even greater shortfall than in 2018, when the mayor closed a $114 million gap for the first fiscal year after Hurricane Harvey, and worse than the $160 million shortfall in 2016.
Despite that drop in revenue, the proposed 2021 budget increases HPD funding to $964 million, up from $945 million in the current fiscal year.
The comments came one day after thousands of Houstonians attended a massive march in response to the death of George Floyd. In a video captured at the scene, Floyd, 46, is seen facedown on the ground calling out "I can't breathe," as former Minneapolis Police officer Derek Chauvin puts a knee on his neck, while three other officers watched. Chauvin was charged with second-degree murder and manslaughter, and the other officers were charged with aiding and abetting.
The sometimes-heated public comment session lasted more than two hours, and virtually all of the speakers signed up to discuss the HPD budget and ask for the city to divert funding to other departments instead.
"Besides them constantly abusing their power, the police got to keep their job during the pandemic while funding some of the people in the city who actually need it," Habtom said. "The police department is not the most important program to fund."
The proposed increase in funding also comes amid a string of deadly police shootings in Houston. Houston police officers have killed six people in recent weeks — most of them people of color. HPD has not released videos of those incidents, though Acevedo has said his department will release footage for arrests going forward to give more context. Mayor Sylvester Turner said he's reviewed the videos and the cases should be judged individually, not as a pattern.
At-Large 4 Council member Letitia Plummer has proposed amendments to the budget that would use part of HPD's funding on efforts to reduce police violence. Her plan would repurpose $11.7 million of the HPD budget and direct it toward initiating independent investigations of alleged police misconduct, creating an online portal for the public to report police misconduct directly to the independent investigators, ensuring additional de-escalation training for officers, and funding other programs. The proposal calls for defunding one of the five new police cadet classes that are included in the 2021 budget.
Houston City Council members are expected to vote on the budget next week.
Sabrina Perez, a Denver Harbor resident who said she's witnessed aggressive policing in her area, argued that more effort needs to be made to hold police responsible.
"When will there be accountability for the lives lost at the hands of the Houston Police Department?" Perez said. "If you allow for an increase in the HPD, you are responsible for the death of countless brown and black Houstonians and we will not forget."
Her testimony drew emotional responses from council members, like District D Council member Carolyn Evans-Shabazz, who said she too wants answers about incidents in her community.
"I have certainly engaged with the police, because I do believe that there needs to be accountability and transparency," Evans-Shabazz said. "So I just want you all to know that we are not — I am not, certainly — sitting here in oblivion to what's going on around me, and I reach out after every shooting to get a briefing to find out what exactly transpired. These incidents are under investigation, and so I want the public to know that I am not asleep at the wheel."
When the speaker questioned Turner's commitment to addressing police misconduct, District J Council member Edward Pollard defended the mayor's record.
"The mayor, as a black man, is extremely concerned about minority communities, specifically the African American community, and has done a lot to try to forge relations and trustworthy communication and dialogue between police and community," Pollard said.
District F Council member Tiffany Thomas responded to criticism by pointing out city council's racial diversity — six out of 16 council members are African American.
"Your message is lost when you come to a diverse council, particularly with black folks on it, challenging our commitment to racial justice," Thomas said. "You may not see it all the time because we don't always have the mechanism to communicate broadly, but I want you to know that many of us got to this position because we were advocating for racial and social justice way before we became elected and that passion and commitment has not wavered."