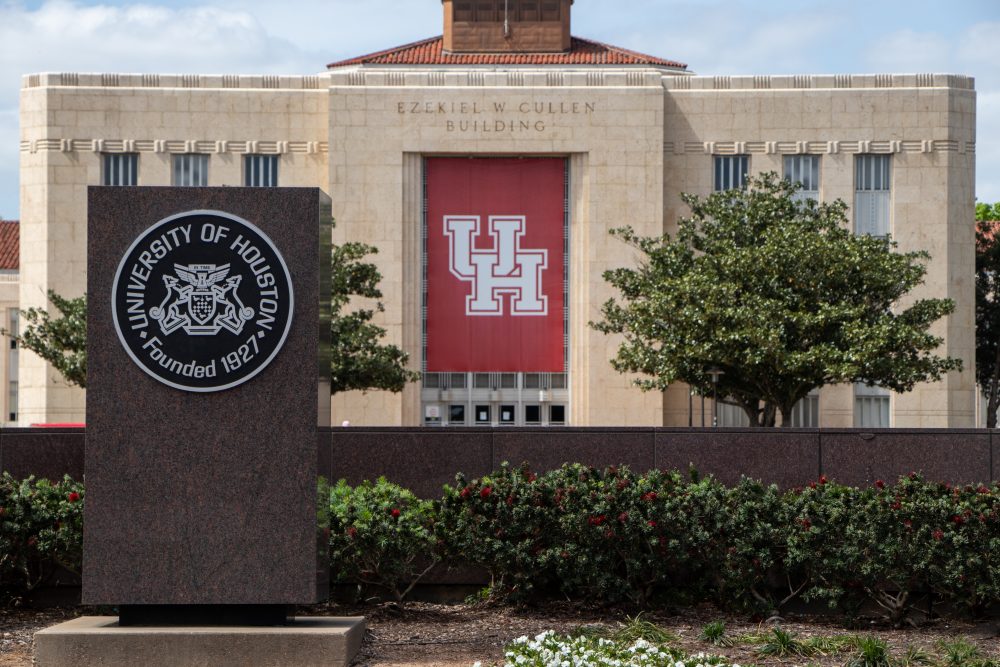 Colleges in Greater Houston, including Lone Star College, Rice University and the University of Houston, are planning a return to campus in the fall, after the the pandemic quickly shuttered campus at higher education institutions this spring and sent students home to learn remotely.
Classes have wrapped up online and are expected to stay that way through the summer for the most part in greater Houston.
But when students return to campus in the fall, college life is expected to look very different.
Houston Public Media checked in with leaders of higher learning in the area. Here are five ways they envision it will change.
1. Social Distancing
When students at Lone Star College return to campus in the fall, they'll have to arrive at a certain time — not too early and not too late. They'll have to get their temperature checked and go to an assigned seat — at least 6 feet away from the next person. No mingling. No large gatherings. And no classes with more than 10 students.
This is how Chancellor Steve Head envisions a return to at least some face-to-face instruction in the fall for Lone Star, one of the largest community colleges in the country.
"We know what this means to our students," Head said in an interview. "We're overly cautious with this. So we want the students to be safe and we want their parents to know and our own employees to know."
At the University of St. Thomas, a small Catholic liberal arts institution, the ratio between students and professors was already small. So, President Richard Ludwick said their version of social distancing may involve moving classes to larger halls to allow for more space between people.
2. More Remote Learning
This could mean either contingency plans in case of another outbreak, or continued online learning. Head, with Lone Star, said right now he expects half of the school's courses to remain remote for the fall and about a quarter to be face-to-face, with the rest being some combination of both.
"We've told everyone to be prepared," Head explained. "If the virus hasn't been solved and we haven't worked out the social distancing issues, which we're working on right now, they need to be prepared to go fully online if there's a recurrence or if we're just not feeling good about what's going on."
Similarly, at the University of Houston, President Renu Khator said she expects students to return to campus in the fall, but the school is planning for three scenarios, including a return to complete remote courses, or a hybrid.
3. 'A New Normal'
Perhaps most of all, because of the uncertainty of what will happen with COVID-19, leaders of higher ed in greater Houston expect a "new normal." In fact, Khator said she's created a second task force dedicated to figuring out the new reality at UH, in addition to the original crisis task force.
"One of the items for them to consider is what happens if we do have a second wave of outbreak whenever we open," Khator recently told Houston Matters. The new normal will likely bring less student activity on campus for both residential universities and community colleges.
Head said Lone Star has banned large student gatherings in the fall. One of the downsides of the new normal will be less student life on campus, he said.
4. More Flexibility
At the University of St. Thomas, Ludwick said he's planning for students to be able to have a choice to take the same class in person or virtually. He said that gives both students and the university flexibility to deal with the unknow: "We don't know what the future holds," Ludwick said.
"We know these are the likely scenarios. And here are a couple of crazy things that could happen," Ludwick said of their planning strategy. "Let's plan as best we can for any of those contingencies along a range, and then we'll be ready to flex if something else comes our way."
Rice University is also "cautiously optimistic" about classes resuming on campus in mid-August, as President David Leebron recently announced. But he expects even after the pandemic, universities will have a more "flexible attitude" towards how students learn.
"It's very clear to us at this point in time that our students vastly prefer to be on the campus environment, to have the facilities, the campus and to be with their classmates. That's a very important part of their education and an important part of their support structure," Leebron told Houston Matters. "But at the same time, if you know, if students have other opportunities, could they do that part of a semester online and a research project simultaneously somewhere else? I think institutions are just going to become more flexible. I'm very excited about what we see kind of on the other side of this."
5. Financial Pressure
The pandemic is hitting higher education hard financially, when already the system was showing signs of stress. The University of St. Thomas had been running a deficit for several years, but Ludwick said a restructuring last year helped them get their finances in order. And now, during the pandemic, UST is offering an array of discounts — including a free fall semester for hundreds of students in their new associate and nursing programs. He said it's not a "last-ditch desperation attempt."
Still, many institutions are feeling financial pressure as they carefully monitor enrollment and guard their expenses. At Lone Star, its chancellor said so far summer enrollment is down by 16% and about double that for the fall.
"Those are major financial swings for us," Head said, noting each percentage point is worth more than $1 million. For budget planning, he's already frozen all hiring, all travel and any non-essential purchasing. And he's already factored in budget cuts from the state.