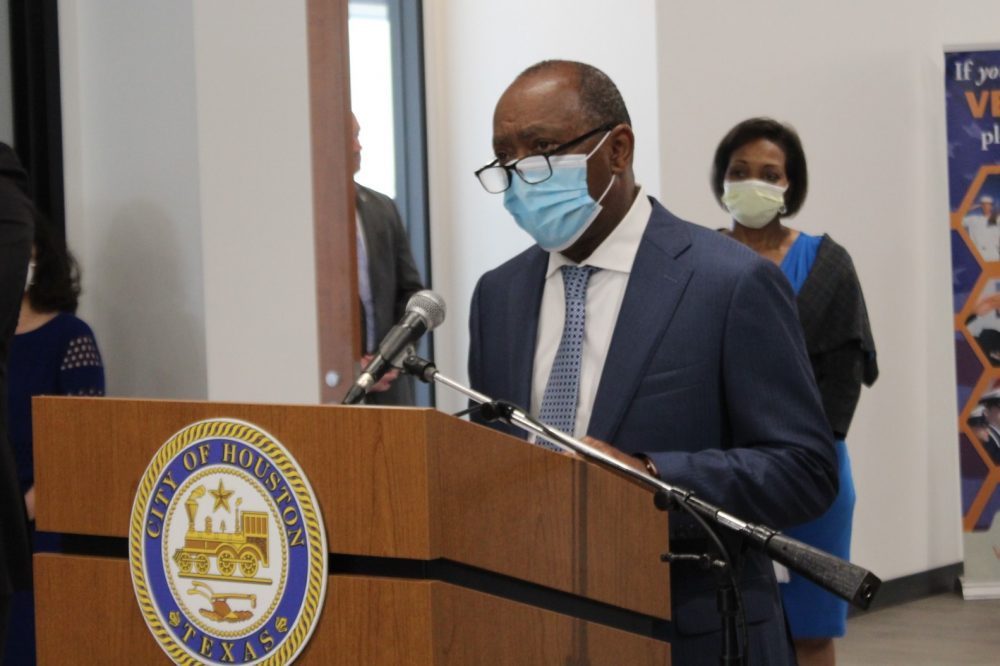 Mayor Sylvester Turner on Thursday announced initial steps to create a rental assistance fund for struggling Houstonians. The mayor didn't share details about the program, but said funding will likely be distributed through a nonprofit organization.
"It will be before city council members this coming Wednesday," Turner said. "It's not going to meet the needs of everyone, but it will help thousands."
But with rent due for more than half of the Houston population, some fair housing advocates say the mayor should have acted sooner.
"This rental assistance fund has taken far too long to develop," said Zoe Middleton, Southeast Texas co-director with Texas Housers. "Houston is the last major city in Texas to announce such a fund."
The State Supreme Court has temporarily halted evictions through May 18, providing some measure of relief. But while some Texas cities including Austin and Dallas have taken action by passing grace period ordinances and giving renters direct financial assistance to pay rent, the City of Houston has not.
And Houston ranks at the bottom of Texas cities helping renters during the COVID crisis, according to University of Texas law professor Heather Way, who is tracking such policies across the state.
"My understanding is that Houston hasn't really done much of anything in terms of enhancing protections for renters on the eviction front," Way said, "and has done very little — if anything — in terms of funding support and assistance to help tenants get through this."
Financial Assistance
Turner and Harris County Judge Lina Hidalgo sent a letter Monday to the Texas Supreme Court asking them to extend the stay on eviction proceedings through the end of July. Turner has said his recovery czar will have a plan soon on how to distribute the city's federal aid.
But a substantial number of Houston renters have been without work for weeks, and as many as 9.6% of neighborhoods across Harris County have likely lost jobs due to the COVID-19 pandemic, according to new research from Rice University's Kinder Institute.
For weeks, housing advocates like Middleton, with Texas Housers, have been asking Houston City Council to help renters, warning officials: renters need more than just donations, and time is running out.
"The Houston Apartment Association's $100,000 rental assistance fund is effectively meaningless compared to the depth of the crisis that we face," Middleton said. "It is charity and not policy. So I'm here today to ask you for policy."
Middleton said Houston landlords have continued to file hundreds of evictions during the pandemic — though court proceedings are currently on hold — and said undocumented Houstonians are particularly in need of assistance, because they aren't eligible for federal stimulus checks.
"Failing to provide renters with meaningful assistance during this time will result in harassments, intimidation and homelessness, and will destabilize families at the worst possible time," Middleton said.
It's not just advocates asking for help for renters — Houston's council members have asked Mayor Sylvester Turner to intervene, too.
Houston hasn't announced any details to distribute its allocation of CARES Act funding — $404 million in emergency federal aid that is already in the bank, while other Texas cities like Austin have already distributed assistance to help pay rent tomorrow.
"There's no question there's substantial need that's out there and how we do it needs to be very timely. So I think by the end of the month with rent due on the first of May, I think with all haste hopefully we can get to some meaningful solution here," At-Large 2 City Council member David Robinson said in response to Middleton's request for financial assistance for renters.
But some elected officials argue the city can't help families with their rent, unless they also help homeowners with their mortgages, and businesses with their commercial rent — and helping everybody isn't financially feasible.
"If we do this, I don't know if it would be fair to leave others out," District G City Council member Greg Travis told Middleton. "There's the commercial aspect. There are people who can't pay their employees and pay their rent for their businesses."
Others, like District D City Council member Carolyn Evans-Shabazz, pushed back on that argument.
"I'm sorry. My main concern is whether a person has a roof over their head," Evans-Shabazz said.
While Houston council members debate spending, Austin, Dallas and San Antonio have all set aside millions in direct assistance for renters, some of which will be reimbursed with federal funding.
Eviction Protection
Houston is also falling behind other Texas cities in protecting renters from eviction.
The Texas Supreme Court extended a moratorium on evictions until May 18, so landlords can still notify tenants of their intention to evict them in the future, but the courts cannot proceed with the eviction process while the moratorium is in place.
But in Austin and Dallas, city councils have passed 60-day grace period ordinances that give Austin and Dallas renters more time to recover than Houston renters. That means while Dallas renters are protected until mid-June, Houston renters can be evicted less than three weeks from now.
Some Houston city council members like At-Large 5 City Council member Letitia Plummer have discussed passing a similar measure, but at a recent council meeting Plummer said the city attorney's office advised against it.
"I know that Austin has done some things to support tenants," Plummer said, "and after talking to the city attorney, that was not something that we were able to do from a legal perspective."
Houston Public Media reached out to Turner's office to explain why Austin's ordinance wouldn't be legal in Houston, and they declined to answer the question. But some legal experts disagree with that finding.
"If Dallas and Austin are able to do that, then Houston should be able to, as well," University of Texas law professor Heather Way said. "Cities do have limited powers in terms of regulating the landlord-tenant relationship, and this is one of the few things that I feel like they do have the power to do."
Way said in both Austin and Dallas, if a tenant is behind on their rent, they have 60 days to either catch up or enter into a payment plan with the landlord.
Texas Tenants Union executive director Sandy Rollins helped push for the grace period ordinance in Dallas, and said Houston renters need similar protection.
"There's a huge tenant population there and it seems negligent for Houston not to step up and recognize what lies ahead for tenants when the courts reopen," Rollins said.
Rollins pointed out that in many states, the grace period is always available to renters — not just during a pandemic.
"So Texas is an outlier in this way," Rollins said. "The opportunity to cure in those other states is just across the board, in non-pandemic times, but it's absolutely essential now when so many people have been laid off of work."