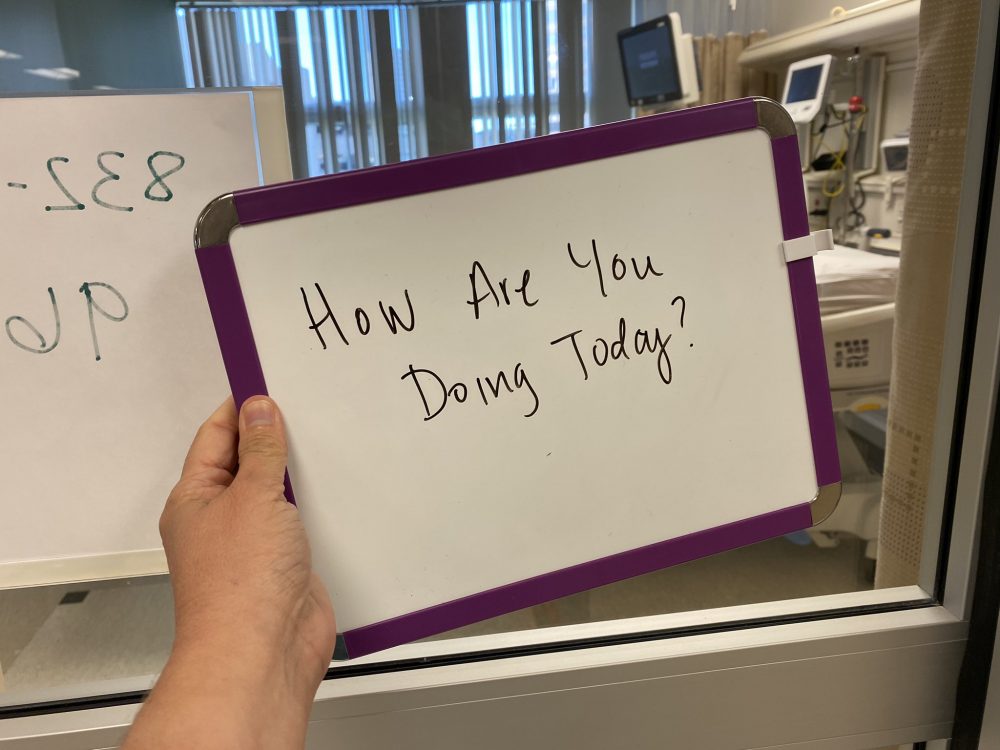 Many health care workers across the country are seeing their daily responsibilities shift in the face of the coronavirus pandemic. Dr. Michele Loor, a physician at Baylor St. Luke's Medical Center, has been treating patients in one of the hospital's COVID-19 units. While Baylor St. Luke's has not enacted surge measures as of now, some areas in the hospital — like the ICU unit where Loor is working — have transitioned to care for COVID-19 patients.
The following interview has been edited and condensed for length and clarity.
What did a typical shift look like when you were on the unit last week? And how many patients were you seeing coming in with COVID-19?
It is a 12-bed ICU. For most of last week, we were full, with some turnover. Some patients who would leave and then get replaced by other patients.
We do one week at a time as the attending on the unit. The days are long. I was there from at least 7 in the morning, sometimes earlier, until 8 or 9 (p.m.) every day. It's intense. The whole time you're there it's pretty grueling work, I guess might be the right word. But it's definitely an intense experience.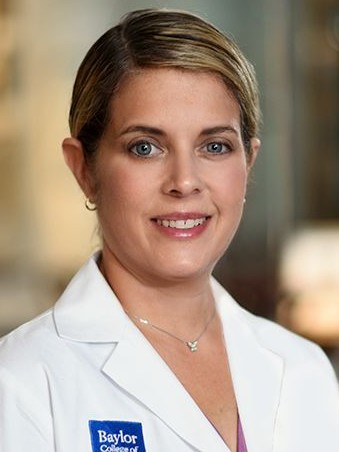 Has this felt like what you were expecting it to be like?
You know, we've been preparing for a while, in terms of strategy, and where patients were going to go, and what to do with them, and kind of the basics of our protocols. You know, everything feels new and every day that I was taking care of them, I was learning something new about them and about the disease process. And it's interesting and it's definitely kept us on our toes.
Everything we might have expected to happen really wasn't the way we were seeing things at first. And then as we noticed a pattern in the patients throughout the week, things got a little bit more comfortable. But I would still say, because it is such a new pandemic and a new disease, every day we were learning new things about these patients. And that part of it was definitely unexpected.
Can you tell me a little bit about supplies at your unit? And do you guys have what you need?
We do have what we need. Everything seems adequate. You know, we are doing our best to conserve because I think the extent to how long this is going to go on and how many cases we're going to have — I think that is still an unknown.
Our institution has strategized, as has the whole Medical Center, but we're being careful, and for now we have what we need. I don't think it would hurt to have more. It would just make everyone more comfortable. But for now things seem adequate.
I saw you had posted something about having an all-female crew.
They're a really good crew, and actually all four of us have worked together a lot. I took that picture on our first day together working on the COVID unit, and so it's kind of like, you felt like you were embarking on this real unknown space, uncharted territory for all of us. And so it's nice to have a team like that.
How do you keep morale up with your team?
We all kind of go out there every day knowing that we're putting ourselves and our families and the people we work with at risk, and that part of it gets hard every now and then. I think to work on morale we were really trying to do things like we started the day — maybe this sounds a little crass — but we started the day every day with a funny meme, coronavirus meme just to kind of, I think, put light on the subject. When we're in the work room we turn music on and we try to kind of forget about what's going on outside as we're doing our work sometimes, and that helps.
We had a lot of really nice donations to the unit of food throughout the week, which was great and it really helped to show us that people were thinking about us, so I think that was important too.
Day 2 on the Covid unit. We got this! Love working with this all female crew. @BCM_Surgery #ILookLikeASurgeon pic.twitter.com/CLHzfCS9c9

— Michele Loor (@michele_loor) March 31, 2020
How do you talk to your kids about it?
At first it was really hard to separate them from their friends, because that's obviously very important for them. I have a son who plays soccer, so separating him from his teammates was a challenge. It was hard to get them to understand the gravity of the situation, really appreciate that they needed to stay away from others for everyone's safety, not just theirs and ours.
We've had frank discussions about the risks we take going to work. My kids have kind of grown up in a two-surgeon family their whole life and so they understand the necessity of time away and the mission of what we do. And so they've understood it and understand it but we have very open discussions about what it means that I'm working in the COVID unit.
I guess you've had some patients recover, and that's been a hopeful experience to see people going home?
Yeah, I mean, patients recover. I did not have any patients recover last week, but they're making progress, and eventually patients will get better and go home. That's definitely the hope and a lot of them do seem to be going in that direction for sure.
Can you speak a little bit to what the patients you've seen are experiencing?
For the most part, these are critically ill patients. They are mostly intubated on a ventilator. Some of them are also requiring support of their blood pressure in response to the infection. A lot of them are having issues with kidney failure. But they are also sedated, and so I think that their level of anxiety and fear is mitigated by the medications we are using.
The patients that are not on a ventilator do express a lot of concern about their health and their recovery and what's going to happen to them. And obviously we do our best to help with that. Anything we can do, even if it's just listening to them and talking to them. It's really hard because there's no family members available, but it has been really great to see patients on Facetime with family members, communicating with them. The nursing staff has been really great about helping to orchestrate that and get them in more contact with their family.
We have iPads available for the patients to use, which has been really nice. Even for the patients who are sedated, we're working on at least playing audio clips of their family members and kids for them, so they can at least hear their family members' voices even if they can't interact with them.
And I will say, these families that I talk to have been fantastic. I mean, every single time I call one of them, even though they have no contact with their loved ones, and I can imagine how anxiety-provoking this whole process has been for them, they always ask about me and they ask about the team and ask about the nurses. And even though we can't even see them or talk to them face-to-face, they've really been fantastic, and I don't even have enough words for the family members of the patients that I've been taking care of.
From Baylor St. Luke's Medical Center: "We appreciate our community members' interest in donating supplies to our facilities. If anyone would like to donate medical-grade masks or N95s, please contact John Marx, at jmarx@stlukeshealth.org. We are grateful for the support from our community during these unusual and challenging circumstances."