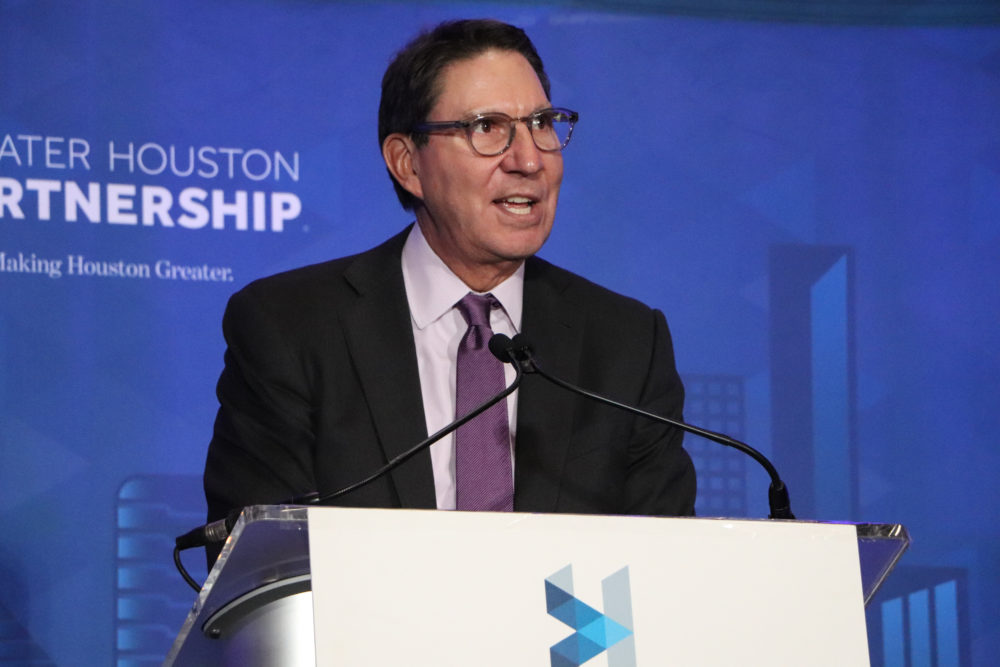 There are many Houston companies whose business is in shambles because of the coronavirus pandemic.
All businesses deemed non-essential are closed, per county mandate. Restaurants are not allowed to seat customers. Oil and gas companies are suffering from the lowest price of oil since the downturn of 2014.
But there are some winners, too.
If you've gone shopping recently, you probably already know of one industry that's booming: the grocery business.
Stores can't restock shelves of some products as fast as consumers buy them.
"What we saw initially was that customers were in a real hurry to buy disinfectants, hand sanitizers and one consistent through this has been toilet paper," Scott McClelland, president of San Antonio-based grocery store chain HEB, said. "Interestingly, people wanted to buy water up front, although there was nothing wrong with the water supply."
Then people realized that they could be quarantined for up to 14 days. That's when they went for canned goods, McClelland said. Kind of like during a hurricane.
"But unlike a hurricane then people began to buy a lot of frozen items because you didn't have to be worried about losing your electricity," he said. "And then when it was announced that restaurants would be closed except for take-out, that's when we began to see customers buy a lot of meat and a lot of protein."
To keep up with demand, HEB has hired 2,000 additional workers in Texas. McClelland said in the first three days after they posted the new jobs, 50,000 people applied.
"I was in a training class and just asked people in the training class where they came from," he said. "And it was a bartender, it was a flight attendant, it was an architect, it was a restaurant waiter, it was a teacher. It was people from all walks of life who realized, look, they needed work."
So while thousands of businesses are closed in Houston, grocery stores are helping some people stay employed.
And other industries are also adding jobs. Pia Orrenius, senior economist at the Federal Reserve Bank of Dallas, said employer surveys show pharmacies are also doing well, as are medical supply companies.
"They're making things like disposable medical gowns and masks, that type of thing, and so they're obviously booming at the moment," Orrenius said.
And then there are digital service companies such as Amazon and also smaller companies like GoPuff, an online convenience store based in Philadelphia. It delivers things like cleaning supplies, over-the-counter medication and some food and drinks.
The company just expanded to Houston last year and the pandemic caused it to open a new distribution center in River Oaks months earlier than planned.
GoPuff has seen an increase in demand for all products, spokeswoman Liz Romaine said.
In its seven facilities around Houston, the company has seen high demand for hand sanitizer, cleaning products, bread, canned and frozen items, diapers and bottled water, Romaine said.
The company plans to hire thousands more employees and contractors nationwide in the next few months, she added.
"We are hiring across all of our facilities," Romaine said. "We're looking for operations employees and we're looking to engage with driver partners across all of our sites."
Chances are many laid-off restaurant or bar workers will be among the hires.
Orrenius said it helps that many of the jobs shed are low-skill or entry-level positions.
"If it were, you know, more high-tech sectors or sectors where the jobs require high levels of expertise or high levels of education, you can imagine that it would be a little bit harder to rearrange people very quickly," she said.
Some businesses are getting creative, Orrenius said, like one restaurant chain that is entering into agreements with grocery stores to temporarily hire out workers.
"The grocery stores are hiring, but of course that's temporary. Restaurants are laying off, but that's temporary," she said. "And so they're trying to set up a way in which some of their employees can work in these grocery stores until the shelter-in-place and social distancing mandates go away and then presumably they would come back to the restaurant."
The few booming businesses may not be enough to balance out all those laying people off, but Orrenius said they help at least mitigate the devastating economic effect from the coronavirus pandemic.