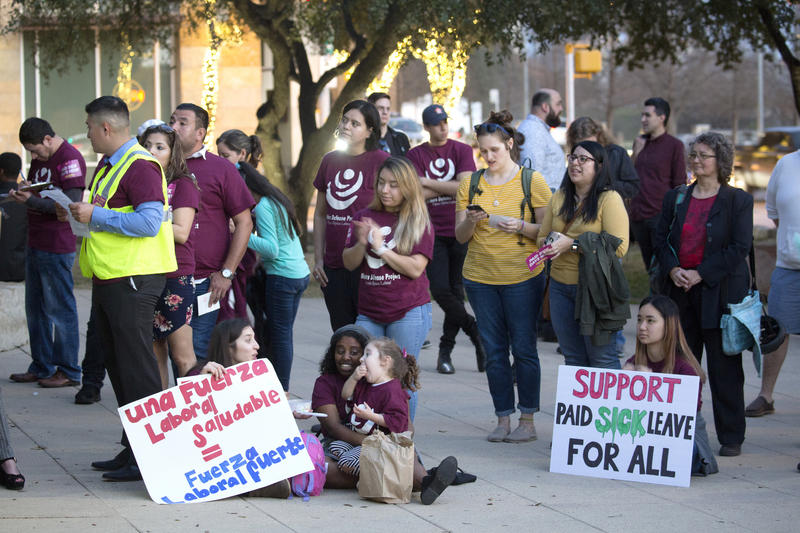 For more stories and information about the coronavirus, visit our ongoing coronavirus project, Houston Ready.
Houston Mayor Sylvester Turner declared a public health emergency on Wednesday, with the first suspected case of community-spread coronavirus in nearby Montgomery County. Along with that announcement, Harris County Public Health executive director Dr. Umair Shah urged sick Houstonians to stay home from work.
"We also want to make sure that if you are sick that you don't go into settings — whether it's at work, or sending your child to school — that you do not get others sick in our community," Shah said.
Following that advice is more difficult in Houston than in other major cities, because Houston is the largest American city without a paid sick leave policy.
Does Your City Council Member Support Paid Sick Leave? We Asked.
In 2007, San Francisco was the first city to require employers to provide paid sick leave. Ordinances went into effect in New York City in 2014 and Chicago in 2017. Los Angeles expanded California's statewide paid sick leave law in 2016.
Without a federal law requiring paid sick leave, it's up to state and city officials to decide whether to create regulations. Currently 12 states and Washington D.C. have paid sick leave laws, according to the National Conference of State Legislatures, and Texas isn't one of them.
Since 2018, Austin, San Antonio and Dallas have passed paid sick leave ordinances requiring employers to provide employees with one hour of sick leave for every 30 hours they've worked. The ordinances in Austin and San Antonio haven't been implemented due to legal challenges, but in Dallas the policy goes into effect on April 1.
Texas Attorney General Ken Paxton has opposed these local ordinances, arguing that only the state legislature has the authority to regulate minimum compensation — including the minimum amount of sick leave — for workers.
About 40% of workers lack paid sick leave in Texas, according to the advocacy group Workers Defense Project. That includes 78% of workers in the service industry, many of whom are restaurant workers and home health care aides.
Mayor Turner on Wednesday said the city has no paid sick leave ordinance in the works right now.
"We'll take a look at it and we certainly will study it," Turner said, "and we'll look at the financial implications of it."
Now labor unions and worker advocates argue that, with the threat posed by a global pandemic like coronavirus, paid sick leave should be a priority for city officials.
"We believe there is an urgent need for our local elected officials to act now to provide workers, especially contracted city workers, with paid sick leave," said Elsa Caballero, the Houston-based president of SEIU-Texas. "We are in ongoing conversations with our local elected officials to care for Houstonians by ensuring those on the front lines have the ability to take off from work without the fear of retaliation or loss of wages."
Amid community spread of the coronavirus, organizations will be calling on Houston officials to pass an ordinance similar to those in Austin, San Antonio and Dallas, despite the opposition they're facing in courts, according to Hany Khalil, executive director of Texas Gulf Coast AFL-CIO.
"I believe that the politics around this have really changed quickly as a result of a public health threat that COVID-19 represents," Khalil said.
But some local business leaders, like Melissa Stewart, executive director of the Greater Houston Restaurant Association, pointed out that many employers already offer benefits to their employees voluntarily. She argued that each business owner should be allowed to work with what makes sense for their business.
"We are aware of several problems with the mandatory paid sick leave ordinances put forth in Dallas, San Antonio, and Austin," Stewart said. "Restaurant and other business owners in Houston should be able to see and thoroughly consider anything the city of Houston is proposing as an ordinance change before commenting."
There are also concerns over how much public policy would strain Houston's economy. A paid sick leave ordinance could have a significant economic impact for small businesses, according to Joyce Beebe, a research fellow at Rice University's Baker Institute for Public Policy.
"For large organizations, I believe they have better structures and procedures to deal with those crises," Beebe said. "However, for smaller businesses, cost is a big concern."
Still, Beebe said the coronavirus could change Houstonians' minds on the issue.
"I'm hoping that in light of recent events with this coronavirus pandemic," Beebe said, "we can really think about what's best for Houston workers, including a paid sick leave policy."