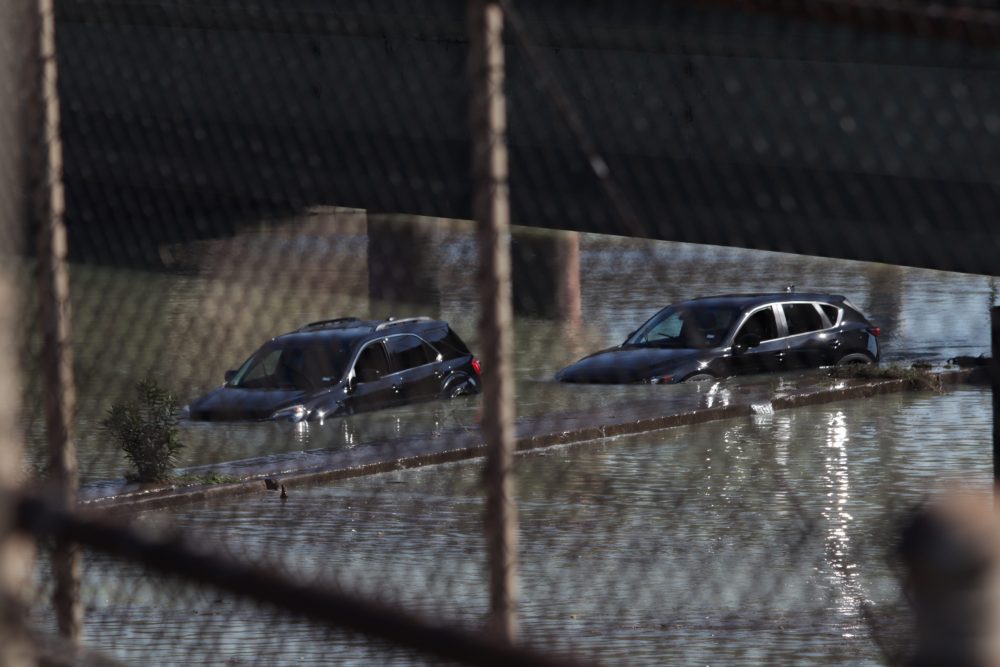 Updated 8:00 a.m. CT: A boil water notice remains for Houston's Main Water System.
—
Houston residents were encouraged to continue boiling water before consuming it Friday morning as repairs continued on a water main break that left parts of the city without tap water and flooded part of the East Loop.
Water pressure readings were stable Friday morning and the city is working with the Texas Commission on Environmental Quality to approve a sampling plan and end the boil water notice, Houston Mayor Sylvester Turner tweeted.
The water pressure readings at midnight and again at 5am were stable. We are working with TCEQ to approve sampling plan to stop boiling water. The repairs on the 96 inch line is continuing. 610 is open. st

— Sylvester Turner (@SylvesterTurner) February 28, 2020
The notice encourages Houston residents to bring water to a vigorous boil for two minutes before drinking or otherwise consuming it. Harris County Public Health advised the water is safe to bathe in, but residents should be sure not to swallow any water when showering and use boiled or bottled water when brushing teeth.
The City sent out the notice Thursday night, after water pressure dropped below the TCEQ's minimum requirements:
To ensure destruction of all harmful bacteria and other microbes, water for drinking, cooking, and ice making should be boiled and cooled prior to use for drinking water or human consumption purposes. The water should be brought to a vigorous rolling boil and then boiled for two minutes.

In lieu of boiling, individuals may purchase bottled water or obtain water from some other suitable source for drinking water or human consumption purposes.
The area impacted is highlighted in the map below: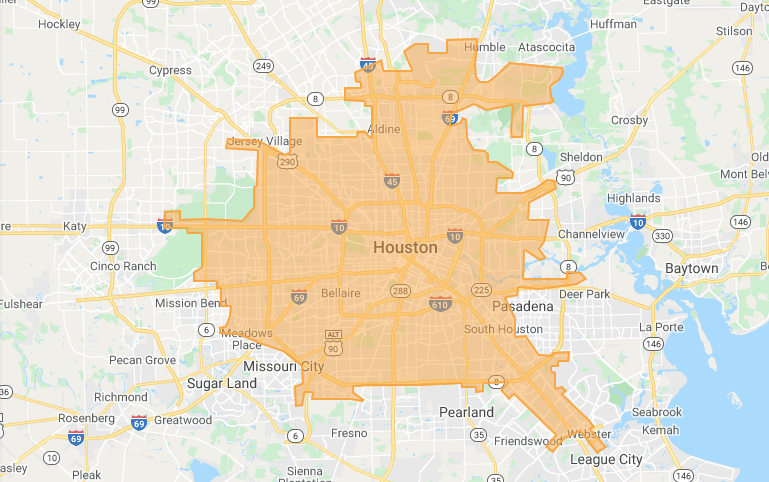 The 96-inch water main near Fidelity and North Carolina streets in the Galena Park area broke just after noon Thursday and flowed onto the southbound lanes near the Ship Channel Bridge, according to Harris County Sheriff Ed Gonzalez. The rush of water stranded about a dozen motorists, with some taking refuge on the roofs of their cars.
A section of the East Loop flooded by the break reopened early Friday morning.
I-610 East Loop NB and SB at Clinton all mainlanes now open following high water event today. Please drive safely. pic.twitter.com/uiEdbR2I5Z

— TxDOT- HOU District (@TxDOTHouston) February 28, 2020
At a news conference Thursday Mayor Sylvester Turner said that the line burst while contractors were on site working on a separate problem. He added that there were no injuries reported. Food establishments were told to cease operations.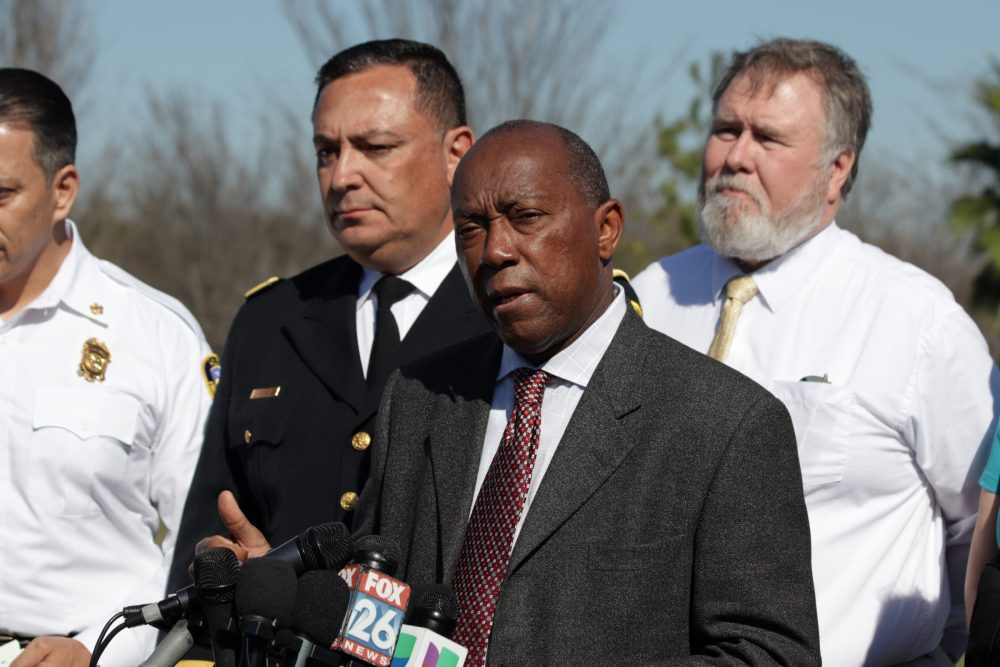 Harris County Judge Lina Hidalgo advised residents to conserve water, and said she activated the county's Office of Emergency Management to support the city response. All downtown county buildings had been evacuated of nonessential personnel, and children in the downtown juvenile detention center were moved to the Burnett-Bayland Rehabilitation Center at 6500 Chimney Rock Road.
Hidalgo also said the county has reached out to utility districts and wholesale water providers, to test water and let customers know if they need to take precautions.
In a Thursday afternoon press conference, Gov. Greg Abbott also said the state has responded by sending Emergency Management personnel to the scene. Abbott said the team was prepared to help set up water distribution points if needed.
Abbott added that the Texas Commission on Environmental Quality was prepared to assist with water quality issues, and that the state Department of Transportation was ready to help with transportation needs.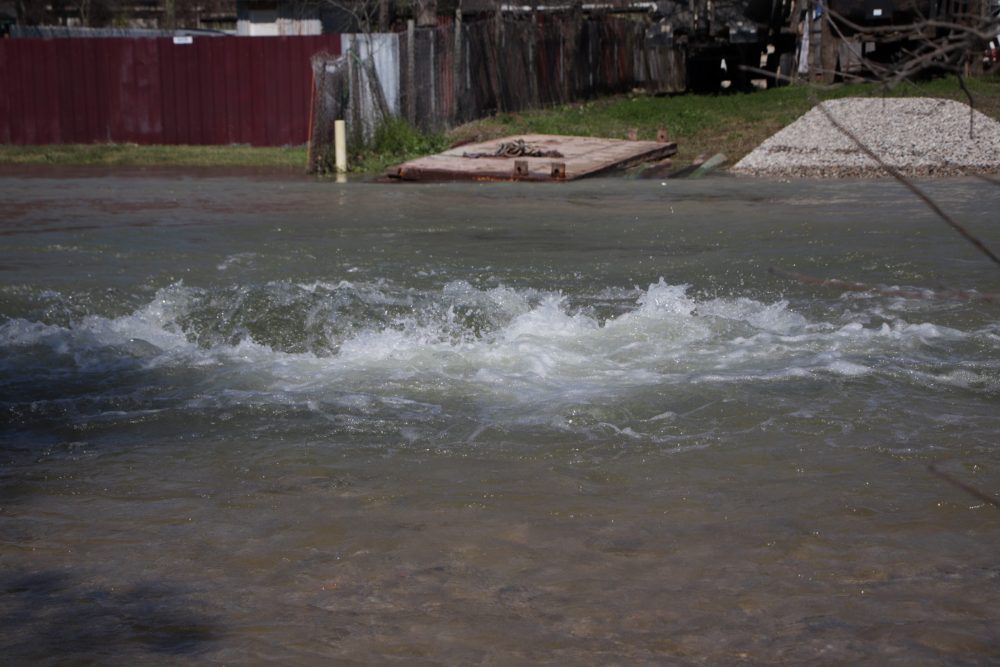 The Houston Police Department dispatched high-water vehicles and additional personnel to the site, and advised drivers to avoid the area. HPD Commissioner Art Acevedo said Thursday that officers would patrol the area while the flooding subsided.
Water was out or otherwise low across the city, with reports of outages at Rice Village and in Montrose, as well as at the universities of Houston and St. Thomas, which both announced they would close for the remainder of the day Thursday. Several Houston Community College campuses were also closed.
The City of Houston told UH that water would not be restored until late Thursday night at the earliest.
Houston Independent School District released a statement Thursday saying classes would be cancelled on Friday:
All HISD schools and offices are closed Friday, Feb. 28, due to a major water main break that has caused widespread water service disruption and impacted multiple areas of the city. To ensure the safety of students and staff, district maintenance crews will be inspecting impacted facilities across the district to make sure all systems are functioning properly. Schools and offices are scheduled to reopen on Monday, March 2. Due to the closure, the make-up day for campuses will be Monday, June 1.
Other school districts closed Friday include Spring Branch, Aldine, North Forest, Sheldon, Channelview, Galena Park, Pasadena, and Alief.
Humble ISD and Fort Bend ISD had partial closures Friday.
Harris Health System closed seven outpatient facilities and two main administrative offices "(i)n an abundance of caution for patient and employee safety." Those include:
Casa de Amigos Health Center, 1615 N. Main St.
Elvin Franklin Jr. Administrative Building, 2525 Holly Hall St.
Gulfgate Health Center, 7550 Office City Drive
Harris Health Dental Center, 5230 Griggs Road at the Palm Center
Kirby Administrative Building, 9200 Kirby Drive
Martin Luther King Jr. Health Center, 3550 Swingle Road
Monroe Clinic, 8539 Gulf Freeway
Pediatric and Adolescent Health Center–C.E. Odom, 5516 Lockwood Drive
Sunset Heights Clinic, 1623 Airline Drive, Suite 100-B
In addition, Casa de Amigos, Gulfgate, Harris Health Dental, MLK Jr., Monroe, Pediatric, and Sunset Heights would not reopen Friday. Thomas Street Health Center would also not open on Friday, HHS said.
Other closures include:
All Harris County courts will be closed Friday.
The University of Houston-Downtown announced it would close operations for the rest of the day.
Legacy Community Health Fifth Ward and Santa Clara clinics both closed, and said they would reopen Friday at normal hours.
The Herbert W. Gee Municipal Courthouse closed at 2 p.m., and would reopen Friday morning unless otherwise notified. People scheduled for municipal court after 2 p.m. Thursday were told to reset their cases in person at any of the city's six court locations beginning at 8 a.m., Friday.
One voting center remained closed Friday – Houston Community College Southeast at 6960 Rustic St.
The Houston Zoo announced it was closed for the remainder of the day, and was working with the city to see if it could reopen Friday.
This is a cluster, but we will get it worked out. I'm out here with our units, plus @houstonpolice @HoustonFire. 225 is shutdown at 610. Some businesses about a mile down are reporting no water service #HouNews https://t.co/uehpjZz02k pic.twitter.com/kyZICytihb

— Ed Gonzalez (@SheriffEd_HCSO) February 27, 2020
This is a developing story. Check back for updates.