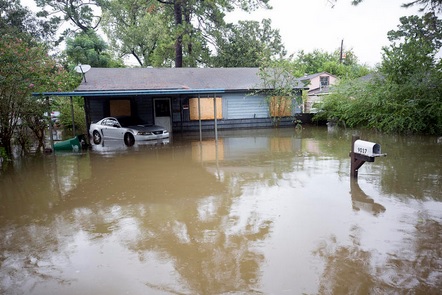 About 2% of U.S. homes are at risk of being flooded by the end of the century, thanks to rising sea levels. And the reason for rising sea levels, according to the National Oceanic and Atmospheric Administration, is climate change. But flood risk is not translating into lower property values in some areas along the coast.
Instead, researchers found climate risk is decreasing the sales price of at-risk homes only in areas where people generally accept the science of climate change.
To conduct the study, researchers from the University of British Colombia and the University of Chicago looked at three data sets: home sale prices from Zillow, sea level rise projections from the NOAA, and regional surveys on belief in climate change from the Yale Program on Climate Change.
They found homes in coastal areas at risk of sea level rise will sell for about 7% less in counties where more people believe in climate change. It's the belief in risk that appears to be determining the price difference, rather than the risk itself.
Markus Baldauf, who co-authored the study, says acceptance of climate science can vary widely even between neighboring counties.
"For example, in Harris County 68% of the respondents believe that global warming is happening, and that compares to Chambers County's 52%," he said. "But the risk of rising sea levels is relatively similar in some of those areas."
Baldauf says the study controlled for whether the homes in question sit in designated high-risk floodplains.
"Current flood plains take into account current rainfall data. If sea levels are rising, then those future flood plains will look very different from what floodplains look like right now," he says.
Texas' state climatologist has also warned that even updated floodplain maps do not sufficiently reflect future flood risk.
"The numbers are assessments of the risk over the past 100, 120 years," John Nielsen-Gammon told KUT after the City of Austin updated its flood maps last year. "So, in fact, given climate change, they underestimate the current likelihood of flooding in general."
Big insurance and banking interests are already trying to protect themselves from losing money because of climate change. One recent study found large banks are shifting mortgages for high-risk properties to taxpayer-funded institutions like Fannie Mae and Freddie Mac, so they're not taking a hit if a house is damaged by flooding, for example.
But Baldauf says his study remains agnostic on whether climate change deniers are getting a better or worse deal in individual real estate transactions.
"I cannot say it's the deniers that ignore an important risk or the believers that overreact to such a risk," he says. "All I can say is they differ in their assessments and that they can't both be right."