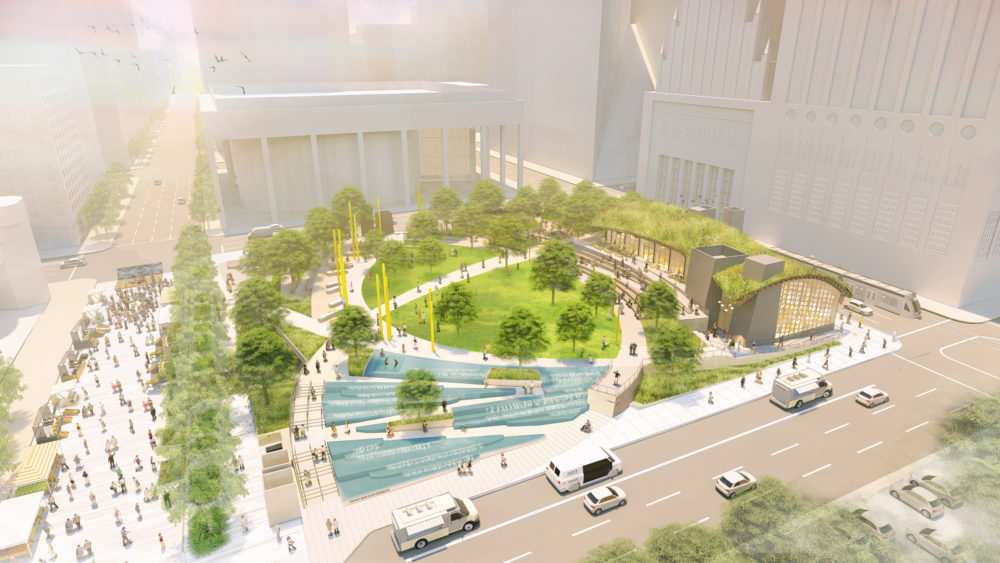 Houston socialite and philanthropist Lynn Wyatt is gifting $10 million to the city to renovate Jones Plaza, which will be renamed Lynn Wyatt Square For The Performing Arts.
Located in the heart of Houston's Theater District, Jones Plaza was named for the family of legendary local businessman and Houston Chronicle publisher Jesse H. Jones.
The Jones family is in agreement with the square's renaming, according to Houston First Corporation, the local goverment entity that operates performing arts and convention facilities in Houston.
Houston Mayor Sylvester Turner and David Mincberg, board chairman of Houston First, made the announcement Monday during an event held at the venue. Wyatt herself, as well as city officials and representatives of the Theater District, attended.
'Soul of a city'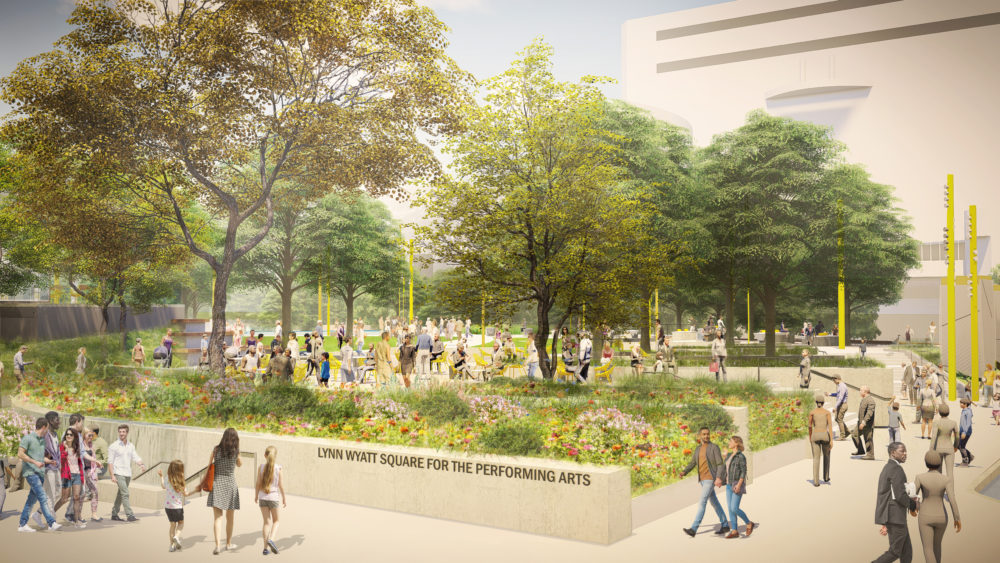 "I believe that the arts, including the performing arts, are the soul of any city," said Wyatt, while adding she felt very touched by the warm reception to the project.
The renovated area will have a new performing space and a restaurant. Houston First has selected the architecture firm Rios Clementi Hale Studios to design the renovation.
"In addition to a great shaded lawn we will have numerous gardens, we will have a cascading water feature that looks to the Wortham Theatre," said Roksan Okan-Vick, urban development officer at Houston First.
Mincberg said one of the takeaways from a 2015 master plan for the Theater District was that Jones Plaza needed a makeover.
"Upon that study's completion, it was clear that a priority was to address this site, to have it match its surroundings," said Mincberg, who chairs Houston First.
Those surroundings include the Jones Hall for the Performing Arts, the Alley Theatre and the Wortham Center, which is home to the Houston Grand Opera and Houston Ballet.
"As our arts organizations have grown and flourished, we've needed to step up our game on the plaza," noted Mincberg. "This plaza is their front door and as any front door it must be a welcoming and warm reception area."
Evolving downtown scene
Mayor Turner emphasized that downtown Houston has been evolving over the past few years with more people living in the area and midtown.
"Having a truly thriving Theater District is part of the path to a thriving downtown," he said.
The total projected budget for the renovation is $29 million, according to Houston First. The Downtown Redevelopment Authority has committed $10 million and Houston First has contributed $5 million.
Groundbreaking is scheduled for August 2020 and the project is slated to be completed by summer 2021.
Below you can watch the announcement made Monday at Jones Plaza:
Mayor Turner participates in the announcement to rename Jones Plaza. https://t.co/kCMdiZSDI8

— Mayor_HOUCommunications (@houmayor) October 7, 2019