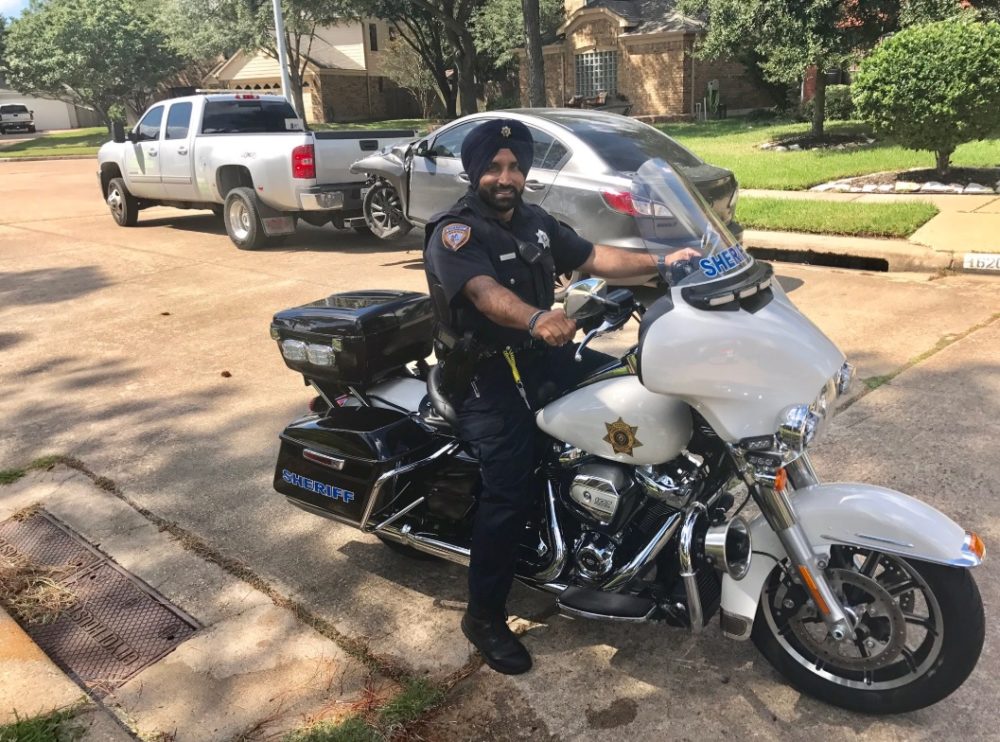 Updated on Sept. 27 at 5:57 p.m.
A Harris County Sheriff's deputy died Friday after being shot during a traffic stop in the northwest part of the county. Harris County Sheriff Ed Gonzalez said they have detained two possible suspects and recovered a weapon.
Gonzalez identified the deputy as Sandeep Dhaliwal, who served as the county's first deputy of the Sikh faith. Authorities said Dhaliwal was shot around 1 p.m. in the 14800 block of Willancy Court near West Road, according to the sheriff.
Dhaliwal was also the first HCSO deputy to be allowed to wear a turban and articles of the Sikh faith while on duty, according to multiple media outlets.
"At some point a male adult suspect approached the deputy from behind shooting him at least a couple of times," said Gonzalez at 3:30 p.m. during a media briefing. In a later update, Gonzalez said based on the preliminary investigation, Dhaliwal had been ambushed.
Shortly before 4:30 p.m., the sheriff announced the deputy had died.
I'm sad to share with you that we've lost one of our own. Our @HCSOTexas was unable to recover from his injuries. There are no words to convey our sadness. Please keep his family and our agency in your prayers. #HouNews

— Ed Gonzalez (@SheriffEd_HCSO) September 27, 2019
During an update around 5 p.m., Harris County Major Mike Lee said that based on the dashcam video from the deputy's patrol car the traffic stop initially looked routine.
But when Dhaliwal turned away from the stopped car and was returning to his vehicle, he was attacked.
"Within about three to four seconds you see the driver's door on the suspect's car open," Lee said. "You see the suspect exit the car, almost immediately running with the gun already out and ran out from behind and basically ambushed Deputy Dhaliwal and shot him, struck him in the back of the head."
The deputy was a 10-year veteran and a father of three, according to Gonzalez.
First responders had performed life saving measures on the scene and then transported the deputy by helicopter to the hospital.
"This deputy is well-liked, well respected and for me personally I'm heartbroken because he is a personal friend of mine," the sheriff said, adding he feels extremely upset and devastated.
This is a developing story.
Below you can watch Sheriff Gonzalez's 3:30 p.m. news conference:
Update from @SheriffEd_HCSO regarding the shooting of our Deputy following a traffic stop. #HouNews https://t.co/TwQuC9PHrm

— HCSOTexas (@HCSOTexas) September 27, 2019
Below you can watch Major Lee's 5 p.m. update:
.@HCSOPatrol Major Mike Lee provides an update on the fatal shooting of Deputy Dahliwal in NW Harris County #HouNews https://t.co/8WHz583Rfw

— HCSOTexas (@HCSOTexas) September 27, 2019