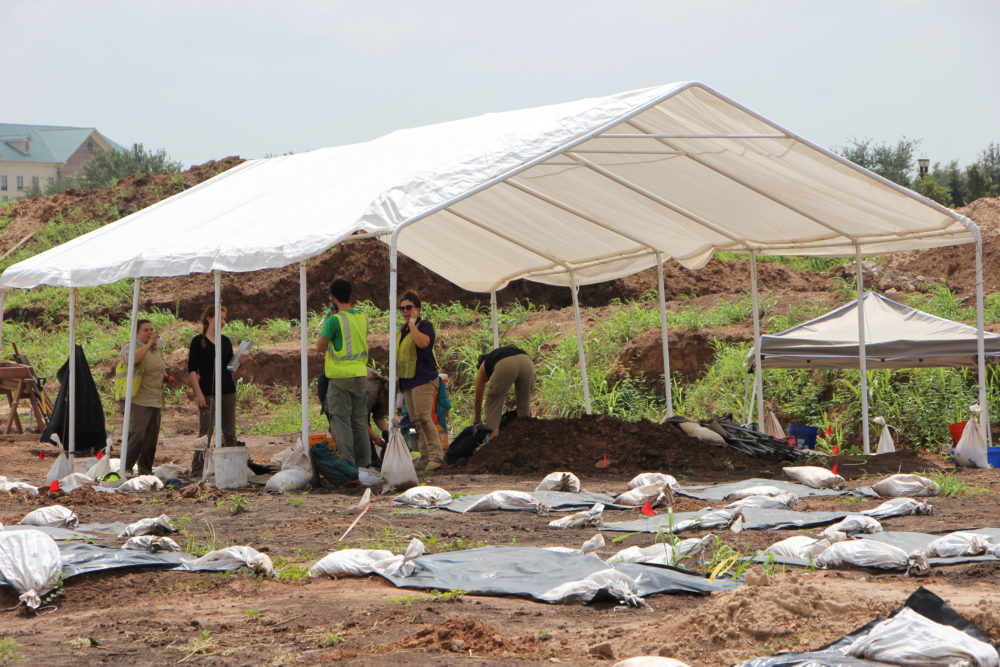 The ongoing saga of the remains of 95 African-Americans who worked in a Sugar Land plantation in the late 1800s took an important step forward Monday after trustees for the Fort Bend Independent School District approved a contract to reinter the remains.
Dubbed the "Sugar Land 95," the group were former convict laborers under Texas's convict leasing system. The remains were discovered in February 2018 by a contractor when the district started construction to build a new career and technical center. The facility opened Aug. 14, but its footprint doesn't cover the land where the remains were found.
Monday night, the board unanimously approved a $280,000 contract with Missouri City Funeral Directors at Glen Park to rebury the remains. That could start in a month or 90 days, according to Fort Bend Superintendent Charles Dupre in a previous interview with News 88.7
Ever since the remains were discovered, the process to decide how to handle them and memorialize them has been marked by controversy.
Several community members spoke out against the plan during the board meeting. Some want DNA testing performed to find descendants before anything is done with the bodies.
Fort Bend ISD has said materials for DNA analysis were collected and they will be curated at the Texas Archaeological Research Laboratory at the University of Texas, preserving the ability to identify potential descendants.
Fort Bend County Judge K.P. George has also criticized the district's plan. Last month, George told News 88.7 a court should approve the reinterment, but the school district says it doesn't need it.
The county and the school district negotiated an agreement over the summer. Under the deal, Fort Bend ISD would pay the county $1 million and convey 10 acres of land to the county for the burial, a memorial site and education center. In turn, Fort Bend County would be in charge of maintaining the cemetery.
But on July 25 the school district announced plans to take care of the reinterment and omitted the $1 million it announced before.
Dupre posted an online video statement saying there was no longer a need for Fort Bend to pay the county because the school district would carry out the reinterment by itself and host a public memorial service.
At the meeting Monday, Fort Bend school board members said they have acted with care and respect throughout the process.
Below is a video of the Fort Bend school board meeting held on Monday, Sept. 23: