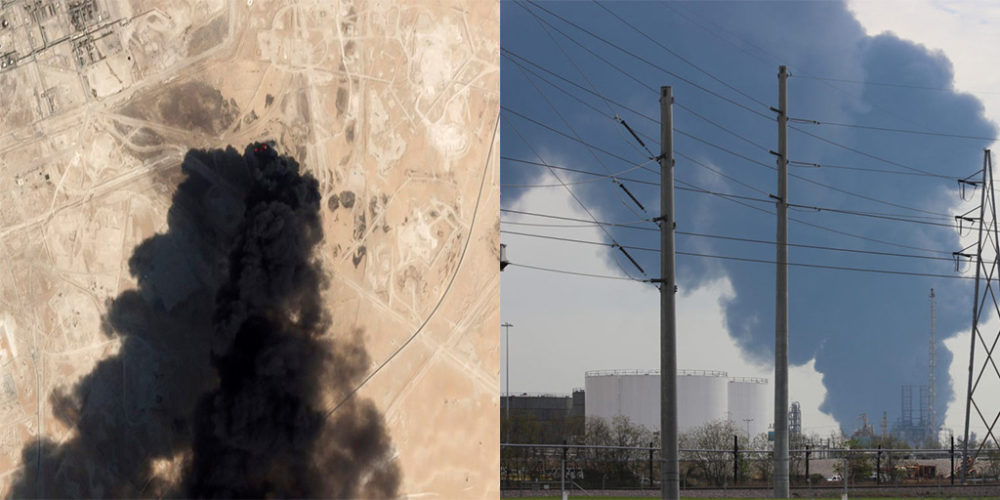 After a drone missile attack on oil processing facilities in Saudi Arabia on Saturday, the fires were put out within hours.
Back in March, it took days to put out the chemical fire at Intercontinental Terminals Company in Deer Park, which sent a big black plume into the sky over Houston.
The attack on Saudi Arabia's facilities affected 5% of the world's oil supply, so what gives?
The difference is that ITC stored millions of gallons of gasoline components, whereas the damage in Saudi Arabia happened at an oil processing unit, said Ramanan Krishnamoorti, chief energy officer at the University of Houston.
"They [Saudi Aramco] took out this processing unit, you turn off the supply to it, you drain out the fuel that's already been processed that is not in the damaged part of the equipment, and you're done," Krishnamoorti said.
He said usually there are no more than several thousand barrels of oil in a processing facility.
"They process that oil to take the lighter components out so that they will be sending liquids out where they know the properties of that material and it's safe for shipping," Krishnamoorti said.
He said firefighters' only hope at ITC was to spray foam on the storage tanks to remove oxygen from the fire, "whereas in Saudi Arabia it was not a question of taking out the oxygen, you just simply took out the fuel."