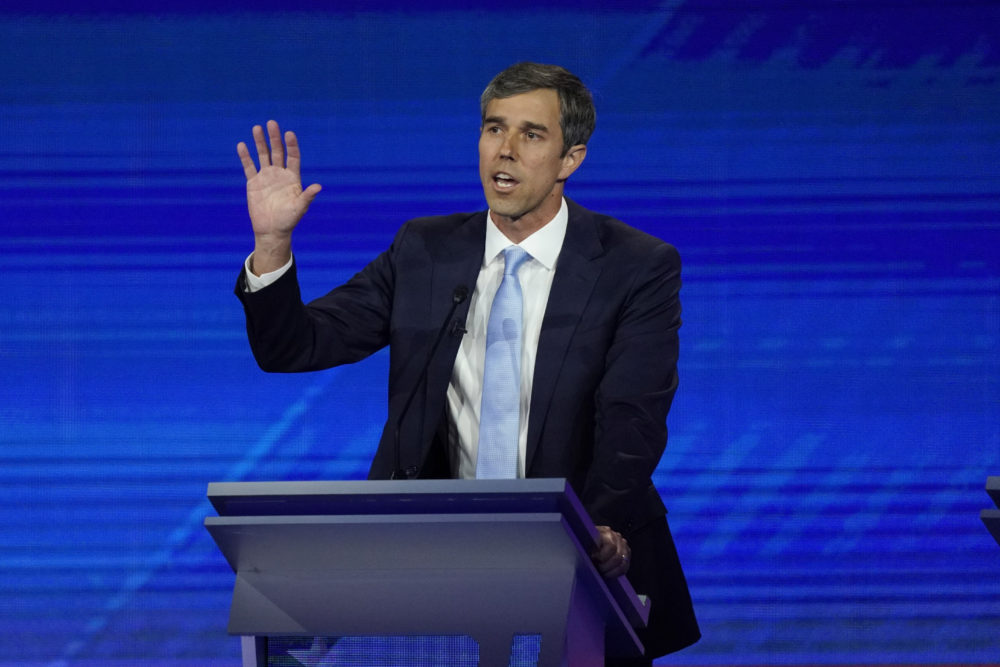 During the third Democratic presidential debate at Texas Southern University on Thursday, Beto O'Rourke told viewers he would take away AR-15 rifles from gun owners if he were elected president.
In response, State Rep. Briscoe Cain, R-Deer Park, told O'Rourke on Twitter, "My AR is ready for you Robert Francis." O'Rourke responded to Cain, calling the tweet a death threat. The O'Rourke campaign reported the incident to the FBI, the candidate said.
This is a death threat, Representative. Clearly, you shouldn't own an AR-15—and neither should anyone else. pic.twitter.com/jsiZmwjMDs

— Beto O'Rourke (@BetoORourke) September 13, 2019
Within hours, Twitter took down Cain's tweet.
In a text message, Cain told Houston Public Media:
"The unofficial motto of Texas has long been, "Come And Take It." If you don't understand that Robert Francis, you've spent too much time in DC.

No threat was made. Beto knows that. He's just a failed politician grasping. But Texans know he is a danger. He wrecked his car in a DWI accident then fled from the cops. We should take his license away."
Other members of the House weighed in on the exchange.
For everyone new to Texas politics…

None of us are really surprised by Briscoe's tweet.

Normal reaction in #txlege would be roughly: "Yep. He does that. He don't know no better. Whatcha gonna do?"#DemocraticDebate pic.twitter.com/mRvUANgzOE

— Gene Wu (@GeneforTexas) September 13, 2019
My friend @BriscoeCain was suspended from Twitter, so I am sharing his latest post. His original tweet was not a threat, but a reference to the "Come And Take It" motto. What is scary is what some people can justify doing to him over a Tweet! pic.twitter.com/x8LxVjwWf6

— Dustin Burrows (@Burrows4TX) September 13, 2019
Cain's legislative district includes Deer Park, La Porte and part of Pasadena. The 34-year-old Republican member of the far-right Texas Freedom Caucus has previously said he carries a gun in the Capitol building.
Gun free zones are NOT safe. I'm glad they let you in. I carry in the Capitol and so do many others. Happy to hear you also do. #2A #txlege

— 𝐁𝐫𝐢𝐬𝐜𝐨𝐞 𝐂𝐚𝐢𝐧 (@BriscoeCain) January 19, 2018
This isn't the first time Cain has been involved in controversy. He's active on social media and uses his platform to oppose abortion rights and advocate for Second Amendment rights.
Dear @BetoORourke,

I'll give you my gun when you pry it from my cold, dead hands.

Sincerely,

A Real Texan#2A #gunrights @GunOwners @NRA @NatlGunRights @TSRA_outreach

— 𝐁𝐫𝐢𝐬𝐜𝐨𝐞 𝐂𝐚𝐢𝐧 (@BriscoeCain) September 5, 2019
the only place a child is in more danger than a gun free public school in America is her mother's womb. #EndAbortion

— 𝐁𝐫𝐢𝐬𝐜𝐨𝐞 𝐂𝐚𝐢𝐧 (@BriscoeCain) September 19, 2013
He quickly made the Texas Monthly 2017 list of worst legislators in his first year, after his colleagues complained about his behavior. That same year, Texas Southern University students forced Cain to stop speaking at a campus event where he had been invited to participate.
Cain was first elected to the Legislature in 2016. He was reelected, unchallenged, in 2018.