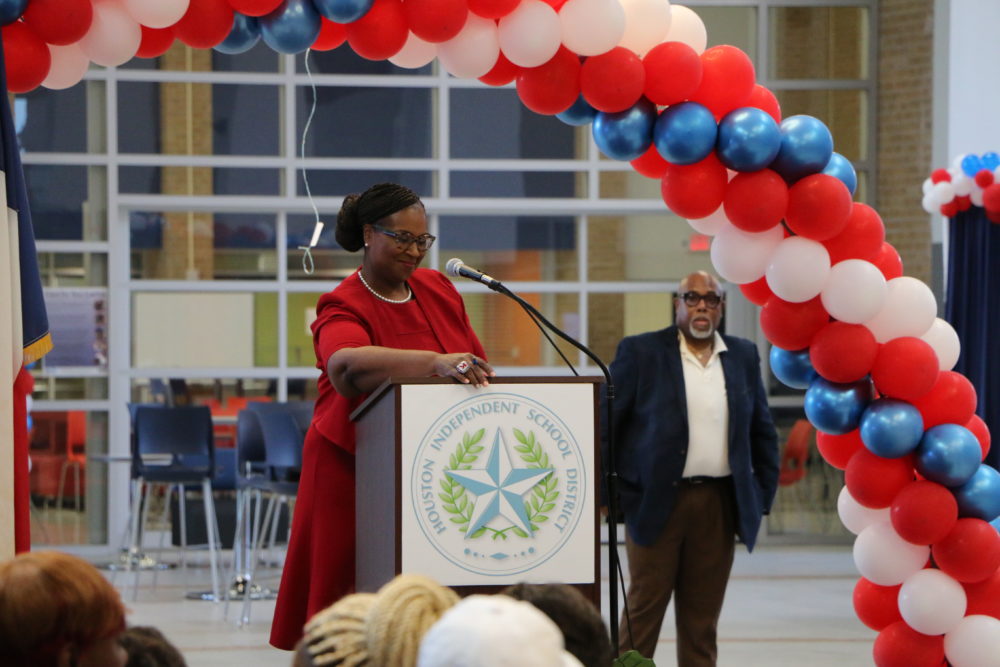 More than 200,000 students head back to class Monday in the Houston Independent School District, even as the new school year is filled with uncertainty for the largest district in the state.
Parents, teachers and administrators are waiting to find out if the Texas Education Commissioner, Mike Morath, will take over the Houston school board for either academic or governance reasons. Chronic low performance at one high school, Wheatley, can trigger a board of managers this year, according to state law. Separately, special investigators with the Texas Education Agency have recommended an appointed board to intervene because of the board's behavior and alleged violations of state law and business practices.
But Interim Superintendent Grenita Lathan recently told reporters that uncertainty won't affect teaching and learning in classrooms. She maintained that she and her team are focused on children.
"We're going to have a great 2019-2020 school year," Lathan said. "We've put the necessary resources and extracurricular and curricular things that we need to put in place. The district will continue to move forward. As I've stated, we've already experienced challenges over the past several years," she said, referring to natural disasters like Harvey and changes in administration.
Lathan indicated she's confident HISD will overcome new challenges, including improving performance at low-rated schools like Wheatley, which recently received its latest failing grade for the seventh time in a row. Lathan said she supports the school's principal, Joseph Williams, and vowed to make sure it has the support it needs this year to turn around performance.
"My focus as interim superintendent, my administrators, my principals and teachers — Our focus will continue to be on children. And that's where we need everyone in the community. Everyone's focus should be on how do we ensure that every child in HISD receives a quality education," Lathan said.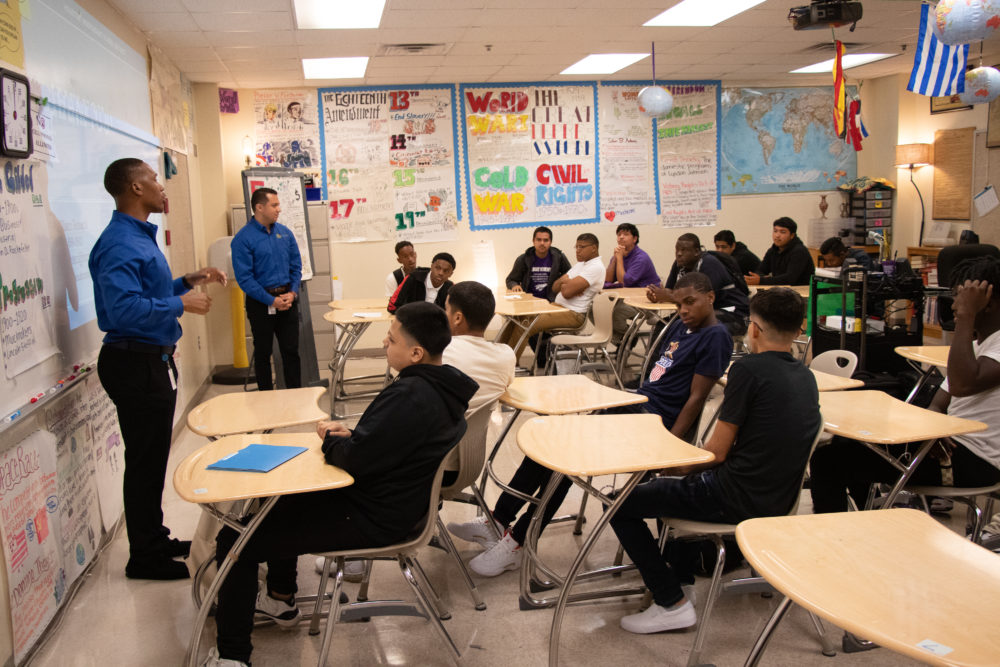 Outside Wheatley High School in Houston's Fifth Ward, students expressed a mix of emotions on their first day of school Monday. Some ninth graders were excited to start their freshman year and join activities like band and football. Returning students told News 88.7 they'd like stronger teachers in the classroom. Many knew the stakes for their high school.
"I feel like Wheatley has a lot to prove because, you know, y'all think we're not too academically smart. So we got a lot to prove this year, and I feel like this year we will prove it," said Shantinique Williams, a junior.
"I got this. I just want to see Wheatley grow as a school and a community," she added.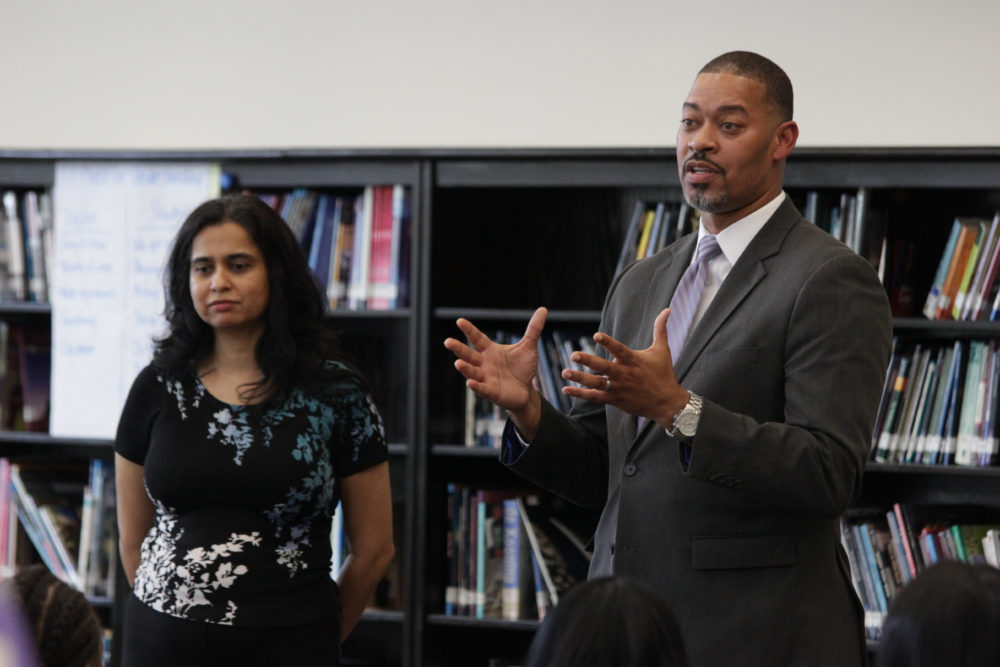 Meanwhile, members of Wheatley's alumni association set up a table across the street from campus and carried petitions to parents, asking them to endorse a state-appointed board of managers to replace the elected school board.
Robin Allen, who graduated from Wheatley in 1981, said that it's the best option for the historically black school. Under the state law known as HB 1842, if a school fails to meet state academic standards for five or more years, the elected board must either close it, or the Texas Education Commissioner has to appoint an outside group of managers for the whole district.
"We only have two choices: Either they close Wheatley or we're working with the board of managers," Allen explained. "So if that's the case, that's what we're going to do — work with the board of managers to make sure that this school gets back on track."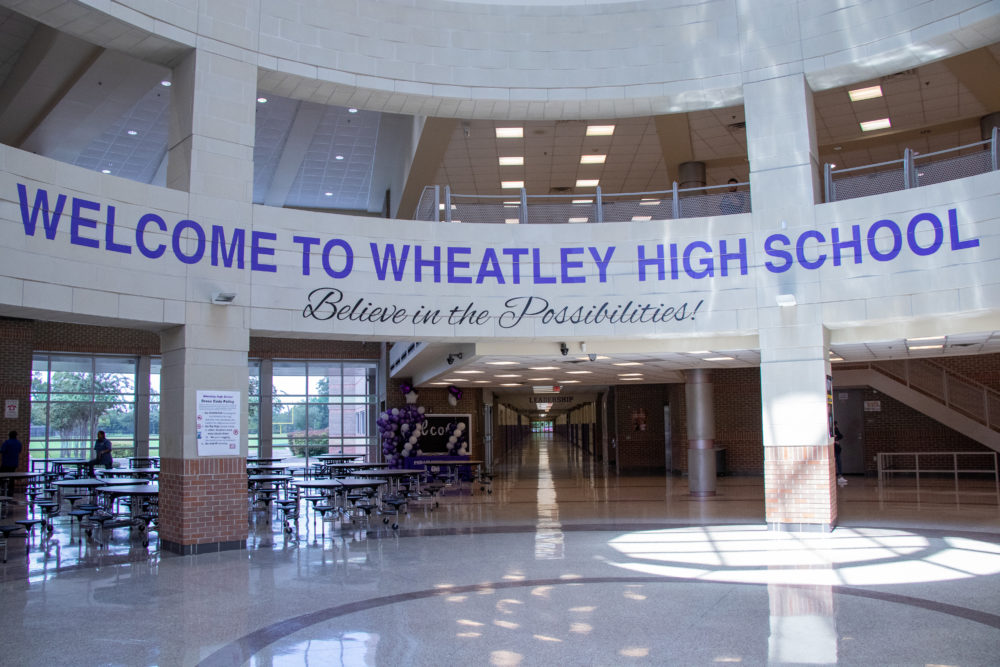 Allen said she knows Wheatley needs to improve, but emphasized "they need to give us the tools to make that improvement happen," like more magnet programs, more funding and other resources.
Lathan told reporters Monday that her administration and the school leadership has hired additional teachers in core content subjects like math and science to shore up teacher turnover. A recent Houston Chronicle report found a "revolving door" of teachers and principals at Houston's lowest-performing schools, including Wheatley High. Plus, Lathan said they are putting in more tutors and adding more enrichment activities.
"When you've had a school that has been neglected for several years, it takes several years to turn that school around. And we see that Wheatley has turned the corner. If you look at the growth that they made in various areas, you'll see they're on the trend upward to exit (improvement required)," Lathan said.
"Our goal is for them to exit improvement-required status and by this time next year to be a C or higher."