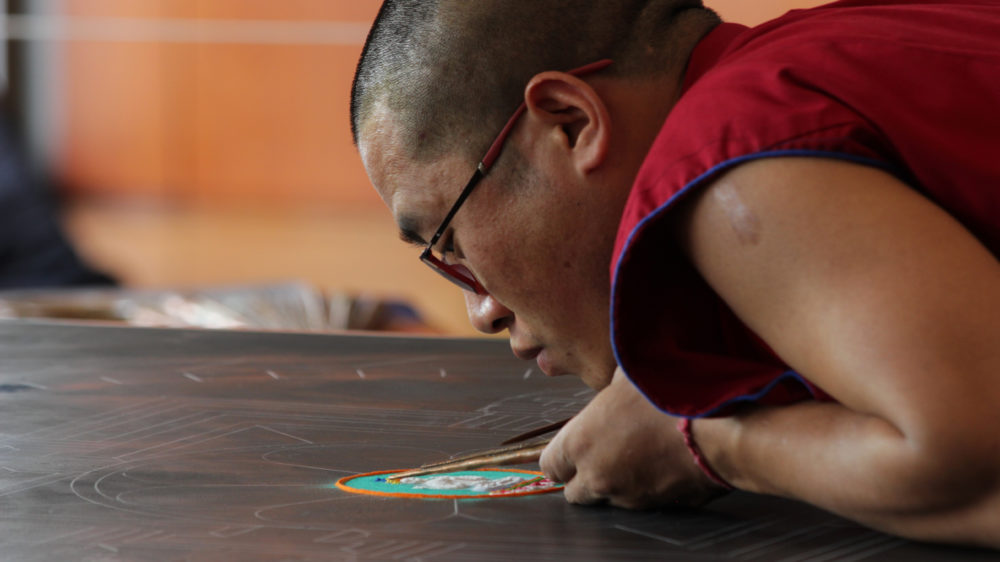 Tibetan Buddhist monks are back in Houston to create an intricate mandala made of colored sand at the Asia Society Texas Center in the Museum District.
The monks, who are from the Drepung Loseling Monastery, kicked off the ritual with a ceremony on Wednesday. It will take them five days to complete the mandala, after which it will be destroyed to symbolize the "impermanence of life.
The mandala itself represents the path to enlightenment, according to Geshe Tenzin Phentsok, one of the monks working on the design.
"Without roadmaps we get confused where to go. So mandala is something like that; the enlightened road where actually it's representing all the aspects of the enlightened qualities," he said. "So that's why we're creating the mandalas. Its colors, patterns, design, structures — everything has a specific meaning."
To create the mandala, the monks first outline the design. Then, they carefully place the grains of sand using a metal funnel called a chakpur.
They will be working on the mandala through Sunday, during which the public can stop by to observe the process and participate in various events. It's part of the Mystical Arts of Tibet world tour and marks the fifth time the monks have come to Houston.
More details on viewing hours and ceremonies are available, here. You can also watch the live stream of the monks working on the mandala, here.