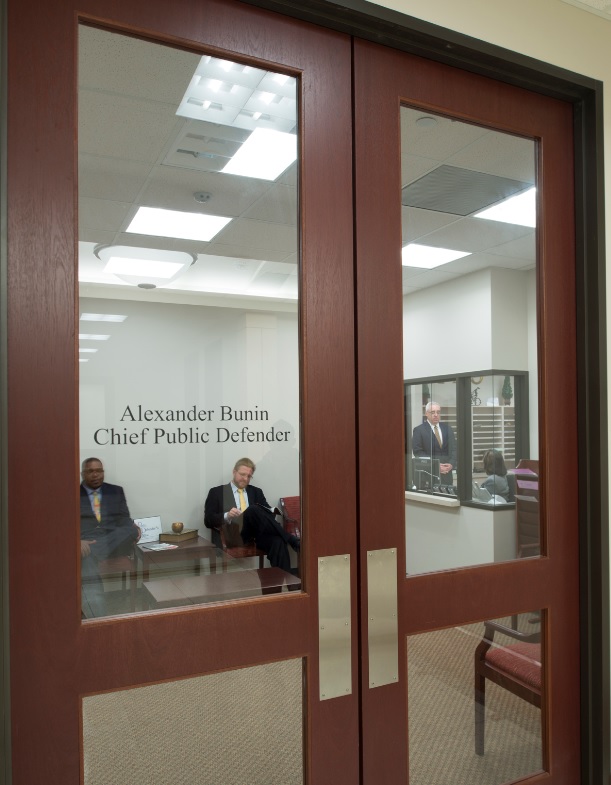 The Harris County Public Defender's Office is hiring additional lawyers to represent more people who can't afford legal representation. Support for the new hiring is divided along party lines, with the Democratic commissioners supporting it and the Republicans opposing it.
The Public Defender's Office was created in late 2010. It's tasked with representing indigent people charged in the misdemeanor, felony, and juvenile courts.
In February 2011, two months after the office opened, Chief Public Defender Alexander Bunin had approximately 24 lawyers. Currently, the office has about 90 lawyers.
In February of this year, the Harris County Commissioners Court approved an increase of $9 million for the Public Defender's Office budget, so that it could hire 61 new employees, mostly lawyers. The hiring is ongoing.
Harris County Judge Lina Hidalgo, Precinct One Commissioner Rodney Ellis and Precinct Two Commissioner Adrian Garcia, all Democrats, voted in favor of the budget increase. Republicans Steve Radack, who represents Precinct Three, and Jack Cagle, the commissioner for Precinct Four, voted against it.
Bunin told News 88.7 his office has hired 36 new employees since the budget increase, including 24 lawyers, four investigators, and four administrative staffers. Bunin has until the end of February 2020 to fill the additional 25 positions.
In Fiscal Year 2018-19 the Public Defender's Office handled approximately eight percent of cases involving indigent defendants, according to Bunin.
"With this fiscal year I expect us to have about 20 percent of all appointed cases," he said "We could grow to reach as many as 50 percent, I don't know that we would want to grow any more than that."
The authorization for more public defenders coincided with the Commissioners Court denying budget increases for the District Attorney's Office to hire more prosecutors.
Precinct One Commissioner Rodney Ellis called those decisions compatible.
"The national experts will tell you that the correlation between the number of public defenders and the number of district attorneys is not a fair comparison," Ellis told News 88.7. "Because the district attorney gets the support of the sheriff's department, of the police department, a whole host of resources."
Bunin agreed with Ellis and added that his budget increase was granted to catch up. "For the first eight years we did not grow very much at all. There were no real resources put into our growth," he said, "so when the commissioners court looked at it this year what they were looking at is to bring us up to the level where, had we grown each of those years as we could have, where we would have been."
Precinct Three Commissioner Steve Radack disagrees with Ellis, and said denying funds for more prosecutors is in conflict with authorizing more public defenders.
"I think it was the wrong move and I think that the district attorney needs more people," Radack said. "I voted that way and so, obviously, voted against that increase for (the) public defender."
Managed Assigned Counsel
Harris County also wants to create a new program, called Managed Assigned Counsel, that will assign private attorneys to defendants who can't afford to pay for their own legal representation. The new department would oversee the appointment of private counsel in all misdemeanor and non-capital felony trials that aren't handled by the Public Defender's Office.
In Harris and other Texas counties, judges can assign the representation of indigent defendants to private attorneys. Instead, the new department would take care of that. The public defender's office would retain the priority for getting the cases, and the private attorneys would be designated when the office reached its maximum case capacity.
The Texas Indigent Defense Commission supports the initiative. Besides assigning vetted private attorneys, the Managed Assigned Counsel program would also make sure that they comply with caseload standards and have the resources they need.
Both Bunin and Ellis think the Managed Assigned Counsel Office would be more neutral than the judges.
Ellis says there are times when a judge appointing a private lawyer can represent a "conflict of interest." Radack still believes that judges assigning counsel is appropriate. "I have confidence in the judges," Radack said.
Collin, Lubbock and Travis counties already have similar programs.
You can read the Texas Indigent Defense Commission's recommendations on a Managed Assigned Counsel program in Harris County here: