Houston is one of several Texas cities participating in the pilot phase of an online tool that allows survivors of sexual assault to track their sexual assault evidence kits. Experts are confident the new technology will help investigators maintain an up-to-date statewide inventory of sexual assault kits once the current backlog is cleared.
As of June 28, there were 3,144 sexual assault kits considered backlogged in the statewide inventory, according to data provided to News 88.7 by the Texas Department of Public Safety. On June 4, Texas Gov. Greg Abbott signed a new state law, H.B. 8, that aims to clear the backlog.
Dr. Roger Kahn, director of the crime laboratory at the Harris County Institute of Forensic Sciences, told News 88.7 the county doesn't have a backlog of untested sexual assault kits. A spokesperson for the Houston Forensic Science Center said that a few of the 100 cases they had backlogged as of June 14 and that involve analyzing biological evidence could be related to sexual assaults, but didn't specify how many.
The turnaround times are different for the city and county. The Houston Forensic Science Center spokesperson said they consider a sexual assault kit to be backlogged if it has gone untested for more than 30 days since testing was requested by a Houston police officer or investigator.
By contrast, the goal for the Harris County Institute of Forensic Sciences is to "complete sexual assault DNA testing in less than 60 days" from receiving the evidence until releasing the DNA testing report, according to a statement sent to News 88.7. The county lab covers a larger geographical area than the city lab because it receives evidence from all across Harris County.
Nonetheless, the turnaround times at both labs are shorter than what the new law establishes, which is 90 days.
The software that is being tested in Houston is manufactured by Delaware-based STACS DNA. Its use is the result of a law the Texas Legislature passed in 2017 mandating a statewide sexual assault kit tracking system.
The software is called Track Kit and it has been in use in Houston since June. During the pilot phase, Harris Health System and the Memorial Hermann hospital system are using the software, which entails labeling the kits with bar codes that are entered in a database used to track them.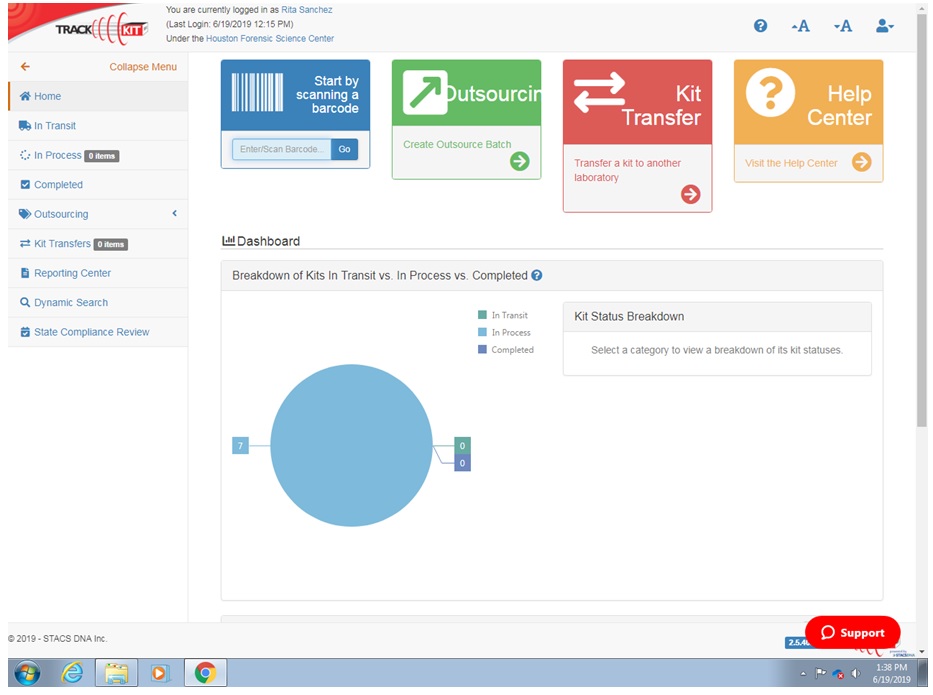 Survivors can access their kits through an online portal upon receiving credentials at the hospital where their exam is conducted. Hospital staff, law enforcement agencies, laboratory staff and prosecutors do the updating in the system and survivors can see which stages their kit has completed.
Dr. Peter Stout, president and CEO of the Houston Forensic Science Center, told News 88.7 the Track Kit software is a complement to the new state law to clear the backlog.
"You can't figure out how to solve a backlog if you aren't even sure where all the kits are," said Stout. "So, I think having tracking in place will give us far better information about what kits exist, what kits are where, ensure that kits aren't hung up some place and ultimately have a better inventory."
Kahn agrees with Stout. "Once the kit is entered into the system, it tracks," he said.
The software is also being tested in Amarillo, Arlington, El Paso and Lubbock. The statewide rollout is scheduled for September 1.