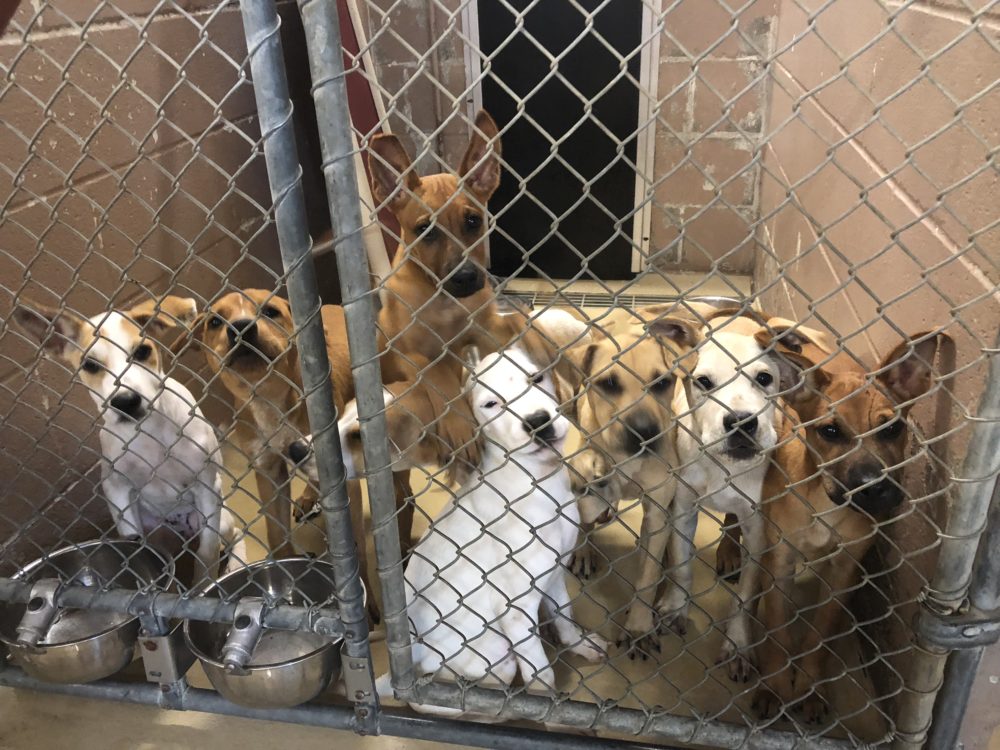 The Harris County Animal Shelter is currently housing more than double the animals it has capacity for and is asking for help from residents that could adopt or foster. Shelter officials are concerned about the possibility of having to euthanize a significant number of animals.
As of Tuesday, the shelter was housing 510 animals, mostly dogs, while its maximum capacity is supposed to be 200, spokesperson Kerry McKeel told News 88.7.
"We don't have the ability to hold animals indefinitely and space is a concern," said McKeel. "We are putting animals everywhere we can right now."
The shelter is located at 612 Canino Road, 10 miles north of downtown Houston.
McKeel noted that "at the beginning of May, spring time, is when we really started to see an uptick in the number of animals coming in." She said summer is traditionally the busiest intake season at the shelter and added the limited medical staff makes it difficult to properly care for the large numbers of animals coming in. Over the past week, a high number of strays combined with owners surrendering their pets resulted in the critical overcrowding.
Harris County officials say the shelter has managed to maintain a 90 percent life-saving rate since January. They have accomplished the high rate through adoptions, fostering, help from animal rescue groups and even by transferring some animals to other states with lower intakes. "Although we are doing all these things, we are still drowning right now in the numbers that are coming in," McKeel said.
She said the option of transferring animals within the Houston area isn't practical because "in the immediate Houston area we are all facing the same issues, we are all struggling with the number of intakes of animals."
The shelter is looking for foster homes as an alternative, because that frees up space, medical care and supplies. "Even two to three weeks can give us the breathing room that we need to be able to save more lives," McKeel said.
The current shelter has been open since 1986 and McKeel said the facility has become "antiquated."
A new county shelter is scheduled to open by Spring 2020. The new facility will double the current capacity, give dogs and cats more space, and have separate entrances for adoptions, admissions and the medical area.
Voters approved the construction in a $24 million bond election in 2015.