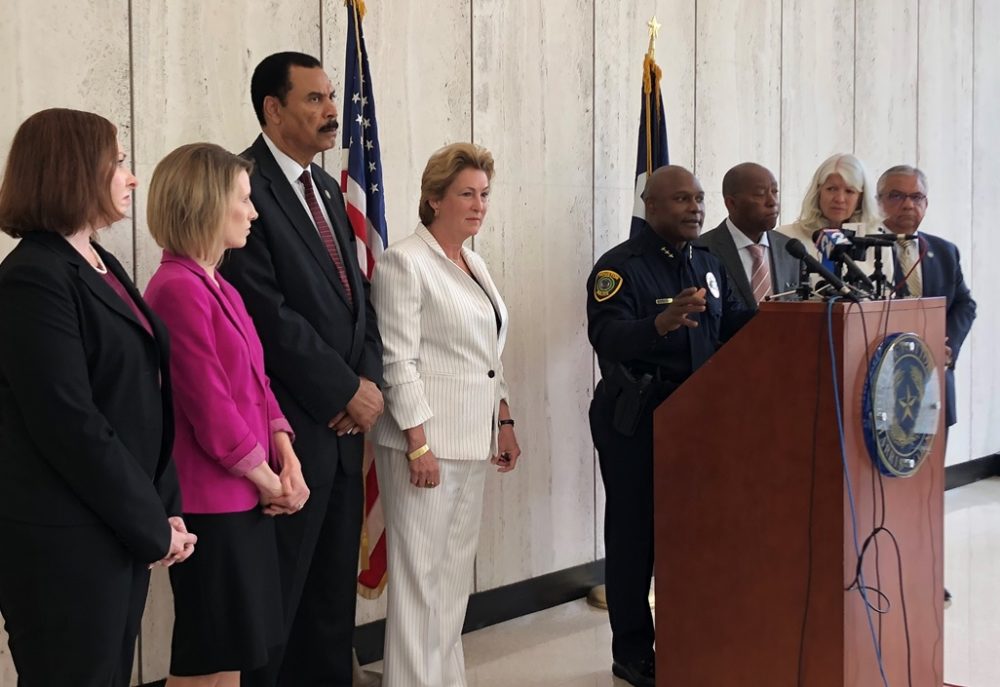 Harris County District Attorney Kim Ogg announced on Tuesday that a grand jury has indicted Andre Jackson for the alleged murder of Josué Flores after being presented with new DNA evidence that was examined in a Florida laboratory.
Flores' murder shocked Houston in May 2016 because of its brutality. The killer stabbed the child multiple times at the 1900 block of Fulton Street when the 11-year-old boy was returning to his home after leaving Marshall Middle School in the Near Northside neighborhood.
Jackson, a 30 year-old homeless veteran, had previously been charged with Flores' murder. But Ogg dropped the charges in July 2017 because of insufficient evidence that prosecutors felt could lead to a conviction.
If prosecutors had proceeded to trial at that time and Jackson had been found not guilty, double jeopardy would have prevented the new charge announced Tuesday, according to the DA's office.
However, by dismissing the case against Jackson at that time, they reserved the right to charge him again should additional evidence be discovered.
Now, the district attorney says there is evidence beyond a reasonable doubt against Jackson, but she didn't provide details about what the new evidence is. She announced the murder charge at a news conference with Houston Mayor Sylvester Turner, City Council Member Karla Cisneros and Houston Police Executive Assistant Chief Troy Finner.
"We look forward to presenting all the evidence at trial and finally delivering justice for Josue, his family and the community," Ogg said in a news release.
Houston Police Chief Art Acevedo released a statement about Jackson's indictment. He said HPD maintained the belief that "Mr. Jackson was the individual responsible for Josue's murder."
Acevedo added his department looks forward to "supporting the Flores family as this case proceeds through the criminal courts."
Statement from Chief @ArtAcevedo on update in Josue Flores investigation: #hounews pic.twitter.com/n66yg1vrxy

— Houston Police (@houstonpolice) June 18, 2019
Finner said officers arrested Jackson in Baytown and he is in custody. He added Houston police had Jackson under surveillance for several days.
Jackson is scheduled to be arraigned Wednesday at the 263rd Harris County District Court. If convicted, Jackson faces five to 99 years in prison, or life.
Jackson has publicly claimed he is innocent.
Flores' 2016 murder shook residents of the Near Northside, prompting multiple changes in the area. Residents formed Safe Walk Home, a grassroots initiative to look after kids as they walk to and from school.
The killing also prompted residents to push for the Salvation Army to relocate its men's shelter out of the neighborhood.
People in the area had long complained about high crime and unsafe conditions associated with the large number of indigent men in the area.
The City of Houston also responded by tightening up regulations on boarding houses.
You can watch Ogg's news conference here:
Press Conference: Grand Jury Indictment https://t.co/BAFlwhYgJG

— Harris County DA (@HarrisCountyDAO) June 18, 2019