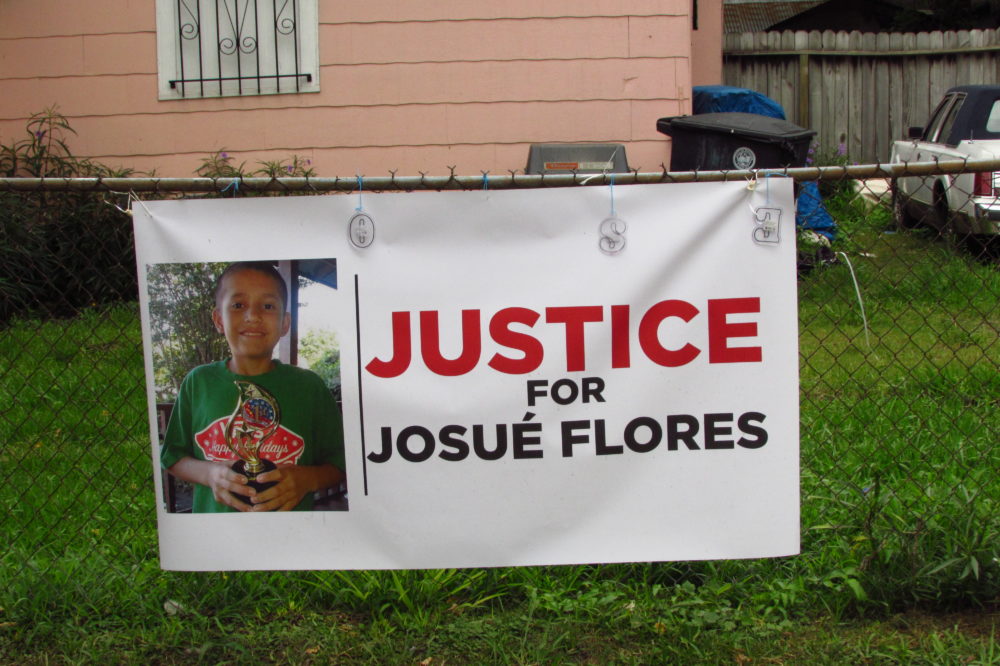 May 17 marks the third anniversary of the murder of 11-year-old Josué Flores in Houston's Near Northside and investigators are asking for help from the public. Houston Police Chief Art Acevedo said new evidence is being analyzed at a Utah lab that specializes in DNA testing.
Flores' murder shocked Houston and especially the Near Northside neighborhood because of its brutality. The killer stabbed him multiple times at the 1900 block of Fulton Street when the boy was returning to his home after leaving Marshall Middle School.
"We have evidence now in Utah at a lab that is utilizing techniques to extract DNA from evidence that our lab and our state lab does not the capacity to do," said Acevedo on Friday during a media availability that Houston Mayor Sylvester Turner and Flores' mother also attended.
The evidence is from a piece of clothing and HPD's cold case squad is also investigating the case.
Acevedo said that Andre Jackson, the homeless veteran who was charged with Flores' murder and released in July 2017 because Harris County District Attorney Kim Ogg dropped the charges, is still a person of interest for the investigators.
The DA's office said the results of DNA and blood analyses were inconclusive.
Acevedo played a short video that was recorded by a surveillance camera the day of the murder near the place where it happened. The video shows an African-American man walking and wearing a distinctive jacket. Investigators are asking the public to help identify the man. According to police, he could be Jackson.
HPD detectives are also asking potential witnesses of the crime who spoke to local media anonymously to come forward and help with the investigation.
After the murder, Near Northside resident Stella Mireles-Walters started the Safe Walk Home program. It has trained neighbors to be vigilant, particularly when children go to school in the morning and when they leave, and alert HPD and other law enforcement agencies if they see somebody or something suspicious.
Investigators and residents also thought that Flores' murderer could have stayed at a homeless shelter the Salvation Army managed in the neighborhood. The organization closed the shelter in November.
You can watch the video HPD showed and Chief Acevedo's media availabilty here:
PERSON OF INTEREST: Our homicide investigators want to speak to this man regarding the murder of Josue Flores, 11, in the 1900 block of Fulton on May 17, 2016. If you have info, call HPD Homicide 713-308-3600 or @CrimeStopHOU 713-222-TIPS. You could receive up to $5,000 reward. pic.twitter.com/B1lwgqC1d7

— Houston Police (@houstonpolice) May 17, 2019