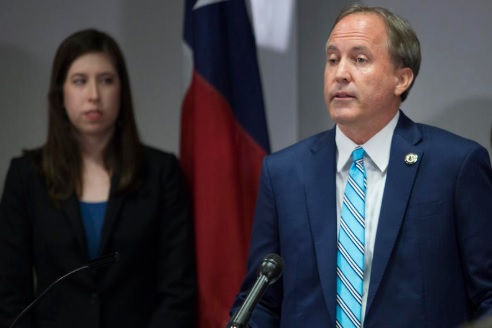 Unlike other voting rights lawsuits filed against Texas officials in the past decade, the challenge to the state's noncitizen voter-removal effort was settled relatively quickly.
Both sides reached an agreement Friday to end the investigation into voters, and it was approved by a federal judge Monday.
In January, Texas Secretary of State David Whitley announced his office had flagged the names of more than 90,000 alleged noncitizens on the state's voter rolls. He also said he had sent the list to local election officials and the state's attorney general, Ken Paxton, to possibly prosecute cases of voter fraud.
Voting rights attorneys immediately raised concerns about the state's motives and the accuracy of the list.
"The voter purge was just a disaster from the very beginning," said Nina Perales, vice president of litigation for MALDEF.
Perales, who was part of the legal team that challenged Texas officials, said it was easy to see why the state backed off. For starters, she said, the number of people Whitley accused of being illegally registered to vote was outrageous.
"That was not a claim that was believable," she said. "Within one business day, the Secretary of State himself found thousands of U.S. citizens on his purge list – and ultimately it was about 25,000 U.S. citizens that they found right away."
The way the state compiled the list was also an issue. Whitley told lawmakers and local officials his office had cross-referenced a Department of Public Safety database with a list of voters.
His office flagged the names of people who had told DPS they were not citizens at one point, but who had registered to vote within several years.
Perales said it was obvious the list would contain thousands of recently naturalized citizens who have the right to vote.
"It really intimidated a lot of U.S. citizens," she said.
That's why, Perales said, a federal judge quickly jumped in to temporarily stop the effort.
Joaquin Gonzalez, a voting rights attorney with the Texas Civil Rights Project, said the state also chose to settle the matter instead of appealing – which the state often does in these cases.
Gonzalez said he thinks state officials did that partly because the legal challenge was looming over Whitley's confirmation as secretary of state. He had only recently been appointed when he announced the voter list. Gonzalez said state officials backed off when Senate Democrats vowed to block his confirmation.
"Their opposition to the nomination, we believe, is [part of what] provided the leverage for the state to be willing to settle this in the first case, because the state doesn't settle voting rights cases like this," he said.
If Whitley isn't approved before lawmakers adjourn at the end of the month, Gov. Greg Abbott will have to appoint someone else.
After the judge approved the settlement, the original list of voters was scrapped. Under the agreement, Texas officials now will only flag names of people who have said they're not citizens after they have registered to vote.
Gonzalez said the settlement requires that he and the other plaintiffs be able to oversee how the state carries out this more limited voter investigation.
"We get numbers of people that have been matched, so that we can tell if there is something that appears to be going wrong in the process," he said.
Gonzalez said it is possible for people to fall through the cracks and inadvertently register to vote when they shouldn't, but that doesn't happen often. If the state flags a large number of people, he said, plaintiffs can turn to the court to halt the state before anyone is removed from voter rolls.
"If something appears to be off about the process, we can then use the settlement agreement," he said.
But there's one issue that wasn't dealt with: Attorney General Ken Paxton's plans.
When the original voter removal effort was announced, Paxton – the state's top prosecutor – said he would "spare no effort in assisting" with those cases.
Because of that, plaintiffs named him in their lawsuits. A federal judge removed him, however, because he doesn't have the power to actually cancel voter registrations.
Perales said it's unclear what Paxton will do following the settlement.
"Ken Paxton has said contradictory things about this voter purge that came out of the Texas Secretary of State's office," she said.
For example, when lawmakers raised questions about the state's effort earlier this year, Paxton said he didn't have the time or resources to go through the list and investigate people.
"At the same time, Ken Paxton's office has claimed that they are still investigating – or doing some kind of investigation – of registered voters who may be non-U.S. citizens," Perales said.
Paxton's Office also has been shielding documents related to the voter-removal effort from public view.
In a letter to media organizations and others, the open records division of his office has said, "the information at issue relates to an open criminal investigation conducted by the [Office of the Attorney General's] Election Fraud Section of the Criminal Prosecutions Division. Further, the OAG states release of the information at issue would interfere with the pending investigation."
KUT sought comment from Paxton's office several times, but his office has not replied.
Gonzalez said he thinks Paxton shouldn't base investigations on a list that both sides have agreed is flawed.
"But our settlement agreement doesn't strictly bind him," he said.