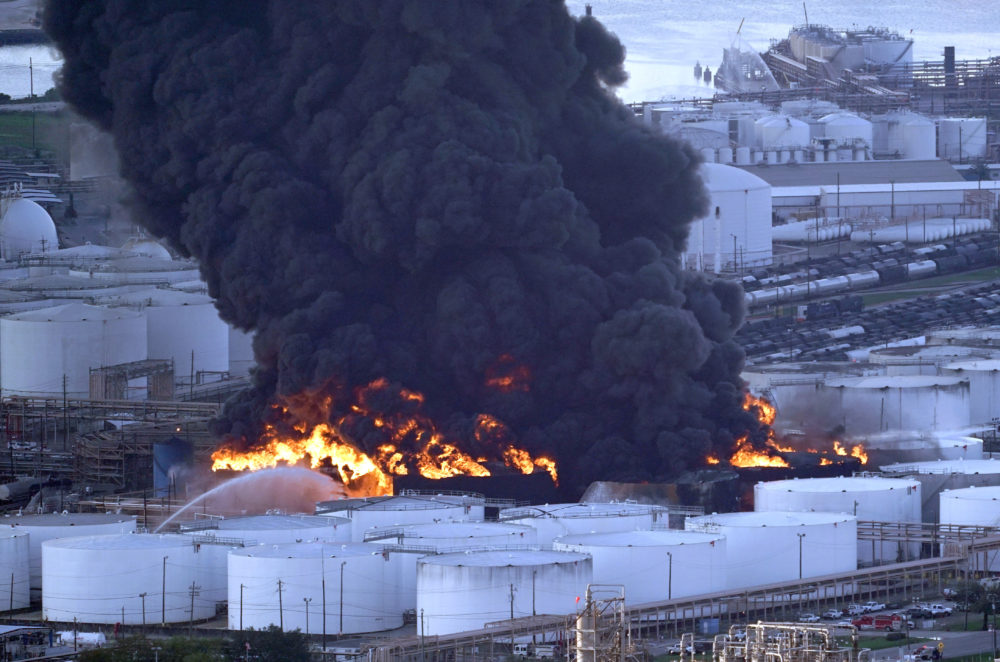 Harris County has filed five environmental criminal charges against the company that owns the Deer Park petrochemical facility that sustained a massive and days-long fire in March.
District Attorney Kim Ogg announced the charges against Intercontinental Terminals Company (ITC) on Monday. One of the dikes surrounding the facility partially broke during the incident, releasing still unknown quantities of highly toxic chemicals benzene and xylene into Tucker Bayou, which flows directly into Galveston Bay. The fire and its aftermath also disrupted traffic on the Houston Ship Channel for several days.
The investigation by the Environmental Crimes Division at the DA's Office found that "the water pollution in Tucker Bayou was at criminal levels from March 17 through March 21," according to a news release.
The DA's office said the review found probable cause to charge ITC for each day the company allegedly criminally violated the law.
"The discharge from the ITC fire into Tucker Bayou is a clear water pollution case," said Alex Forrest, chief prosecutor at the Environmental Crimes Division.
Forrest said they are reviewing reports from other local and federal agencies to determine if there will be additional charges.
The Harris County Fire Marshal's Office is investigating the incident. ITC faces multiple lawsuits from the Texas Commission on Environmental Quality, Harris County and some residents of the area near the Deer Park facility.
ITC could face a fine of up to $100,000 per each of the five charges filed.
Michael Goldberg, an attorney for ITC, said on a statement sent out on Monday evening that "although we have not seen the charges, there is no question that there was a large fire and an enormous effort to extinguish it which resulted in a discharge into Tucker Bayou."
Luke Metzger, Executive Director of Environment Texas, was a guest on Houston Matters on Tuesday and commended Ogg for filing charges. "I think the District Attorney taking this kind of actions hopefully will be a wake up call for industry that they need to take this stuff seriously," Metzger told host Craig Cohen.
EDITOR's NOTE: This story has been updated to include ITC's response to the charges filed by the Harris County District Attorney's Office and a comment by Luke Metzger, Executive Director of Environment Texas.