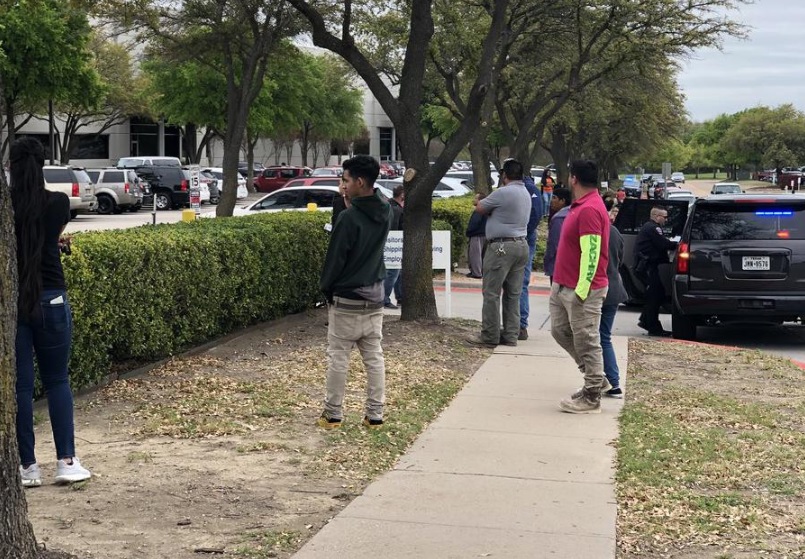 Immigration and Customs Enforcement are "conducting an operation in support of an ongoing criminal investigation" at a technology refurbishment and repair company located approximately 30 miles north of Dallas, in Collin County, an ICE spokesman said Wednesday. Collin County is about 275 miles north of Houston.
Family members of workers at the CVE Technology Group branch in the city of Allen, especially husbands, have arrived outside the company, waiting for information. One of them got a text from his wife, who asked him to call an attorney.
One woman, whose mother is an employee, was also outside waiting, in tears — at first.
Maria Soria's mother, Socorro Lechuga, 46, was released by ICE agents conducting the raid inside CVE Technology.
Soria, 24, said her mother, who Soria said has worked for the company for around six years, had a petition for legalization already in place before the raid. Lechuga is originally from Guerrero, Mexico.
Soria received a voicemail message around 10 a.m. It was from her mother and it said ICE agents had arrived at the company and she didn't "know what's going to happen."
"I was worried at first, because you hear 'ICE' and everything goes downhill," Soria said. "I got myself together," she added, and left work at a health care insurance company in Las Colinas drive to Allen.
She called her mother's lawyer, who told her not to worry because, he said, "they'll either release her or set a bond to be released within 48 hours." He added that "they can't do anything to her, pretty much, because she does have a petition in place."
"So that gave me a peace of mind, that at least I know my mom will be OK," Soria said. "As far anyone else here, I really don't know their status or their situation, so that's a whole different story."
Employees who are working at the company with legal immigration papers have been given green wrist bands to wear.
One of those workers, Mathew Varughese, works "repairing cellphones."
He said ICE agents arrived around 10 a.m. and some people began running. Agents instructed workers to group together by legal status.
Varughese said that at that point there wasn't a lot of reaction from employees: "Standing, no talking. Ladies crying."
He said he estimates that about 60 percent of CVE Technology employees are women.
Buses, one of which says LaSalle Corrections Transport on the side, were also on the scene.
One woman was in the building applying for a job when ICE agents arrived. She says there were hundreds of people inside.
During the raid, a few people gathered with demonstration signs.