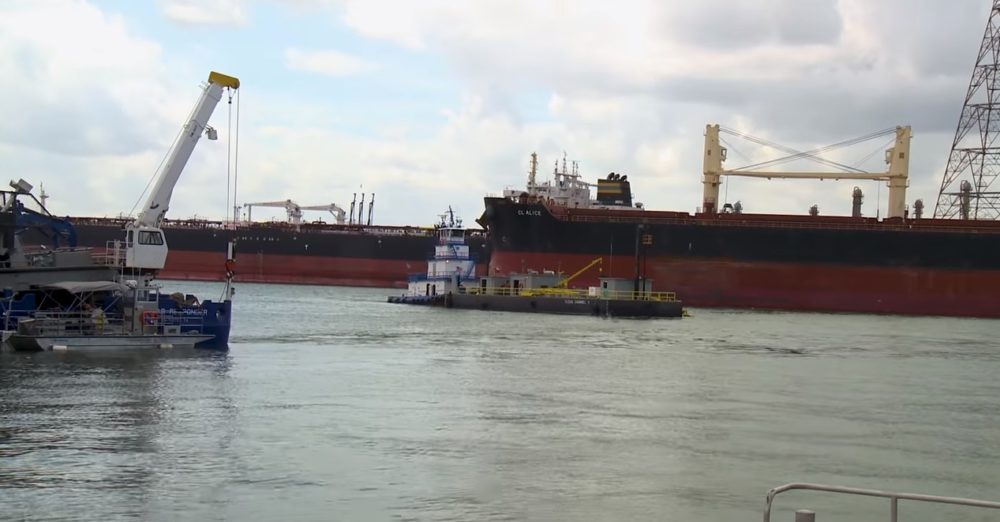 The clean-up process continues at the Deer Park petrochemical storage facility that caught fire on March 17. Intercontinental Terminals Company (ITC), the company that owns the facility, says response crews are still working on removing product from the tank farm. The incident has restricted traffic on a section of the Houston Ship Channel and the U.S. Coast Guard doesn't know at this point when the restrictions will be lifted.
ITC Executive Brent Weber said at a news conference held on Monday morning that the tank farm is secured. "The level on the tank farm is basically dry now with a very light layer of foam," he said.
"We have crews that are going to enter the tank farm area today," Weber added, "to begin a little further remediation on the residual product in the tank farm." The tanks that are still being cleaned up contain naphtha, which is highly flammable, and gasoline blend stock.
Weber also said that the dike containment wall that sustained a partial breach during the aftermath of the fire has been patched with temporary repairs.
The Texas Commission on Environmental Quality has launched a new section of its website with information, including sampling locations, maps and photos, about the incident.
Multiple agencies, including the TCEQ, along with the U.S. Environmental Protection Agency, Harris County and ITC, continue monitoring air quality. Harris County is also posting updated information online about air quality.
EPA Spokesman Adam Adams said there was an elevated benzene reading over the weekend but it just lasted a short period of time.
Responders found one deceased dolphin and another one that was stranded also during the weekend. Adams said members of the Texas Marine Mammal Stranding Network examined them and determined that it didn't appear the dolphins were impacted by the incident.
The organization is "monitoring a dolphin pod that's well south of Morgan's Point," according to Adams. He added ten birds have been rescued and responders hadn't found any new fish or wildlife impacted as of Monday morning.
There are still pockets of oil on sections of the Houston Ship Channel, with heavier concentrations on Tucker's Bayou.
U.S. Coast Guard Captain Rich Howes there isn't a "firm timeline" on full reopening of the ship channel. The section of the channel with restricted traffic goes from Tucker Bayou to Light 116, and only operates during daylight hours.
ITC has received approximately 3,000 inquiries about claims and 800 claims related to the fire and chemical spill.
The company has posted a video on YouTube that shows recovery efforts along the Houston Ship Channel.