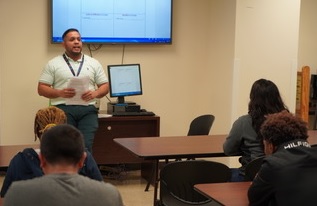 Convictions for marijuana possession-related misdemeanors in Harris County have gone down 80 percent since District Attorney Kim Ogg implemented a pre-charge diversion program that allows people to go through special courses instead of being arrested.
In Texas, possession of four ounces or less of marijuana is a misdemeanor.
The program is voluntary and requires participants to take a four-hour course that teaches decision-making skills. The course's curriculum includes a cost-benefit analysis of getting in trouble with the law, as well as lessons on setting goals and developing skills "to avoid risky situations and behaviors." The course fee is $150 but it can be waived. Participants have 90 days to complete it.
Ogg held a news conference on Friday to discuss the results of the program. As of March 29, 2019, 9,184 individuals have been accepted into the program. The average age of the participants is 26 years-old. "These are numbers to be proud of," said Ogg.
From 2006 to 2016, Harris County prosecuted more than 100,000 individuals for misdemeanor possession of marijuana at a cost of more than $100 million dollars, according to Ogg's office.
In 2016, there were 4,591 misdemeanor marijuana convictions. The diversion program started in March of 2017 and by the end of 2018 that number went down to 906, an 80 percent reduction according to statistics provided by the district attorney's office. The reduction is 85 percent if examining a five-year time frame, from 2014 to 2018.

Savings
The DA's office estimates Harris County has saved more than $30 million through the diversion program, when combining the cost of jail stays, lab processing of seized marijuana, prosecutors and defense lawyer wages, court appearances and other costs.
Ogg says the program also frees up more time for prosecutors to work on cases that involve victims. "Our prosecutors are stretched thin and we want them working on the crimes against victims, marijuana is not that," she said.
Representatives from the Houston Police Department and the Harris County Sheriff's Office have also touted the benefits of the program, saying patrol officers waste less time arresting and booking low-level offenders.
"We are concentrating on the more serious crimes," said HPD Assistant Chief James Jones.
Ineligibility
Offenders who possess marijuana in drug-free zones near schools and correctional facilities aren't eligible for the program and are still charged and prosecuted.
The penalty for misdemeanor marijuana possession can be up to one year in jail and a $4,000 fine.
You can read details about the program here.
You can watch Ogg's news conference by clicking here.